Free Photography Edits
---
I have been in the photo editing (graphic/web design) industry for over 6 years now. I do photo editing all day for some large corporations on some pretty boring pictures lol.
So I would like to offer my service to you for free. Wether its a horse, a dog or a person, as long as you have rights to the image let me know what you want done. I fix things such as color, new backgrounds, "clone over" repairing an image. Maybe there's a fence in front of your horse and you want it out of the picture, I can do that. If you want something extra like, a desktop background, wings, words, etc......Just ask, I can most likely do whatever you ask. Just understand I do not own a magic wand and at times I have a long work day/night. The bigger image the better!!!
Here are just a few examples, I'm
sorry
I can't remember all the names, my memory has always been bad. Please if this is your horse let me know.
Cloud's Mystique - I believe the tail was bagged in the original or you wanted it thicker.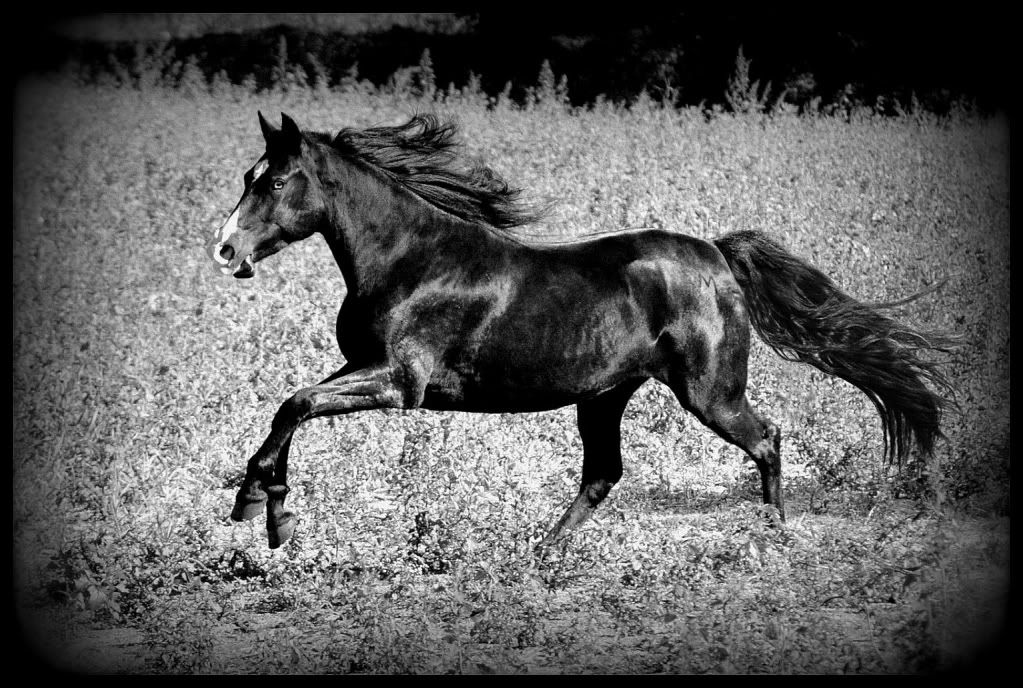 Can't remember sorry!!!
I removed a horse from this image and re-colored to black and made the "feathers" white again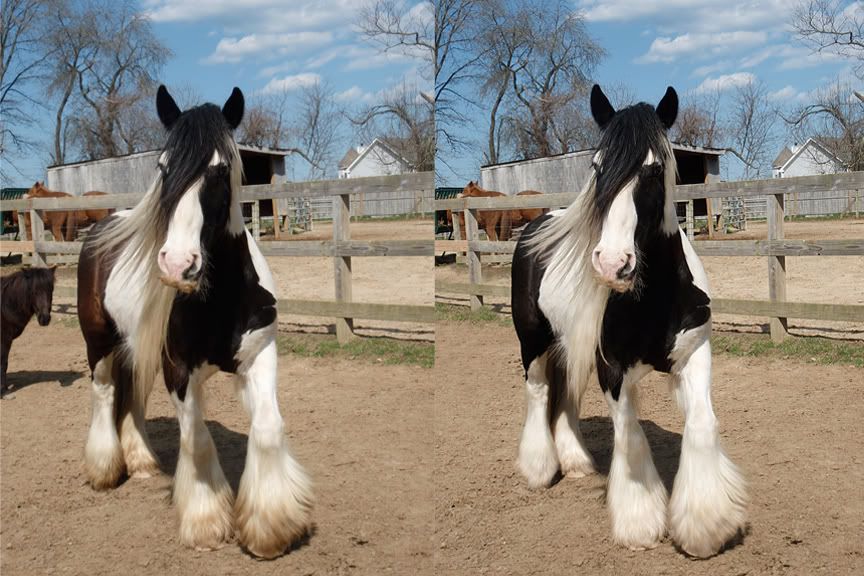 Slight color repair, could have fixed further with a better quality image.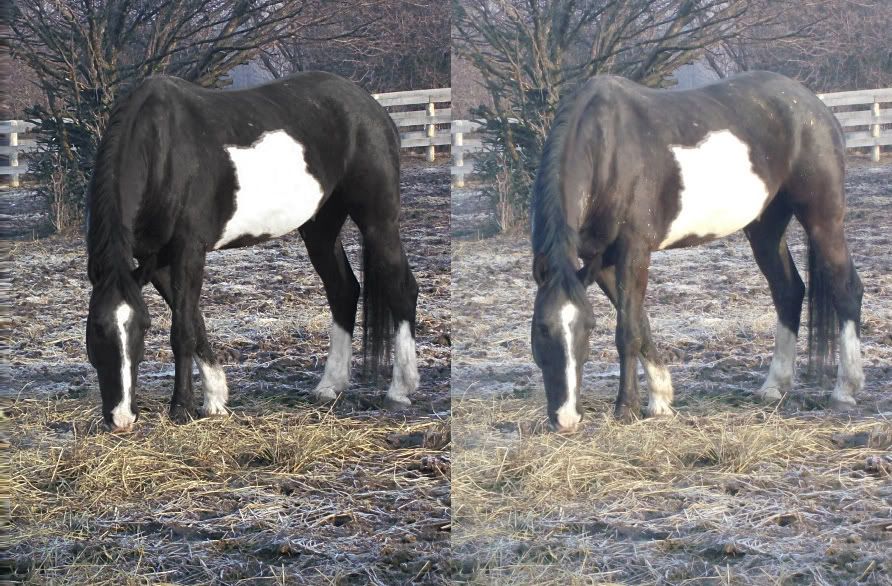 Just a few, the rest are on an external HD I don't have with me right now.
---
Last edited by Heybird; 01-11-2010 at

02:04 PM

.
Thanks, I found another one.
Abby!!!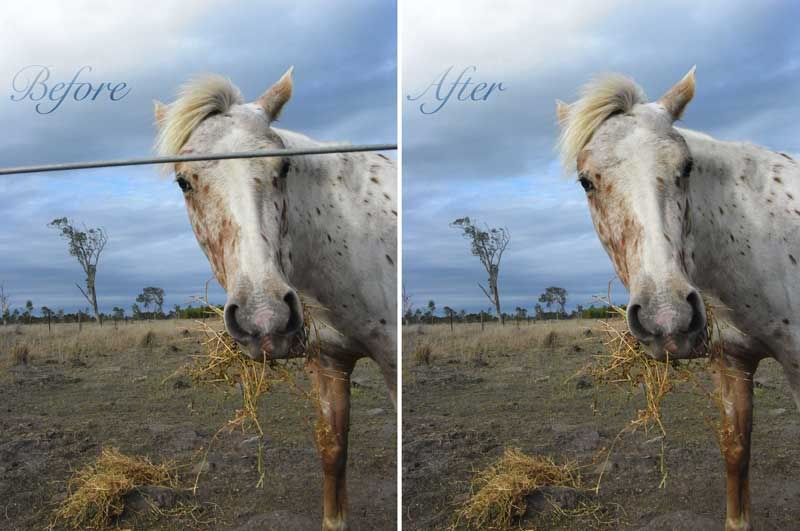 Fantastic!! I have a request! Can you please put Denny and me on a different background, or take out the shelter and huge pole in the background? IF it's possible.. maybe turn his ears so they're pricked forwards? Thanks SO much in advance!!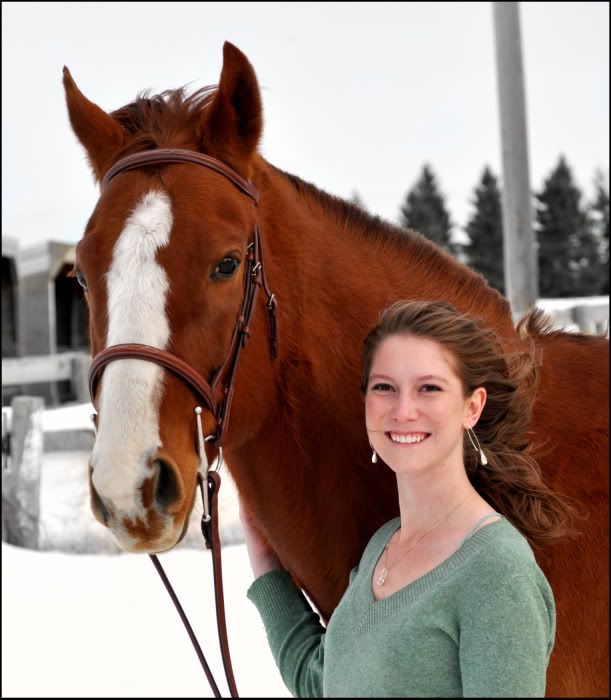 Oh.. and as an afterthought.. take that hair out of my mouth? :P
Here's another if you have the time..
PS - I LOVE how seamless your work is! Fantastic!!
---
The lovely images above provided by CVLC Photography cvlphotography.com
---
Last edited by JustDressageIt; 01-11-2010 at

02:58 PM

.
I would love to
and Thanks I really appreciate that.
---
Last edited by Heybird; 01-11-2010 at

03:08 PM

.
Havana :p
---
Here is my horse Havana (link):
http://www.horseforum.com/members/12...omething-8576/
I really love how she looks, but I don't love the background :( So maybe if you could take her and put her on a good snowy background? Also (I don't know if you can actully do this?) possibly make her not so wet? Just wondering on the last thing
Not really sure you can do it unless your Harry Potter
---
Good people get cheated, just as good horses get ridden
This is so cool! Im going to go find some pictures right now then ill post them. Thank you!
Can you thicken the tail and mane maybe and whiten his white and blacken his black. Also is it possible to add like muscle mass? If so, can you?
And in this one can you cut it out and paste it on a backround of like a field thing and maybe add wings.
THANK YOU!!
---
Last edited by Domino13011; 01-11-2010 at

08:45 PM

.
Green Broke
Join Date: Oct 2009
Location: Witbank, South Africa
Posts: 2,681
• Horses:
2
Could you take out the people and poles? And put me and Love Story on a different backround, maybe jumping a log or stream? If you cant thats fine though
2.jpg
---
Every girl wants their own LOVE STORY, I found mine... :)
jiblethead - Sure no problem, I may be able to make her not so wet, I never really know until I try. But if I pull it off, I request someone send me a magic wand LOL j/k!!!
Domino13011 - Sure thing
LoveStory10 - would you happen to have any more photos with a tail showing so I won't have to use another horses tail LOL
Please remember it will take me a little while, especially the backgrounds and additions... not forever but "time" lol