I will attempt to draw your horse!
---
As I don't have any horses of my own, and haven't done many drawings of horses, I would like to try and draw some other peoples, rather than just draw random pics out of books! They might not be that good though! Also, I don't spend much time drawing, so if I get loads of pictures to draw, I might not manage them all.
Feel free to draw pictures of my guy Rodeo.....
You can try my new
Bamber
if you'd like! :)
He's the painted one on the far left. (Click the image to enlarge.)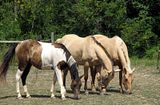 ---
"Adapt or perish, now as ever, is nature's inexorable imperative." (H.G. Wells)
| Missile Sweet Studio |
I'm drawing Rodeo at the moment, and will draw Bamber afterwards. I'll post pictures of Rodeo as soon as I'm done!
I've finished Rodeos head, just need to do his mane, neck and shoulder now!
This one please if you have time
Sorry it's a weird angle. If you can't draw it just let me know and I'll post a different one with not such an awkward angle.
Oh, and if you could do it without the lead rope that would be nice
and you don't have to draw the second horse in the picture if you don't want to.
---
Barrel Racers- We aren't afraid to get a lil dirty
You Wish you could ride like a Barrel Racer
If you have time?
---
"Where exactly were you taking him?"
"The bus, it was time for him to go home, sir."
~The Blind Side
---
Last edited by WesternSpice; 09-15-2011 at

04:16 PM

.
Good job! I'm jealous of all the artsy folks on here. I can draw a mean stick horse though
Feel free to have a go at any of them in my barn if you need some to practice with.
---
Life is like a camera. Focus on what's important, Capture the good times, Develop from the negatives and if things don't work out, Take another shot.
I've finished! The mane went a funny colour, but oh well! I'll start drawing Bamber now.
I've finished Bamber:
DustyDiamond and WesternSpice what are your horses called?
MHFoundation Quarters, thanks for the compliment, and I will get round to drawing a horse from your barn!