Memorial Portrait for a dear friend
---
I'd like to comission someone to do a drawing of my dear friends Fresian, who passed away this year after a very long 3 week battle with Triple E.
She was easily one of the most amazing mares I've ever met. We all miss her to this day and visit her gravesite and memorial often. She was just about 18 months old when she passed on - it was about 2 months ago.
I have several baby pictures of her that are excellent quality but the adult pictures I have of her are unforunately scattered, only partial shots, and some of the pictures we took when she was very sick...but thought she was going to pull through.
What I would like is something that's at least 10x12-ish... that incorporates one of her baby pictures.... (ideally the one of her running - I'm posting others for reference of features) .. with a picture of her as an adult. Either in a shadowy type background, or just a detailed headshot (if you can piece one together).
When using the sick adult pictures for reference, please keep in mind that her front lip did not droop as it appears in the pictures... it was swollen due to ulcerations from all the medicines and treatments.
I don't have a lot of money -- so if you could please give me a price range (in PM or here) so I can tell you if I can pay that I'd appreciate it. I'm hoping to find something in the $30 - $40 range? (i know it's not much...).
The medium can be anything... but I would like the portrait to be realistic and with some color. I'd like her name to be written in some beautiful font in one of the upper corners "Mesha" .. it's not her full registered name, but its what we all knew her by.
Anything that I can provide please let me know... this is a very important and special picture to be done. Thank you in advance for anything that you can do.
Her Baby Pictures: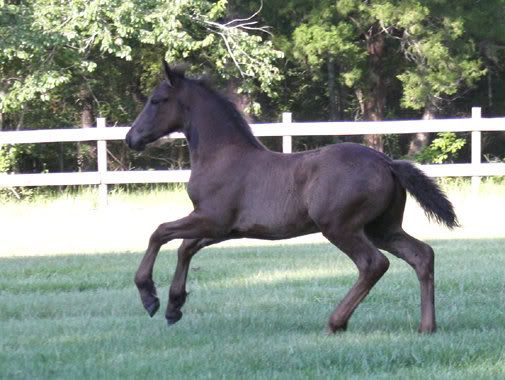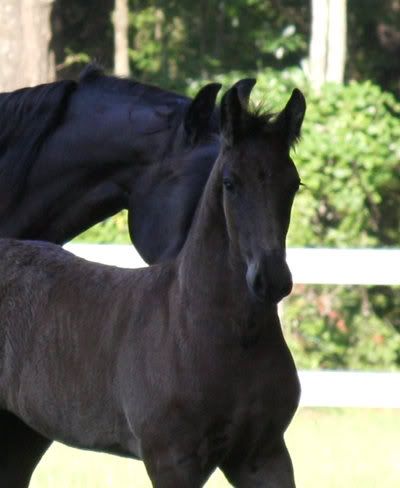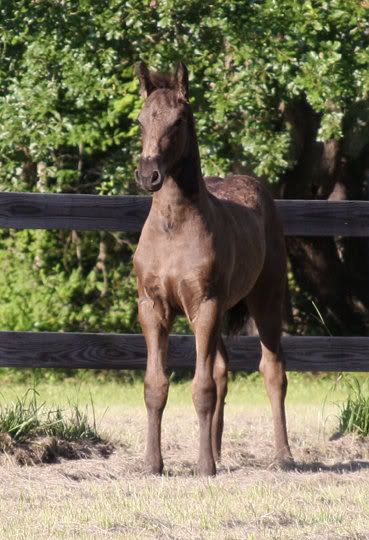 Pictures as an adult.. the one of Mesha in the harness was during her last days... we came so close to winning the battle.... we always kept the hope until the very end.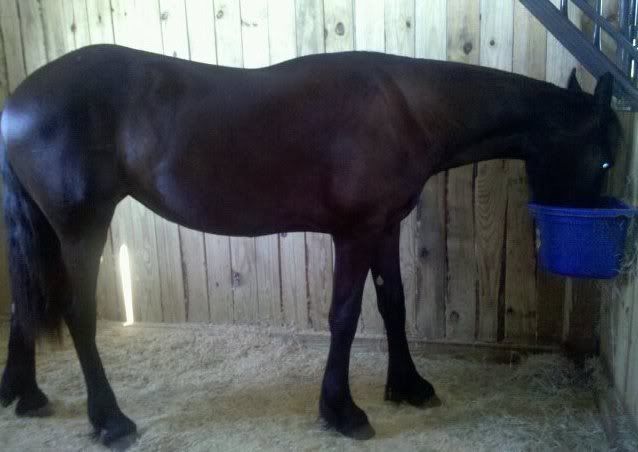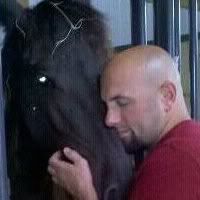 We were so close....
This was Mesha's Dad and breeder.. (for reference if it helps)
************************************************** ************************************************** *************************************
To clarify, the picture of her as an adult I don't want to look like her Dad. I want it to be at about 18 months.. her mane and forelock weren't fully grown and she wasn't fully developed yet.
************************************************** ************************************************** *************************************

As said above, that part of the picture can kind of be a shadow in the background of her whole body.. or headshot.. or a mixture of both.

Trying to see if I can find any other pics to help.
---
Last edited by zaudika; 11-24-2010 at

08:37 PM

.
Again.. I'm sorry that these pictures are when she was ill.... but it will give you some more facial feature references and shows you how long her mane and forelock was at 18 months...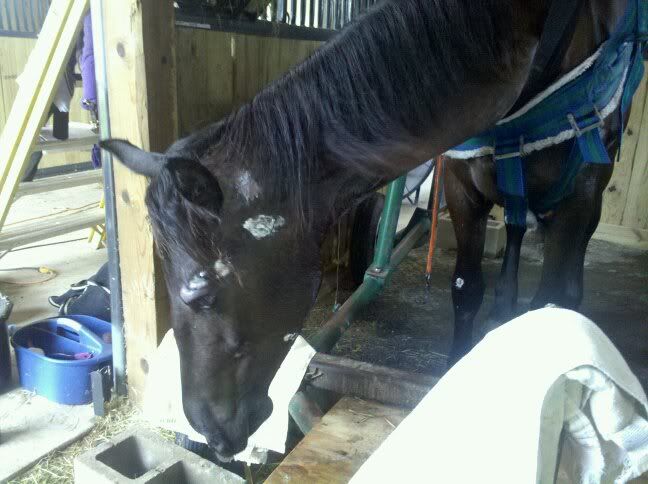 We laid her down every few hours to take the weight off the pressure points of the harness.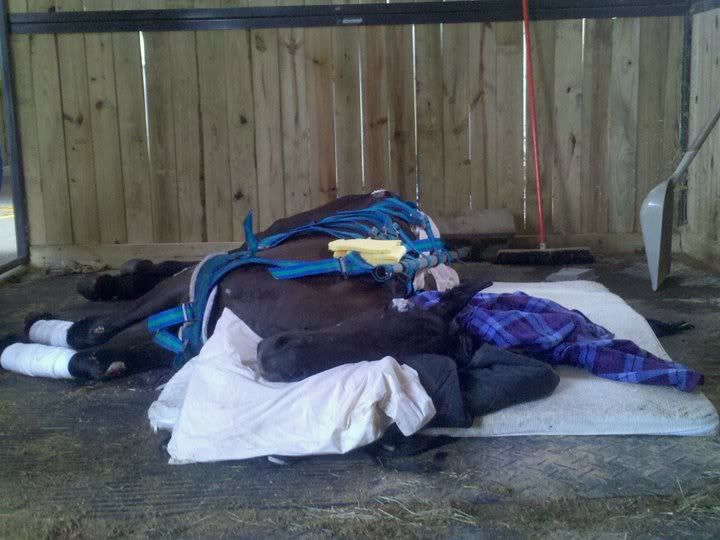 Poor girl...what was wrong if you don't mind me asking?
---
100% Anti-Slaughter and PROUD of it!

Man, that hurts just to look at her being so sick. Poor lil' thing.
I might try sketching her, but I really don't do color.
Quote:
Poor girl...what was wrong if you don't mind me asking?
She had Triple E. Eastern Equine Encephalitis. Transmitted by a sick mosquito. One of these days I'll write Mesha's story on here. I'm just not sure where I'd put something like that. I did have a thread on another board that stayed updated as we fought night and day for 3 weeks to save her.
It was a tremendous effort that brought people together to develop friendships that will last forever.
Mesha was very special to me, I can't even put into words how much I loved this dear mare. It meant a lot to me that in her last seconds, she chose me and her owner to be with her when she took her last few breaths. There were about 20 others on the farm that had temporarily gone into the house to get a few things ..... her last breath was just moments before the others came back outside.
(fyi: the vet had been called as we knew a few hours previously that it was time to let our dearheart go.. he just didn't make it there in time) To be honest.. we were grateful for that because it was one less needle she had to endure.
I've heard of EEE. My heart goes out to you guys. She was a beautiful horse.
---
100% Anti-Slaughter and PROUD of it!

These pictures are actually some of the .... eh... gentler ones we took. We documented things by pictures and by journals very carefully so that if Mesha had pulled through we had all the documentation to help others.

Triple E is one of the biggest killers as far as diseases through mosquitos and has a very high morbidity rate.

........... On a blessed note.........

The very wonderful breeder whom Mesha was bought from, recently told my dear friend that she is giving ... yes, giving...... her the next baby from Mesha's Sire. She was very touched at what was done to try and save Mesha and wants it to be a very special gift.

The baby is due to be born in April 2011.
Quote:
Man, that hurts just to look at her being so sick. Poor lil' thing.
I might try sketching her, but I really don't do color.
I'd love to see anything that you drew or did. I'm not exactly sure if its exactly what I'd be looking for as far as purchase... but at the same time I imagine I'd probably still want to buy it eventually (if not immediately). :) Any portraits of this special mare would be welcome.