Original equine art & commissions for sale!
---
I'm selling a bunch of my art! This is what I have for sale right now. They're all 8'' x 10''. All of this art is $25.
You can look at the art bigger and get more information by going to my website,
Abigail Dawson Equine Art
.
I also do commissions (a portrait or full body drawing of your horse) for $40. You provide a reference photo and I draw it! Here is an example of a commission: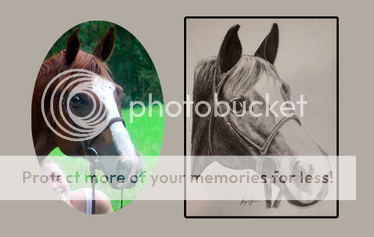 Again, go to
Abigail Dawson Equine Art
for more information! If you have questions or are interested let me know!
Prints are now available! Prints start at $11 (including shipping) with optional matting. Available in 8x10, 5x7, or 4x6. You can see them larger and order at
Prints - Abigail Dawson Equine Art
!
Here's what I have by way of prints:
Let me know if you have any questions!
Bumping again, still trying to sell all of these. :)
Another example of a commission I did:
These are so beautiful!! Not in the market for art, but these are beautiful!
---
~ When I Die, Remember Me By My Horses ~
* Because They Are Responsible *
.: For Letting Me Live :. (c) xJumperx