be very careful building a round pen out of tires - The pen in the pictures has lots of gaps between some of the tires that a horse could get a leg trapped in. Also I have had several horses that would attempt to jump out of any round pen that they could get their heads over - so it would need to be a lot higher.

Sorry to be negative but I think that looks like a train wreck waiting to happen - and would possibly end up with a very injured horse.
I remember reading a book a long time ago, "The Affordable Horse" I think it was, that tires are the cheapest and one of the safest fences you can make for your horse. They just aren't the prettiest.

Definitely update as you build this, I'm very interested in seeing the progress of it!
Weanling
Join Date: Apr 2010
Location: Somewhere on Vancouver Island
Posts: 601
• Horses: 0
Here is a picture of my roundpen........it was made from recycled wood and it has concrete buttresses on the out side to hold the walls in place. Wood itself cost a $1000.00 and the concrete for the buttresses there are 22 would be another $700.00....and we did all the work ourselves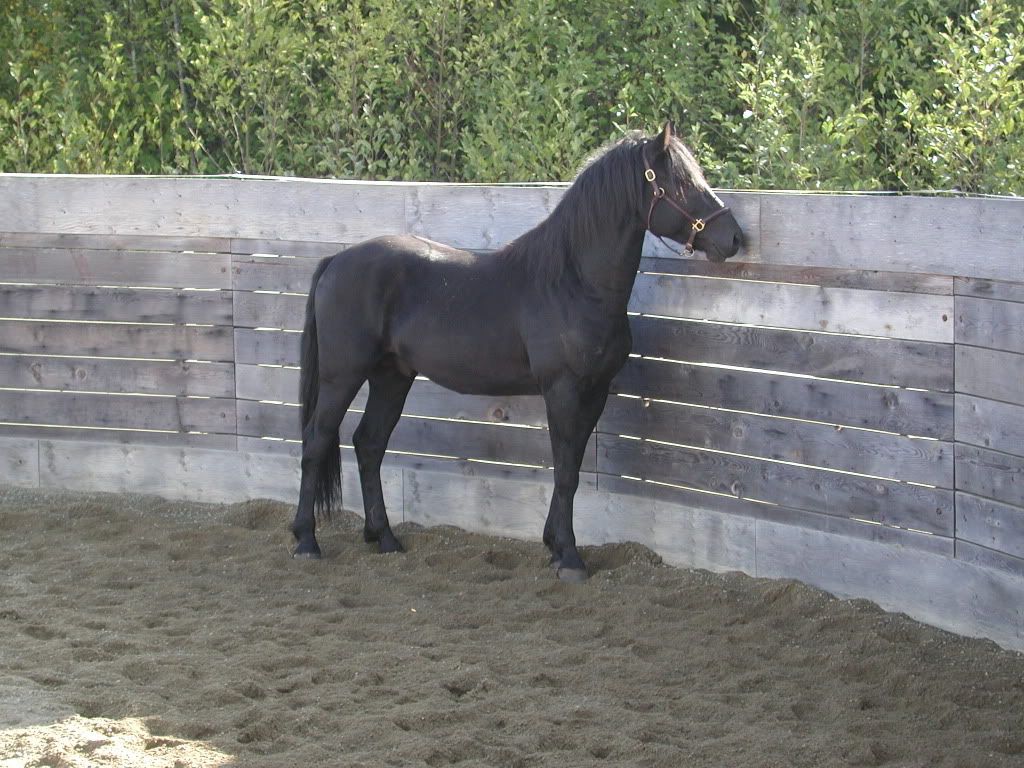 Super Nova
I also read about them in a book now that i'm building it. Gave me an excuse to pick up the horse books i haven't touched in 5 years.

It is supposed to be very safe. I see the point about the holes, we're probably going to do ours closer together. A lot of them still have rims on them. With the weather, so far we've just started moving them from the back of the property to the location, haven't started building.

It's gonna be behind a hill, so nobody will see it unless they are in the pasture!

Honestly, my biggest concerns so far were bugs. Mosquito's, which i read you just make sure to drill lots of holes for water drainage. But my concern i don't have a solution for - BEES!
---
"Animals are not our whole lives, but they make our lives whole."
We have a lot of bee hives nearby, what we have to do is leave some water out for them in a place that causes us no problems - once the bees find the water you have left out they will always go there - just keep it fresh and make sure that it never runs out, otherwise they swarm near the horses water troughs.
Green Broke
Join Date: Oct 2009
Location: Witbank, South Africa
Posts: 2,681
• Horses:
2
My friend has a tire round pen. Its
alot
bigger now than it was when this pic was taken. It works really well :)
DSCN3810.jpg
---
Every girl wants their own LOVE STORY, I found mine... :)
That is nice! Mines gonna be *much* higher for the yougin's to do roundpen exercises in while free lunging.
I really don't have any pics but ones from when we first laid out the first layer. We used Semi tires WITH rims on them. I can't even budge these things, and it took two guys to set them all up. I can tell you one thing, if you made the whole entire thing out of these semi tires, it wouldn't go anywhere!
However, we used 21 Semi tires and only have on left on the property now. WOOT!!
We calculated and we're gonna need 200+ tires, and sadly, we will have plenty with a few to spare.
At one riding school i used to ride at, they had some jumps set up in the cross country field made of tires. I'll probably set a few jumps up with what we have leftover, as i plan to start jumping my mare again this summer!
Here's the only pic i have: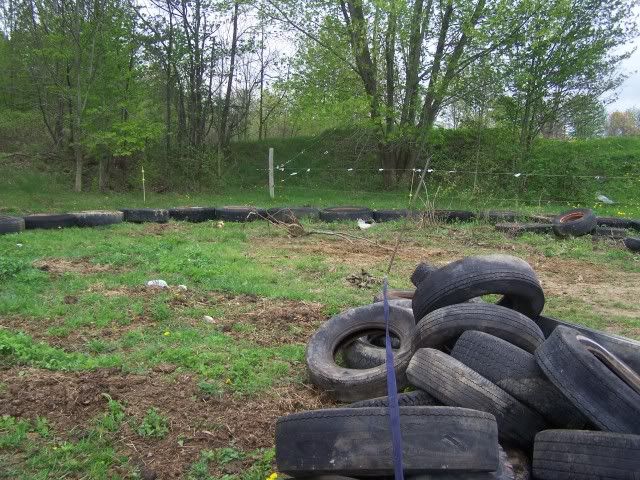 We have to do quite a bit of work on the footing. Some shrubs and little trees have to come out.
We have limited time, and drilling the holes is the worst part! It kills the cordless drill in seconds, so the tires have to be hauled to the barn, drilled, and hauled to the location. We do an hour or two of work every morning before he goes to work. Slowly but surely we're getting there lol
---
"Animals are not our whole lives, but they make our lives whole."
Yay, it's shaping up, even with just the first layer
. That is so great your hunni is willing to put in all that extra effort every morning before running off to a full day of work. He deserves lots of extra appreciation for that.
Weanling
Join Date: Apr 2010
Location: Somewhere on Vancouver Island
Posts: 601
• Horses: 0
You might want to consider stacking the tires like bricks and then filling them with sand or gravel.........it would make them more stable.

Super Nova