Do you decerate the barn for the holidays?
---
Well I love Chirstmas! I was wondering if any of you decerate for the holidays? If so please post pictures! :)
At my barn, all the horses get stocking on their stalls, lets see if I can find a picture...
Posted via Mobile Device
Started
Join Date: Nov 2010
Location: Lethbridge, Alberta, Canada
Posts: 1,634
• Horses:
2
The other boarders made stockings for their horses as well. They insisted on making me one too, I said no, they did it anyway. I hate the one that was made for me with a passion, you can't even tell that it has my horse's name on it because the fabric paint is so smeared on it. So I just finished the replacement tonight, looks much better and it's in my gir's colour too!
Quote:
aha! here we go :)
Cute! I made All my ponies stockings!
Yep, with pine trees (shavings) and pretty green hay
---
Life is like a camera. Focus on what's important, Capture the good times, Develop from the negatives and if things don't work out, Take another shot.
Haha! Mine get stockings, and two big reefs hung up on the barn door. And we have a hot coco machine there..
---
Never sell your saddle, cause' lifes a long ride
This is an old picture from a long time ago but it fits still haha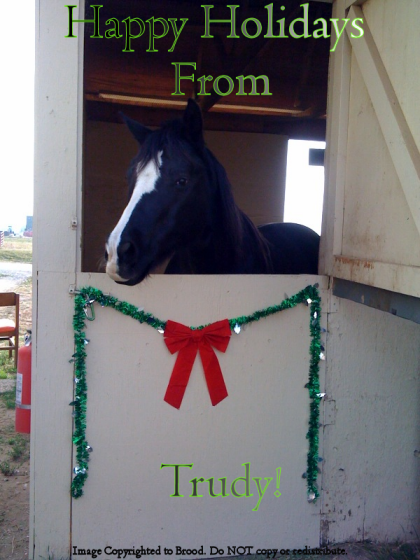 She's kind of a Grinch though...I came back later and she ripped all the tinsel off the door LOL
I made my girls stockings.
And Lady's stocking last year...haven't gotten around to decorating one for her yet this year.
---
passion is when you put more energy into something than is required to do it. it is more than just enthusiasm or excitement, passion is ambition that is materialized into action to put as much heart, mind, body and soul into something as is possible. // <3 starlite - dream - lady - georgia
Showing
Join Date: Jun 2011
Location: Cariboo, British Columbia
Posts: 11,952
• Horses:
3
I threw some lights on a big rose bush just outside the barn, does that count?