Quote:
...
I'd love to see pics of your barn (inside and out).
Koolio, I have been unsuccessful in my attempts to load my pics. May I ask how you do it? Thanks.
Quote:
Koolio, I have been unsuccessful in my attempts to load my pics. May I ask how you do it? Thanks.
I have a Photobucket account (free) where I upload my pictures. To share on a forum, I paste the image code into my post. There may be an easier way, but this is how I have done it. I do like having an online space for photo storage as well. A couple of years ago, we lost a bunch of pictures when our house was broken into and my laptop was stolen. This way, I don't have to worry about that.
OK - I think I've got the picture thing in hand. Here's my barn -- we've used it two winters now. There's still a bit of painting to do on the inside and a few shrubs to plant on the outside this year but otherwise we're finished with it (there's much still that we could do but we don't want to turn into a lifelong project). My "tackroom" is a resin garden shed we bought on sale - it's not big but works quite well at keeping the tack dry and dust free - it's been set up so we could take off the original doors and put in some nice would ones if we ever decide to do that. Behind the tackroom (it doesn't show up well in the pictures) is a place set up to store the oats and pelleted feed.
---
Last edited by Chevaux; 05-06-2013 at

12:06 AM

.
Very nice Chevaux! I like how light and airy your barn is. I will continue to post pictures as our barn progresses. The crew took the weekend off, it hopefully the building will get skin and doors tomorrow. Once that is done, we will work on the inside.
More progress and a hiccup
---
The crew was back to work again today and got the siding on the two side walls. Unfortunately, it was too windy to do the roof. Hopefully tomorrow will be better. While it looks great, we do have a problem. The wall light was supposed to be at the very top of the wall. As you can see from the pictures below, it is not.
I am not sure if this is going to be a big deal for us or not. My concern is the wall light is a clear hard plastic type material that could break upon impact. It is up above the kick wall at a height of about 6'. So, it is out of the way of the horses hooves or bums, but not out of reach of their heads. My options are to ask to have it corrected and delay finishing significantly, or leave it and if needed put some kind of metal bars or something over top to prevent the horses from getting at it. I will have to call the building manager tomorrow morning to figure it out.
I know the idea of delays are unpleasant but I think you'll want the windows corrected to your original specs. If left, there will always be a part of you regretting leaving it as is when there had been a chance to have it fixed.
One step forward, two steps back
---
Here we are at the end of yesterday.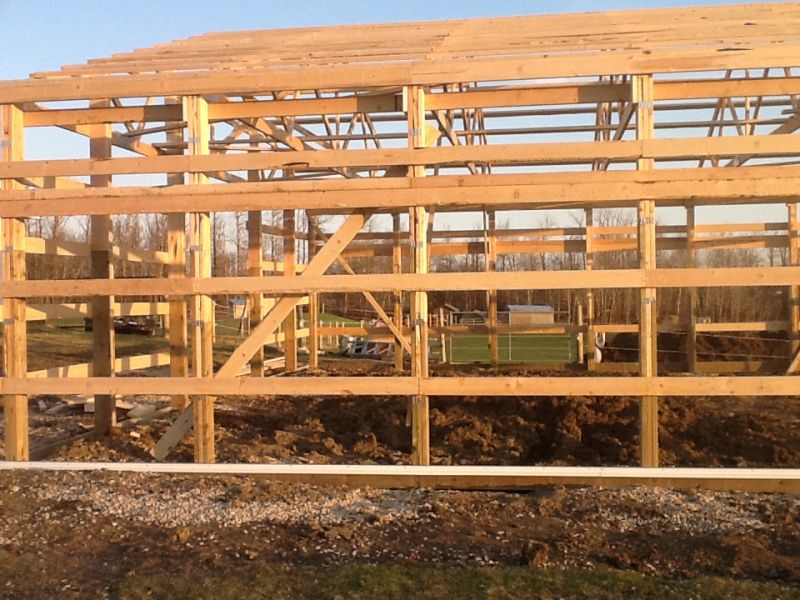 If anything seems to look amiss, it is. The crew had to take the siding off the walls and will be starting over to correct the position of the wall light. Unfortunately, it was their error. They misread the plans. I feel so bad for them, but we have to have it done correctly. With the wall light lower, it would have been a safety hazard for the horses. Besides, we are paying for the light to be placed at the top of the wall. I still feel terrible for the crew, as they have been great. Maybe I will make them some cookies tomorrow.
As for our progress, I don't know how long this will delay the job as they have to bring in new siding and trim pieces. Hopefully the materials will arrive quickly and they will finish up by the end of the week.
subbing!
---
°*°~A canter is the cure for every evil~°*°
Progress!
---
We are finally getting closer to having the outside of the barn finished! This time the wall light is in the correct place. Now there is only one end wall to finish and the doors to be hung. Hopefully they will be finished tomorrow.
Here are pics from this evening.
The finished end (except the door)
This end still needs to be finished.
When they readjusted the windows to their proper height did they have to use new siding or were they able to reuse the previous sheets?