Looks great, Koolio.
---
I am Second
Born Once, Die Twice. Born Twice, Die Once.
It looks really nice.
I would suggest insulating the roof, mainly for noise reduction. Rain can be deafening in a pole barn.
All in a days work
---
Yesterday was a very busy day inside the barn. We got the vapour barrier and kick wall up on the half of the building that will be used for stalls and tack room.
This morning, DH and I layed the tack room floor. We are still undecided as to what to use on the stall floors (wood or rubber mats).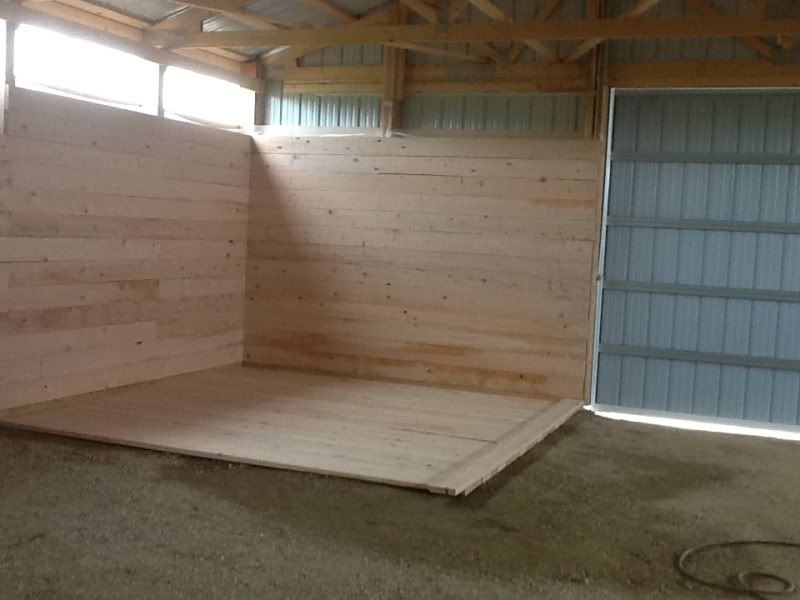 I am also considering using some sort of sealant on the wood. I don't want to stain it, but wondered if a sealant will help reduce staining and discoloration. We have lots to do before picking up the stalls next weekend.
How much moisture do you think will be between the floor and the ground? I'm not sure about the humidity and ground moisture up there so its hard to make some suggestions. In my environment I would have put a good coat of water sealer on the bottom of that floor before putting it down to resist moisture rising up and possibly rotting the boards from the bottom up. Does that make sense? At minimum a layer of visqueen to keep the moisture from rising up to the board.

The barn is looking amazing and has me green. I can't wait to see the next set of pictures.
---
I am Second
Born Once, Die Twice. Born Twice, Die Once.
Roadyy - generally it is surprisingly dry here. The wood floor sits on top of 3-4" of gravel and the barn is located on a high spot that is quite dry. During the winter, we will plow the snow away from the barn as well so there shouldn't be much moisture seeping in due to snow melt. My neighbour has had the same set-up now for about 5 years and has had no moisture at all. If anything, our building is positioned even a little better than theirs with respect to the slope and lay of the land.

That said, there is a slight slope E to W toward the barn from the driveway, but it also slopes even more N to S. If anything, we may see a bit of moisture on the SE corner where it will remain gravel only until we do something else. I am waiting on a good rain to see exactly where the water will flow. If necessary, we will add some landscape features / weeping tiles to facilitate drainage.

Quick question. What do you recommend for sealing the wood on the stalls and kick wall. Is it even worth sealing it? I don't want anything toxic, but would like something that may help the manure wash off the walls a little easier of need be. Thoughts?
I would most definitely use rubber mats with gravel for the stall floors. The wooden floors will quickly rot and absorb the pee, creating a disgusting odor.

As for sealing, the barn I take lessons at sealed all the wood with polyurotheane. (sp?)It creates a very nice look and also stops the poop from getting stuck to the walls too much. I also believes that it keeps the wood protected from moisture and other things.

I love the look of your barn and cannot wait for it to be finished!
---
Intermediate Rider~Learning Equitation and English Pleasure~Interested in Eventing
A horse will tell you everything you need to know about him, if you listen.
-Winston Churchill
First - Good progress to date. Second - We have not put anything on our boards yet; we've left them as is and I do like the patina that is developing on them with regard to their colour now they've got a bit of age on them; a couple of the stalls are inhabited by "wall droppers" and have cleanup that needs to be done (we've let them dry and my husband will be going out with the electric sander and making quick work of it one day soon); I can see a sound argument for a varethane protective coating but I also worried about toxicity and so for the foreseeable future I don't think we're going to do anything until I've settled on something I know to be nontoxic.
We have stalls!
---
Yesterday we picked up stalls. DH got them up along with the tack room wall and kick wall. Last night we cut and installed the boards. I am pretty happy with how they turned out.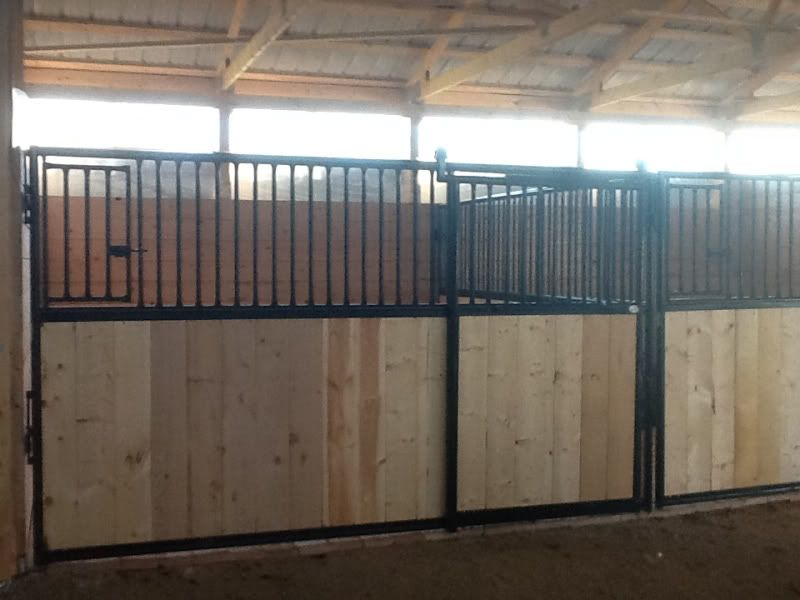 Drop down doors.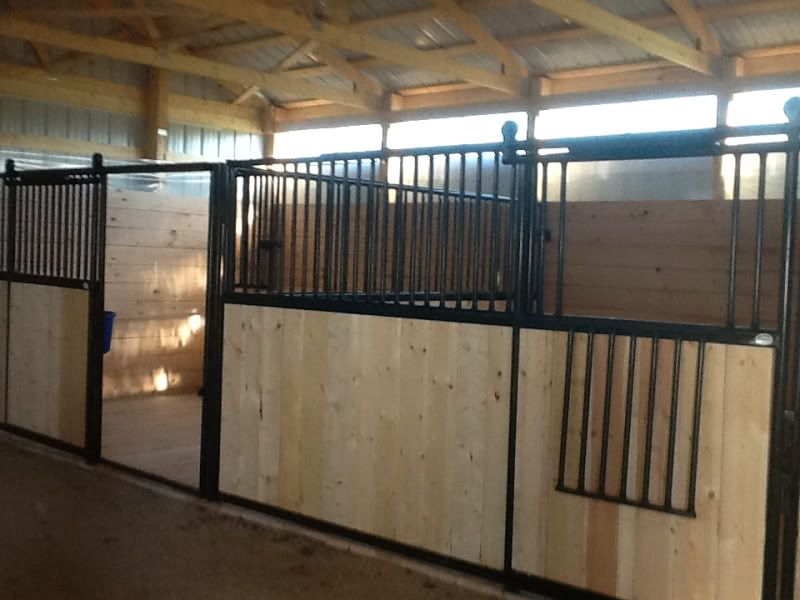 From the inside.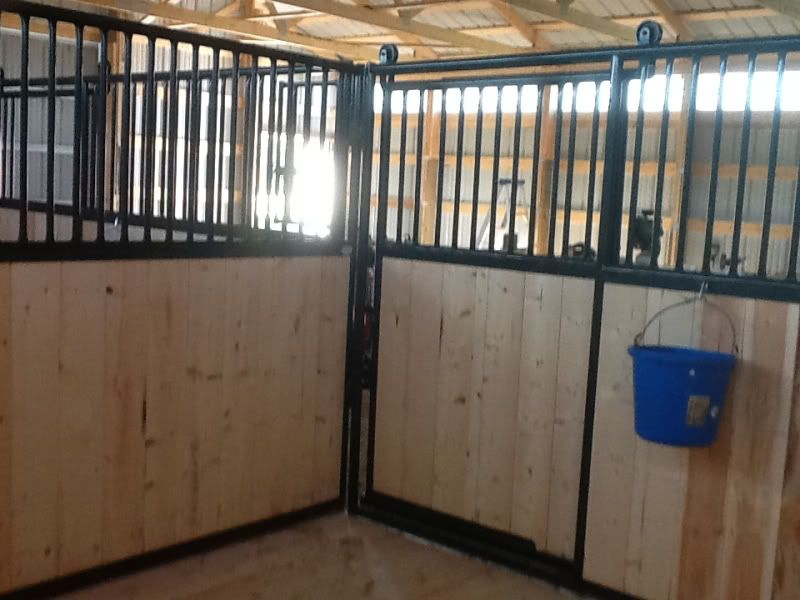 And the tack room so far.
We still need to build the aisle facing wall for the tack room (with door) and finish the inside planking on the wall adjacent to the stalls, but it is coming along.
Today's job is to start moving some tack into the barn, since it can now be locked and secured. DH is going to start running the electrical service. I still haven't decided what to put on the aisle floor. For now it is compacted rock crush.
Don't you just love wood knots? There's something so homey and warm about them.

P.S. Very nice stalls.
Almost finished! The tack room is almost done and just needs the cabinet hung and some organization. I still need to put a protective coating on all the wood, but I am still researching what will be best to use. I'm looking for some thin rubber mats for the tack room and some heavier mats for the centre aisle. For now, the tack room has a wood floor and the aisle is packed road crush. I will post more pictures once we get the construction mess cleaned up a bit, but here is the tack room so far.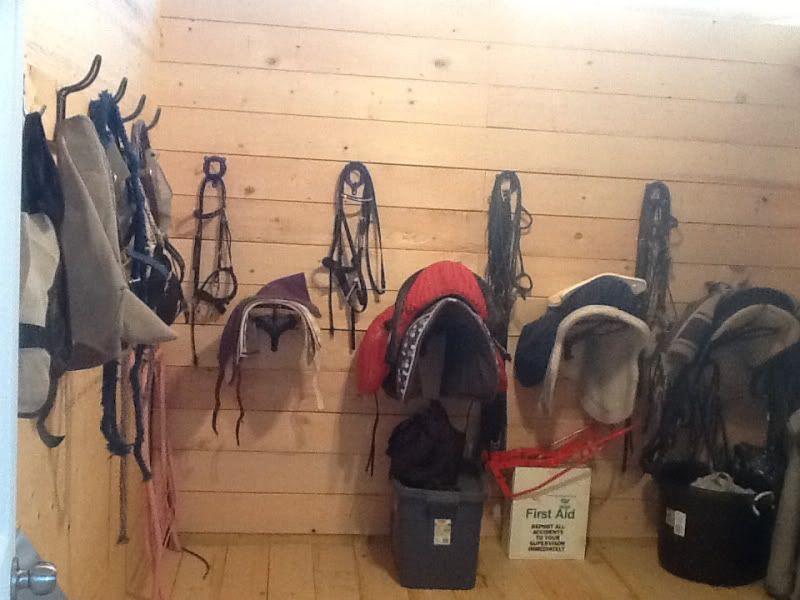 From the outside.
We are still waiting on the main barn light fixtures and the outside light, but have power, a tack room light and lots of outlets. It is awesome to work in the barn in te evening and have both light and some tunes.