I refinished my stall fronts! (Picture Project)
---
I wanted to share a project that I worked on last weekend. It turned out really well and I'm super proud of how they turned out.
I have small barn with two stall fronts and they were plain and simple, and fine. But I really wanted that higher-end barn feel that we all covet from Pinterest posts, so I decided to clean and finish them.
Here they are "before". They look fine, but not *
fantastic
*.
I started out by pressure washing them taking off the years of old dust and bringing out the original beautiful color. You can immeadiatly, see the obvious difference.
Refinishing Stall Fronts
I let them dry over night and the next day I then went over the rough spots that had splintered with the power sanded and vacuumed up all of the dust. After that I went over the all of the wood with Pre-Stain Wood Conditioner, applying with a soft lint-free rag. The freshly washed wood, soaked the conditioner up, so by the time I was done the point I started at was dry.
So then I applied Zinsser Traditional Clear Shellac Finish and Sealer, with a soft lint-free rag, from top to bottom left to right. We had good weather, so it dried super quick.
Here you can see three sections in different phases.
The
RIGHT
most section has only been cleaned and sanded.
The
MIDDLE
section has been cleaned, sanded AND wiped with Wood Conditioner.
And the
LEFT
section as been cleaned, sanded, wiped with Wood Conditioner AND has one layer of shellac.
And then I applied a second thick coat. The trick, is to get it as thick as you can without the shellac dripping. I did two coats but I think it needs a third coat. Shellac is a great sealer but you do need several coats.
Because of the pressure washing and fumes the horses did have to spend the weekend out in the pen. As you can see they didn't protest very much.
My next project is to figure out how to paint the bars black gloss to match the rest of the fixtures. I would love to get them powder coated, but they are permanently mounted so powder coating it out, so I've got to figure out alternatives.
I think they look really good! Its as if I have a real grown up barn!
Here are some more before and afters
I forgot! Here's the link to the Flickr Set Slideshow to see more pictures at a high resolution:
Refinishing Stall Fronts
Really looks nice! Great job.
Good job! I'm also working on finishing my stalls and doors. I chose to paint my cross bucks a dark brown. I love how it looks finished but boy is it work!
A suggestion on painting the bars would be to stop a local hardware store and pick up some self etching primer then head for the local auto parts house like Advanced or O'Reily's and pick up a few cans of spray on bedliner paint.
Tape off the wood with painting drop plastic you would use for painting in your house then start covering the metal with the self etching primer. By the time you finish the last area the first area should be ready for a coat of bedliner.
I would give it 24 hours to cure fully before letting the horses back in there. I suggest this due to the chance of horses nibbling on the bars if they had regular paint on them and getting right back to scuffed up looking bars or metal. Bedliner is hard enough that they will likely never scuff it. Even if they do then touch it up and give it time to set up and it blends in great.
I build front and rear bumpers for Jeeps that climb rocks and mountain sides. They all get coated with bedliner paint and look great! This pick was taken 3 days after being back from an off-road trip where the back bumper was slammed in the rock ground as I was pointed up at the sky trying to climb a hill. I never once worried about how the bumper was going to look from it.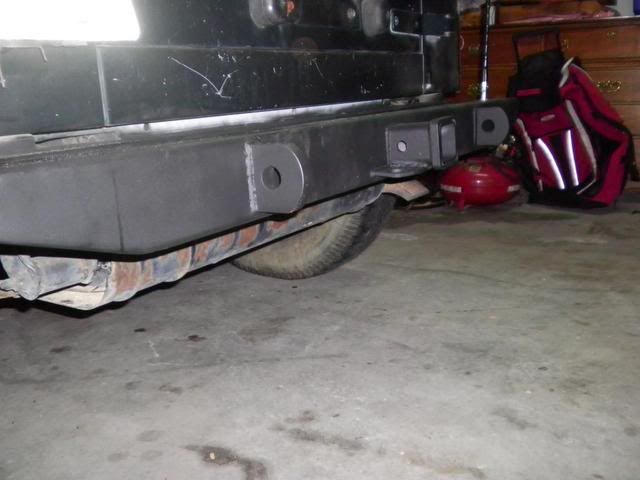 I hope this gives you some ideas about long term protection for any and all metal in the barn.
---
I am Second
Born Once, Die Twice. Born Twice, Die Once.
Wow, that looks so much better! (Not that it looked bad before though!) Its a wonder what a little elbow grease will do :)
Looks very high end and shiny!! Nice work!
---
∞•*˚ Βгįťţαňγ ˚*•∞
It is not enough to know how to ride; one must know how to fall.
Showing
Join Date: Jun 2011
Location: Cariboo, British Columbia
Posts: 11,775
• Horses:
3
Very nice, excellent job!
Posted via Mobile Device
Wonderful!
---
"Good things come to those who wait… greater things come to those who get off their ass and do anything to make it happen." - Unknown