Strawberry, that looks like a gorgeous place!
Here is my barn, I have 3 12x12 stalls, with removable dividers so I can make a larger one if need be, each stall has a door to the outside which has a lean too covering them for winter, broom closet off of the end of the stalls, wide alley so I have enough room if I bring in some round bales, then my heated tack room, feed room next to it with stairs going up into the loft, and cross tie area of the side of that.
We'll I have no pictures but I have 10 acres and have 5 acres for my horses with two large grass pastures with two ponds they can go in. We have a 24 by 48ish barn in the front that we use to store our snowmobiles, dune buggy, 6 wheeler, bob cat, tools and storage. It has a big hay loft that can hold lots of hay but we use it as storage because it's too far from out other barn.

My horse barn is 56by 64 and right now it Has four 10by10 stalls with a space for a 10 by 16 tack room but not in place. We are getting rid of the stalls. I have a 12 by 12 open tack/feed room, with a 10 by 26 lean too that they can go into. And a 18 by 16 hay area. I have two sacrifice areas that have round bale feeders.

I have a mesh on the outside of the perimeter, and a wire on top. And four strands on the inside making the different pastures.
Keep them coming guys! I visited the hopeful future house property and its steep but about 10 of the 20 acres could be pasture. I will post pics in my thread about moving.
---
"Good things come to those who wait… greater things come to those who get off their ass and do anything to make it happen." - Unknown
Sorry, this will be photo heavy! I took all the indoor ones today, but don't have any new outdoor ones due to the rain. :(
Here's our barn...
The main aisle that runs the length of the barn. There are ten stalls.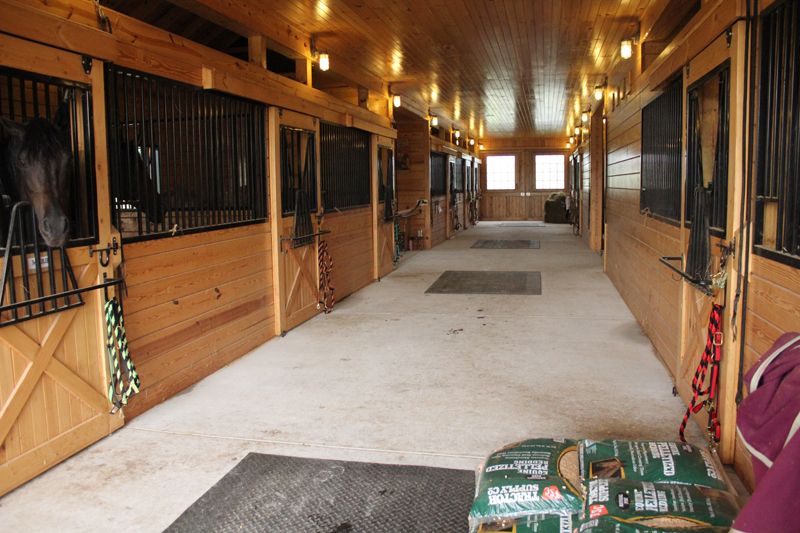 Here's the front door that we never use.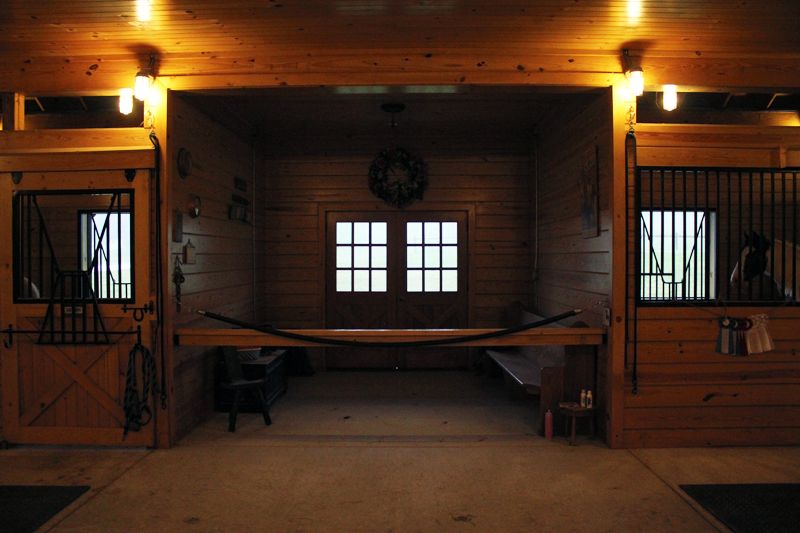 And the short aisle across from that.
Down this aisle, we have the wash stall.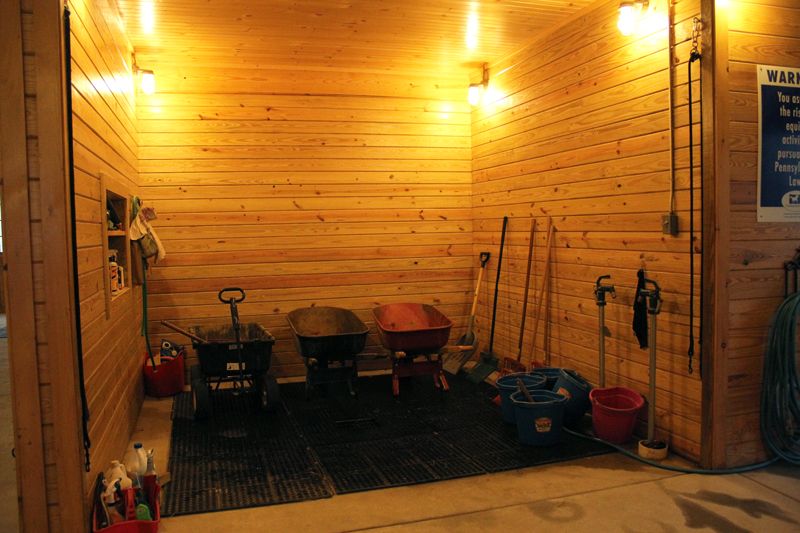 The tack room, which is decorated nicer than my living room at home, thanks to my mom lol.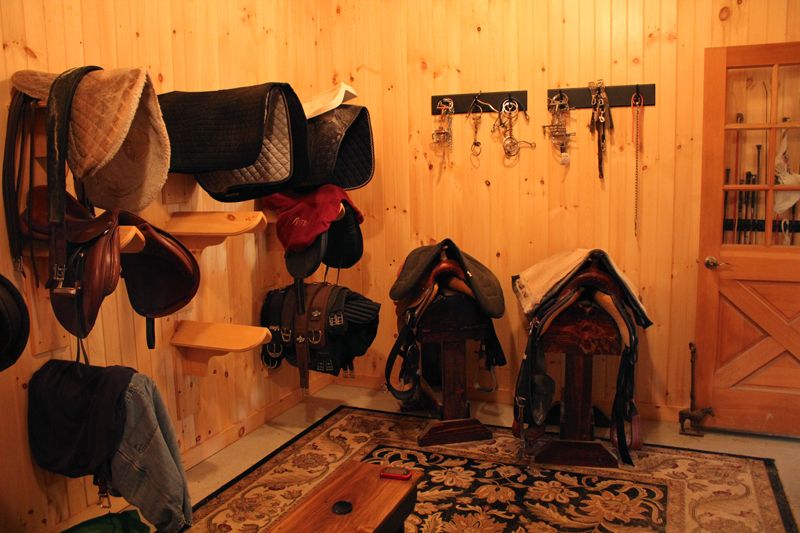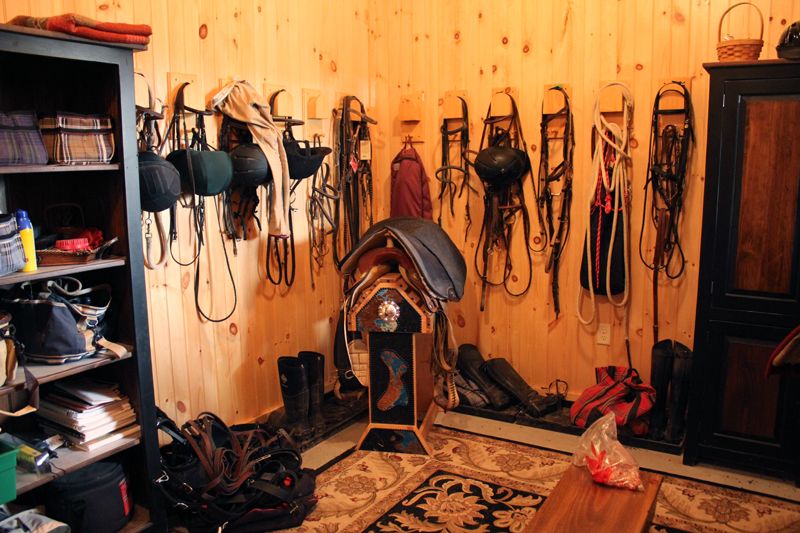 The feed room.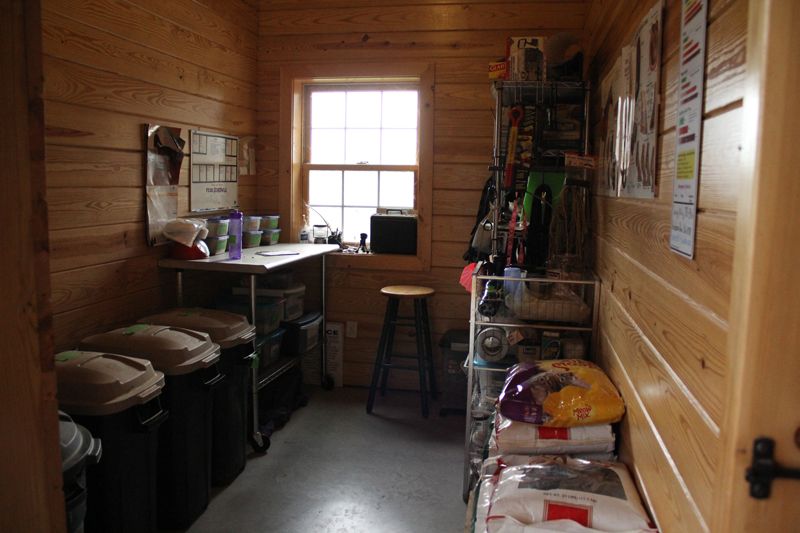 And a storage area with stairs up to the hay loft.
In the hay loft we have more storage for my mom's junk.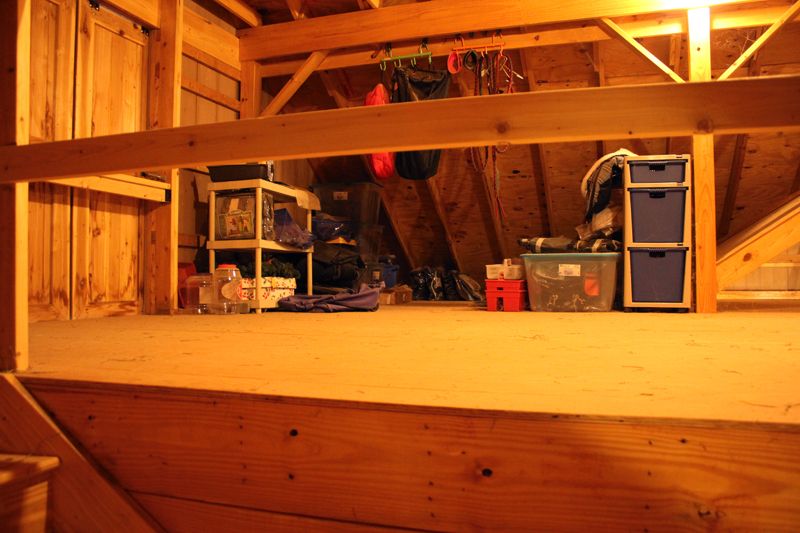 And the hay area. That bin is on the floor to catch the rain water that blows in through the cupola when it storms.
I like our hay loft because it's open to the stalls. This makes for easy hay feeding! Here are my ponies as viewed from the hay loft! They are wet because they just came in from the rain. :)
We also have another building with tractor and carriage storage downstairs and more hay storage upstairs.
This is my grandfather's place, newly constructed about 2 years ago. He has 89.6 acres. 40 acres is wooded. I'm not sure exactly how much he has fenced off for pasture, but it's more than enough for our 8 horses.
Here's a google map screen shot that I doodled on.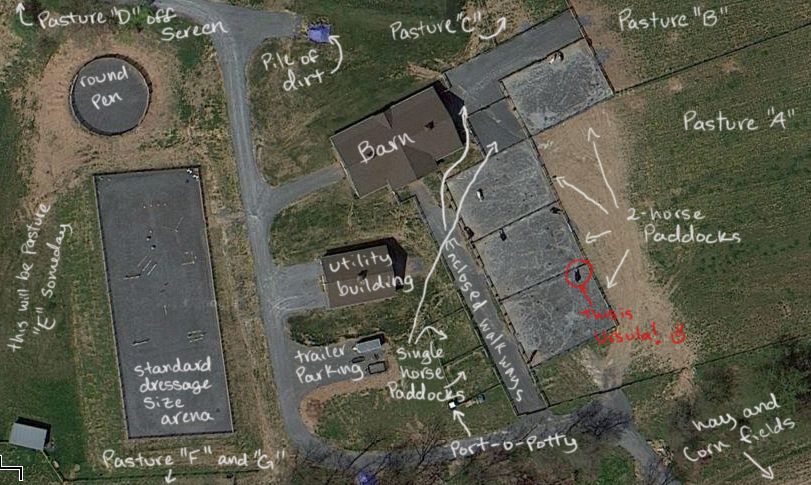 I love looking at photos of other people's barns, seeing what they did differently. A lot of people on the HF have some nice barns!
The only things I wish we had done differently is have dutch doors to the outside and the paddocks coming directly off the barn. My grandfather said that feature would have been too expensive. I guess dutch doors are a pricy add-on. I also wish we had water spiggots out near the pastures so we didn't have to drag hoses or carry buckets for miles around. And it would be nice if the buildings were closer together so there wouldn't be so much lawn to mow. My grandfather said that wasn't doable either due to the grading. He had the land graded so the buildings would sit higher and not flood in rainy weather and the way the swales worked out the buildings couldn't be closer. Though I suppose that's a good feature to have, despite the extra lawn.
---
I board my horse at an amazing facility. Sadly I don't have my own place but here is a tour video. There are I think around 38 horses. 1 dressage ring, 1 jump ring, and 1 indoor ring. 4 cross ties and 2 wash racks. So many pastures and the trails are endless!
https://www.youtube.com/watch?v=Nwgi...a5FpSFOiVarhFg
I put an ad on CL seeking a few acres to lease to keep m horses on since I couldn't keep them at my place just on the city limit side of the line. The owner of this place called and said he bought a 36 acre farm just north of us across the Alabama line and was looking for someone to lease this 8.66 acre property too. My horses are the only ones here there with an 850 acre hunting lease behind it that I have full access to ride on.
The left side of the stalls is the tack room with the hay room behind the tack room. The door to tack room you can see just to the left of sink. The hay room door is around the far end.
LM Barn view.jpg
20140325_182025.jpg
20140325_182126.jpg
20140325_185305.jpg
20140422_182916.jpg
20140422_190849.jpg
20140325_182539.jpg
20140325_182546.jpg
---
I am Second
Born Once, Die Twice. Born Twice, Die Once.
She ain't pretty, but she's mine! hahaha!
(Sorry for the yucky winter picture.)

This is our 8ft x 16ft run-in that we convert into 1 big stall or 2 8ft x 8ft mini stalls, as needed.

We're planning to more than double this to a full stable before winter.
The new part will add a 3rd 8ft x 8ft mini stall, and (2) 12ft x 12ft full size stalls with a 10ft aisle in the middle. 8s on one side, 12s on the other.

The "frame" of landscape timbers and boards came from a garden bed that never got built.
The back wall (not pictured) is made of recycled pallets, not the kind with big gaps.
The metal was salvaged from a commercial chicken house that was hit by a tornado.
The gates were left at the property when we bought the place.

All of the materials were 100% recycled/free.
I designed it, and it was built by me, my husband, and my father-in-law.

I thought about not sharing a photo because sometimes I'm embarrassed of how crooked it is.
I wish everyday I had a big, beautiful stable, but I'm (secretly) proud of this one :)
Covered Round Pen....
---
Only have to put the base and footing in. We have a 15 foot diameter fan and plenty of light for night use as well. Start staining the wood tomorrow.