OMG! It's official!!!!!!
---
As of tonight ~ Araluen Stables at Grace Horse Park, Indianapolis is officially ours and we open for boarders January 1st, 2010!!!!

I am so excited! It's silly how exciting it is haha.

Now we just need boarders....
---
Last edited by JumpingTheMoon; 12-11-2009 at

02:58 PM

.
Congrats! I cant imagine how exciting that would be!!! How big is the barn, like how many stalls, acres? Got any pictures of the barn?!
---
When God Made Horses, He Painted The Good Ones.
"All I pay my psychiatrist is the cost of feed and hay, and he'll listen to me any day."

im applying to graduate school in Indianapolis and if i get in i'll need a place to keep my horse (this would be next fall). do you have a website?
from Creek Bottom Stables
---
congratulations! may your horses and business prosper! We at Creek Bottom Stables wish you and yours all the best!
Congrats! That sounds so exciting! We need pictures ASAP :)
---
HORSE RIDING:
The art of keeping a horse between YOU and the GROUND!
thats so exciting! good luck, i hope all goes well!!
---
If there are no horses in heaven... im not going.
Congrats! Yes pictures are a must!
---
~ Starline Stables ~
Thanks everyone. I'm going out tomorrow to take better "official" pictures but these are some from today.
No website yet but I'm going to start that tonight.
It's a fairly large barn, 11 stalls that are about 12x16 each. 9 turnouts, two outdoor arenas, one very large indoor arena. A pond and about 84 acres of fields and woods to trail ride (with bush-hogged trails).
Here's the front of our barn - or half of it - my cell phone doesn't take good pics.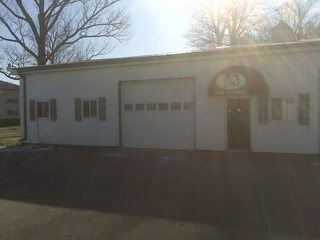 Some of the stalls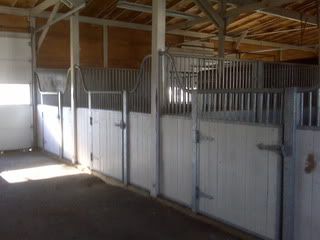 The turnouts
The indoor arena - well part of it - it's huge! Has shredded rubber footing.
For reference - that blue thing waaay off in the distance is a full size barrel.
I'm sooooooo jealous! I love those stalls...
---
~ Starline Stables ~