I enjoy learning about new animals, even ones I don't care for...
Knowledge is power.

They creep me out....sorry....
---
Horses are proof that God love's us and wants us to be happy!
Everytime I see one I think of the one on OVER THE HEDGE or the two on ICE AGE too cute. Thank god there are none around my barn though. I delt with EPM once and thats how I lost my Percheron Stallion.
Thank you for the interesting facts. Doesnt hurt to learn I say.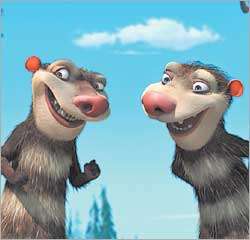 TRR
Thanks everyone for the positive comments!
I also found your original post informative, contained some new facts I did not know. Although I also have relocated a few, my main problem is racoons.
They are cute but so dangerous. I have a neighbor who had a * pet * Opussum that she would let stay in her barn and feed cat food. Well, this so called * pet * possum peed on her horses hay and the next day, she found 5 of her 7 horses dead. Now she only has 2 horses out of 7. I let them walk around, sure. But if they get to close to my barn, they will be sorry they ever thought about coming near Flat Valley Ranch.
---
Hello! I wish I had a horse of my own.... I am working hard to earn $1500 this year though! There just doesn't seem to be very many good horses on the market though......
I suspect that there was a bit more involved with the horse's death than a bit of possum pee. Equine protozoal myeloencephalitis (EPM) is spread by the feces of o'possums. I can't find anything that implicates the urine. Also, it takes months to make the horse sick. Sudden death in multiple horses is usually due to some sort of feed issue causing colic such as the horses getting into the feed room and overeating or the feeding of bad hay. Allowing possums around your horse feed is basically a symptom of your being brain dead, but it is not an overnight sudden death type of thing.
Merck Veterinary Manual
---
Celeste
Carpe Diem!
Possums are not dangerous. Yes, EPM is spread by their feces. It doesn't mean every possum is the carrier. It's not any different than the possibility of catching rabies from a rabid animal. Oh yea and deer tend to spread ticks that can cause Lyme disease. It doesn't mean that I am going to kill every skunk, raccoon, dog, cat, bat, deer, etc that comes to my yard. Do some research, if there are recorded cases in the area you have something to worry about.
I live in the country and we get so much wildlife here. We have dogs, so I try to relocate critters that come to my property. I for sure am not going to sit outside and shoot every living thing out there...just in case. That is so ignorant!
I wouldn't leave possums in my feed room. I also don't go looking to kill them. That's what they make dogs for. My dog is perfect. She runs them off without hurting them. Now if she would just keep the neighbor's pot bellied pig out of my yard...........
---
Celeste
Carpe Diem!
As a matter of fact I wouldn't leave any animal in my feed room. I do not appreciate any type of urine or feces on my hay. It is way too expensive around here to let it go to waste like that.

Our dogs are not allowed where I keep the horses. I do have a couple of donkeys and a mule though. They do better job than the dogs. I do not get wildlife where they are, they chase everything off, including my dogs.