I wanted to add that I pulled up and discarded all weeds. I've been de-burring this pasture for several years, and I took the occassion to eridicate every noxious weed I could find. I don't consider dandelions a weed in a horse pasture. Any edible weed that doesn't send up a shoot and seeds that blow, like thistles, I also left.
Well, I talked with my university extension office the other day and he said that they will help me, he and a grazing expert will be able to come out by the end of this month and actually look at my set up and can write up a grazing plan for me, and its all for free!! Now, I'm hoping he doesn't suggest I till everything up and start over, but he thought that my pasture had a good variety of forage, so all I may need is to fertilize and lay some lime. I will find out later this month what they think and come back.
The extension people came out last week and took a look at my pasture, he feels it is ok right now, and I frost seeded some white dutch clover to add in some drought/trample resistant forage for them per their advice. They are going to come back out to take a look before I put them on pasture for the first time.
Anyone care to come up with a plan for rotation?
These are what I came up with but there are potential problems, such as water, and needing to go through another pasture to get to the other.
Here's one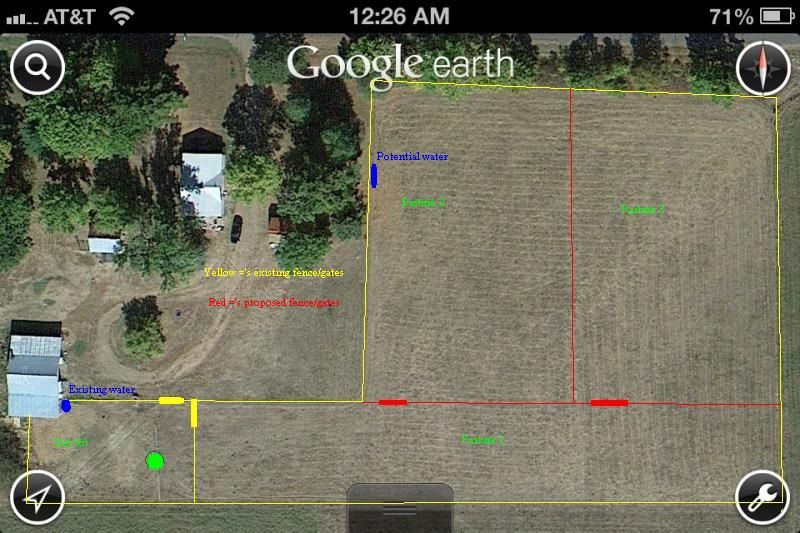 And here's another idea
Why not diagonally split it it other way? I wouldn't split it at the corner but near the site of water so that one line could serve both pastures. It looks like you could put a gate in that corner for the second pasture.
I like the first layout better. But I'd consider your proposed north/ south fence being switched to an east/west fence. My only reason being you could put your water trough in the fence so it's accessible from both pastures.
Posted via Mobile Device
So something more like this...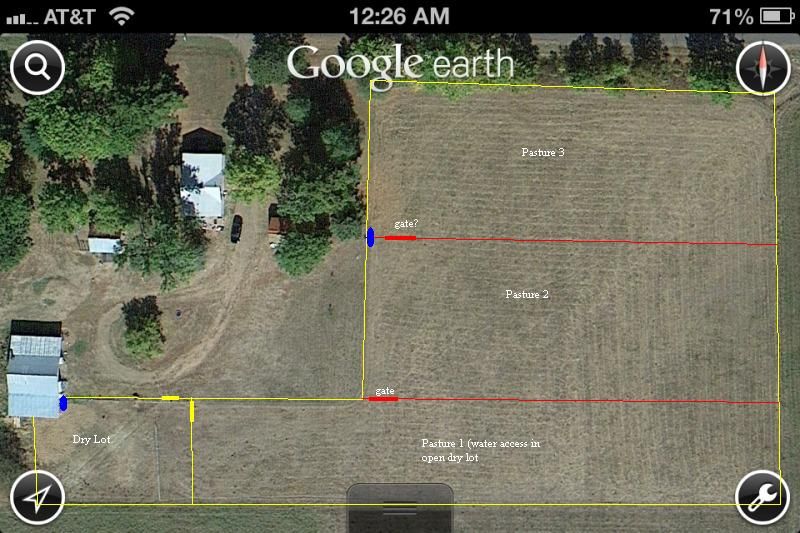 I do like this better than some of the others, I will just have to go through more gates to get them where I want them. I only plan on grazing them at night because the grass has less sugar in it during that time, so they will be dry-lotted during the day and out at night for the most part, at least until I acclimate them to grass.
MUCH better with 3 divisions. You can rest one or two at at time.
Here's my thoughts. Of course, I didn't have a "blank" shot of your property, so just ignore your ideas that are in the background
This is similar to what we did when we had a pen that was 'way far away' Here you still have 3 pens. But you leave your dry lot open. They walk back there for water. You just put in some temporary (for perminate) posts with some lot line. Ours was about 5-6ft wide. it doesn't take up a ton of room, makes no problems with having to provide water all over the place (and keeping it larva free!)