Quote:
OOH, I wanna see a picture of the bar!
This is when we first moved in so its not cleaned up or anything
Cool!
---
"Keep a leg on each side and your mind in the middle"
hahahaa I wish I had a bar in my tackroom!! ;)
---
Okay - Time to see a TRULY messy tack room. We just have too much stuff for the size of our shed (The silo on the first page of this thread). Sorry about the picture quality, taken on my phone and it's pretty dark in there.
This one is looking toward the back of the shed. We have hay bales stacked in the middle of the back, and to either side are the green drums. They have rugs in them and one has chaff. Not all the rugs fit in the barrels as you can see, and that's a spare saddle on top of the drum:
This is one side of our saddle blanket rack (It is an L shape) and the top of our shelves. You can also see a bit of another rug barrel.
This one shows some of the saddle racks (There is one more up top you can't see). They aren't quite big enough for the stock saddles, but hey. You can also see part of one of our hanging racks on the right, that's about half our bridles and miscellanious gear. Under the saddles is another big box full of leather gear, and under the bridles lives our 'gear bag' a canvas bag that we put all our bridles/brushes/boots/other gear in when we go to shows.
This one shows the other hanging rack, our brush box (Which is actually a feed bin). The blue box on the ground is our boot/bandage box, and it is chocka block full. My trimming tools and a few other things are floating around (Lol, floating, get it?) and you can see the edge of the shelves. The piece of black poly pipe is for killing snakes that wander too close - this shed isn't as bad as it is up off the ground but the old one had a few snakes. The poly pipe lets you break their back without having to close.
And the view looking left from the door. Thats the brush box on the left, then the shelves and you can see the rug drum, a bin full of feed, the saddle blankets, a water container and a few feed bins on the floor.
A prize will go to anyone who has a tack room messier than ours!
---
---
Last edited by wild_spot; 07-01-2010 at

12:57 AM

.
You win .... that would drive me crazy!
---
I'm not arguing with you, I'm just explaining why I'm right.

Nothing sucks more than that moment during an argument when you realize you're wrong.

It's not always what you say but what they hear.

I unfortunately do not have a tack room. I do, however, have a tack house. Seriously every once empty space in my house is filled with tack, rugs, etc. For example -
I'm not sure what this little nook was meant for originally, but now it houses saddles (among other things)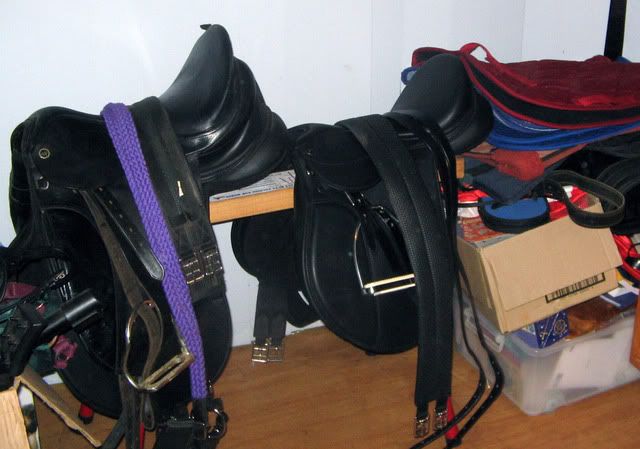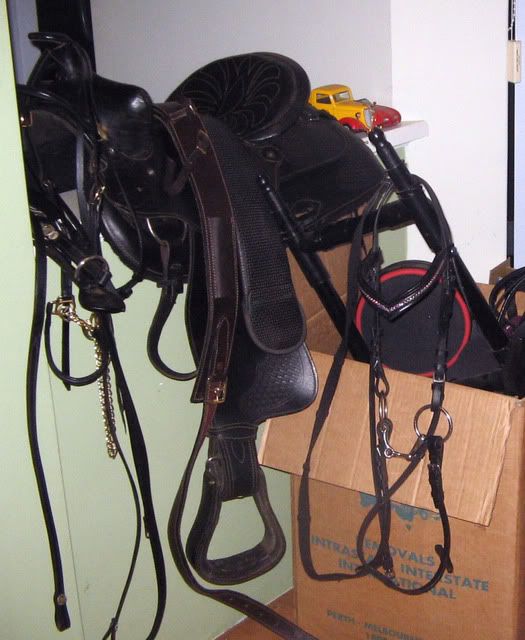 the laundry, also home to summer rugs and a small selection of grooming equipment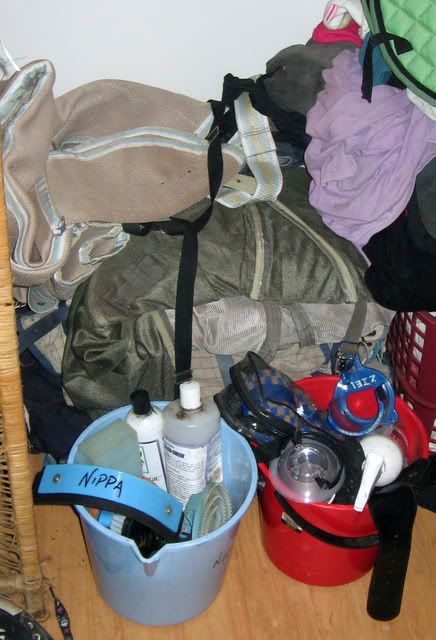 And my bedroom door, supposed to be an over door clothes hanger thingy, now it holds bridles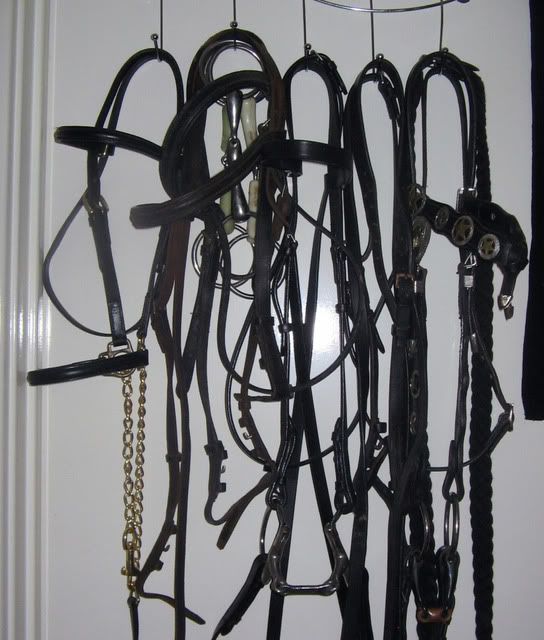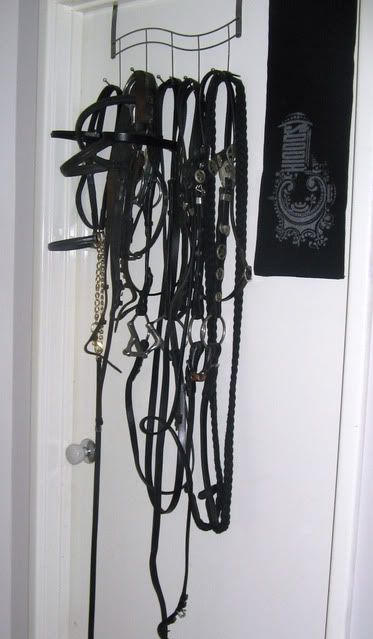 The garage outside also houses 3 mini wheelie bins full of feeds and supplements, bags of chaff, as well as hooks in the lattice work to hold all my halters. Unfortunately it's cold and raining at the moment so I am not going out there to take photos of that! haha.
---
Flirt-Hugo-Phoenix-Romance-Fanta-Nippa-Shiloh

Trojan 09.11.02 - 26.10.10 // Kody 01.09.89-25.06.12 // Rex 05.11.95-21.12.12

How Clever - I love it! I love the bridles on the door the most :) that would make me smile all the time.
Thanks Poco! I love the bridles on the door too. It also means no one can sneak in to my room, coz whenever they open the door the bits bang on it! haha.
---
Flirt-Hugo-Phoenix-Romance-Fanta-Nippa-Shiloh

Trojan 09.11.02 - 26.10.10 // Kody 01.09.89-25.06.12 // Rex 05.11.95-21.12.12

Ooh, this is fun! Everyone has beautiful tack rooms * jealous* !!! I've got to pull of some of my humble little... uh, tack closet.
wow they are all nice, I need to clean my tack room (old milk house) and figure out the best way to keep mice away using d-con, seems to work buts its so messy on the floor, However that said for a predator I certainly am afraid of mice ewwwwwwwwwwwww