Wow I guess I have it easy, I have 4 stalls in my own barn but only two horses.
I muck stalls everyday so they don't get bad, I feed twice a day and hay them after each meal. I have a work lot and a walker, 120 acres to ride on but never ride , Not sure why. I enjoy the chores of having my own horses and barn but I do wish I had another one to work with. Its work sometimes but come show season its worth it.
I think mucking and picking is pretty much the same but I might be wrong... I always called it stripping when you took everything out... I dunno... we knew what you were saying!
---
"Be a best friend, tell the truth, and overuse I love you
Go to work, do your best, don't outsmart your common sense
Never let your prayin knees get lazy
And love like crazy"
I am currently boarding my horses because we just moved, but right now I have a 4 stall horse barn on my property but were only going to be using 2 of them! So I don't know all of the work that goes into it yet! ;)
We have 132 acres of an old dairy farm. Our barn has been converted from an old dairy barn to a horse barn. We currently have 3 stalls, 2 12x12 and one (for my draft horse) 12x20. We also have a smaller open air barn with stalls. Nothing fancy. My horses stay out 24/7, but both barns are always open and they can go in either if it rains or they are cold. I feed in the stalls twice a day, then turn them out before I go to work. They have a 300 gallon stock tank that gets dumped at least once every a few days, and once a day in the summer time.

I have several pastures that I use to rotate in, but I try to keep atleast two together at all times.

Between my husband and I, we get the work done. And weekends are usually used to clean up around the barns. I could not imagine not living with my horses, I look out to see them every morning and I tuck them in at night. They are my big furry children, since I have none right now.
I have a 36'x60' barn. North half is people and hay end, south half is horse end. 2 big stalls 11.5'x15' each on one side and the rest 30x 24ish is basically a run in. I only stall when necessary and to feed my old appy as it takes him a while to eat.
I feed in the am before work, picking out as needed while Cheno eats. Then again late afternoon. Sometimes I leave the old man in, sometimes not. I do have electric and water in the barn and run a deicer in a tank.
This is a view inside of the open area along a stall wall.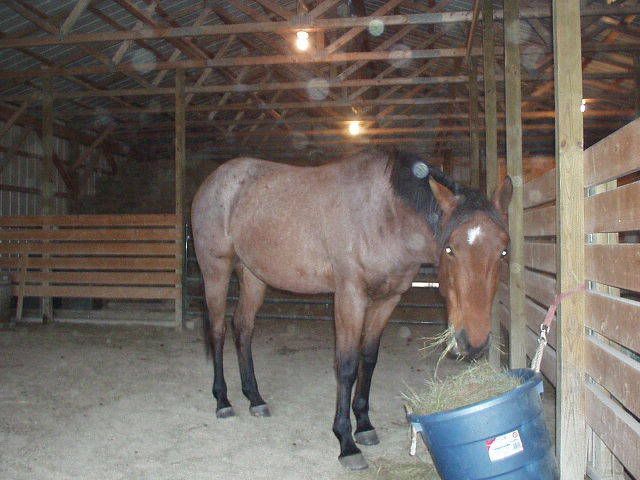 And this is inside one stall looking to the north, tack room wall in view.
---
i will say that it is really unnerving when you go on vacation or anything away from your horses...you have to rely on someone else to do it...that is one thing about having them on my property that i don't like!
---
kickshaw
Justin (qh/tb)
Boo (asb)
I clean boxes (poop and pee) 2X's per day, twice a week I do a complete clean and disinfect. The horses have free hay so it means I feed 3-4 times per day when they are in the boxes. When they are outside and using the "in and out" system so they have direct access to the pastures I have to clean the boxes and the access yard 2X's per day. Also, I daily clean and disinfect the groomming areas, bathroom and tack room. Check fences, haul feed from the bar, clean buckets. I clean the arena and round pens (groom 2X's per week). It never ends. I spend 5-6 hours a day working.

My three best barn helpers are: my tractor, my leaf blower and my shop vacum.

I quit taking "teenage" boarders and although I don't post a rules list, I have found that careful screening of my boarders has helped tremendously. I ask for references and then we have a week trial period to make sure we are a good match for each other.

I can't stand cleaning up after thoughtless people so I am pretty upfront face-to-face about it. We all forget things now and then but my boarders appreciate the work I do and the environment I provide for their horses. They are all very helpful and cooperative.
Oh yeah, when we go on vacation, I hire a professional who stays here at our farm and does the work for me and the clients.
We also have 3 dogs, a cat, 2 rabbits and 1 pig.