View Poll Results

: Do you like tack lockers?

Yes, The full ones that house all my tack and grooming supplies
21
61.76%
Yes, The half ones that are like tack trunks but have a seperate place for my saddle
5
14.71%
No, I'd prefer to bring my own tack trunk
2
5.88%
I don't care
6
17.65%
Voters: 34. You may not vote on this poll
Tack Lockers- Poll and Pics Pls!
---
How do you feel about tack lockers? Does your barn have them? Do you like them or do you prefer your own? What do you keep in yours? Is your barn's tack room cleaner or is there still a bunch of junk every where? How big are they? Does you barn charge extra to use them?

I'm thinking about making some in my barn, but I want to know if it's worth it!
---
~ Starline Stables ~
At my previous barn we had the half sized lockers. I kept my grooming supplies, first aid supplies, horse boots etc in it. We had separate saddle racks.
And no, I would not pay more for them.
I sort of expect that there will be somewhere to keep my tack at the places I board. Currently we have lockers that are approximately 4 foot tall by 3 foot wide... and maybe 3 foot deep. That's a random guess, but it's got enough space for one saddle rack, a bridle hook and a couple other hooks for misc strap goods, my grooming supplies, and treats. I am not charged anything extra for this convenience.
My barn doesn't have tack lockers. I had actually never heard of tack lockers before joining here. We just use saddle racks and/or bridle racks. There are more saddle racks than stalls I believe and the barn isn't at full capacity, so instead of just piling my pad and blanket onto my saddle, I just throw them up on the rack above my saddle. I throw my lunge line up there too. My bridle and halter get put on my saddle horn. All of my extra stuff (brushes, SMBs, etc) are in a giant Prof Choice bag I got when I ordered my SMBs on the floor under my saddle.
Green Broke
Join Date: Aug 2010
Location: Southwestern Ontario, Canada
Posts: 3,324
• Horses: 0
The barn I ride at has a locker room and a tack room. The lockers are mostly just garden type sheds in the upstairs to keep blankets, grooming kits etc in. Saddles and bridles are then kept in the tack room.

The bad thing about the locker room, is that a lot of the students are teenage/young girls, so it can get messy....to the point where the BO has taken everything that was dumped, and put it into an empty stall, and wanted a dollar for them to get it back.

The tack room is kept fairly clean since nothing else is stored in there.


We recently borrowed a friends arena to school in, and I loved her lockers there. They were wooden, deep enough to store a saddle (on one side of the locker), and wide enough to have a saddle and some more storage space in it. Some of them had a small blanket rack attached to the front. I *think* that there was also a bridle hook in the locker as well. All of the lockers then had hardware to put a padlock on if the boarder wanted to lock up the box. They looked to be about 4' square(?) or so.


I am attaching a picture of a tack box I once saw on kijiji (classified website) that I drooled over.... Of course it is a bit big for everyone to have something like that though, in a boarding barn situation. Sigh... However, if it just had one saddle rack in it, and the big drawer moved over, with the little drawes on top, it would be a good locker, and easier to do for everyone.
---
It is impossible for a man to learn what he thinks he already knows. --Epictetus

---
Last edited by VelvetsAB; 05-07-2011 at

03:04 PM

.
Green Broke
Join Date: Aug 2010
Location: Southwestern Ontario, Canada
Posts: 3,324
• Horses: 0
PS....that should say drawers not drawes in the last sentance. It was too late to fix it. :(
---
It is impossible for a man to learn what he thinks he already knows. --Epictetus

I have my own tack trunk, but I have only been at one barn that didn't offer individual lockers. They are very convenient and made me feel much better about leaving all my stuff there.
My locker: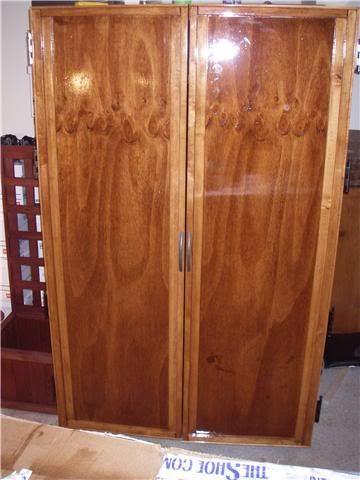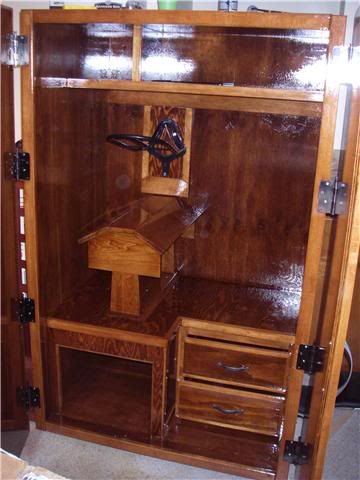 ---
The lovely images above provided by CVLC Photography cvlphotography.com
Nice jdi!
---
~ Starline Stables ~
Green Broke
Join Date: Oct 2010
Location: Some times Llanelian - North wales, sometimes Hull in East Yorkshire (UK)
Posts: 3,679
• Horses:
5
At all the yards I've been on you get your own feed/tack room for bits and pieces (rugs, brushes, boots, etc) and feed and then there is a separate fully locked and secured (with serious amounts of security, 3 locks, motion sensers etc) tack room for saddles and bridles.
---
RIDE your horse FORWARDS and keep him STRAIGHT


Motion sensors for your tack room?! Wow that's crazy... I just have a lock where you have to punch in a code to get it. LOL and I thought that was cool but a motion sensor?! Is theft a problem there?
---
~ Starline Stables ~