tell us about your stables; post some pics!
---
ok. tell us as much as you possibly can about your stable, what it looks like, why you like it ect.
heres mine:
I ride at a show barn in Paris,Ky, called Long Horn Valley Farm. It is owned & operated by Henry Elam. He boards/owns/trains/shows horses registered RMHA,KMSHA,& UMH.I am his only rider. We have two farm hands, neither of which ride, they just clean stalls,mow,bath,ect.There are currently 2 barns; an older one that was there when they bought the property & a new barn which is almost complete. Once the new barn is completed the old barn will be torn down & a new riding ring will be built. There are anywhere from 8-15 horses boarded at anytime [we show on average 8 a weekend between us]. Henry likes to keep the number down so that he can provide the neccesary time needed to bring out the most potential in each horse.Among those horses boarded he also has several horses of his own that he shows, along with my horse =]. Among all the horses are 7 stallions,5 mares, a yearling, & several 2yr olds that are being broke. Along with having stallions is the mares that are there to be bred to them. There is an extra pasture for them. All show horses are kept in stalls and rotated out into round pens throughout the week. Along with horses, theres a mule, several geese, & some of the cutest dogs ever.Ummm I think thats about it,but if you have any ?s, ask away!
heres a picture taken back in a believe March. They have come along way with the outside [columns,landscaping,ect] & the inside of the barn since the pic was taken. --->
VERY pretty barn and its VERY BIG!!

actually perfect timing. I just went to a new barn this morning.its basically a show barn run by teenagers.(i know shounds bad at first) what im saying is that basically all the people that volunteer and take lessons are teenagers.like 12-19..its really awesome! and the owner is like 29 i do belive.anyways its really cool...i have not yet taken a lesson but i am going to start.i also start work on monday after school(im only 13)im so excited.i made 2 new friends (nicole and staphanie)in one day and i know 2 other people that ride there.i have not yet met the owner but the instructor is really nice.

theres an indoor/outdoor/and an open field with like 1 jump in it.and then theres 2 barns which is really nice.the indoor has a viewing rom and the horses are all so pretty.stephanie was riding this beautiful nokota named sequoia.he was gorgeous! and hopefull i will ride him.and they have the most grey horses i have ever seen at a barn.they must have like 40% of the horses grey.anyways...the people are really nice and ooh i forgot the barn cats! there are about 6 barn cats and they are all soo cute! i only saw 3 unfortunately...i met oreo who is the cutes little kitten and is black and white and then i met ropes..who is rescued and was found tangled in a bunch of ropes.lmao--be isn't my favorite already because he tried jumping into my arms and made it about up to my knees and dug his SHARP claws into my leg.and then i picked him up and now have a huge scrape on my neck because he dug into my neck too.ugh...cats! ok now im going to shut up and let other people tell us about their barns.i will be sure to take plenty of pictures monday after school! im so excited!
---
If my horse doesn't like you then I don't either.Deal with it!
ooops i forgot theres 2 tack rooms and they are BIG and a umm i guess u can call it a break room-theres a couch, fridge, ect..and all the tack trunks.haha..ok ill shut up now!im just excited.lmao
---
If my horse doesn't like you then I don't either.Deal with it!
haha.go on as long as youd like. i could go on literally all day about my barn.its incredible. iv met soooo many new ppl, have had so many new experiences, & learned sooo much.when the knew barn is done itll have a heated wash room, an office, a loft,a feed room, a tack room, & im not sure how many stalls. but yes, its HUGE. their house is just as gorgeous as the barn, only it doesnt smell like hay.lol.
Started
Join Date: Apr 2007
Location: Australia-The best Country!
Posts: 2,192
• Horses: 0
Crikeys!
---
Rach
WE ARE GEELONG! THE GREATEST TEAM OF ALL.....
haha..i would love to smell hay when i woke up..whats wrong with that?lmao jk..i understand -they need horsey vacation time :)
omg it really is a nice barn u guys have.its awesome..geex i wish i went there! for once im a teenager wishing for moday-schhol time!haha..because like i said monday is when i start working
---
If my horse doesn't like you then I don't either.Deal with it!
www.xxxJennyrose.piczo.com/Pics
This is were i part loan my two horses from they live in a yard at the bottom of a ladys huge garden and have a lovley paddock too.
well, i might as well tell you about "my stable"
so, things are a little bit different around here, we have stable communities, where there are many owners. Sometimes they own maybe a house for 30 horses, maybe you just own a stall or two.
I board in VÝ­idalur, where the "horse club" Fßkur is located. If you are a member of that club you have access to an arena, 2 large pens (I think there are two, might be more), and many round pens. There are also alot of trailes there, some witch lead up to other stable communities. There are two (again, i think there are two) what we call skei­v÷llur, its an oval track, one side is often longer and straight. And finally there is an animal hospital there.
In the house that my trainers family owns there are stalls for 8 horses I think, a tack room, a "hay room" and a coffe room. Also a pen outside to let the horses out in.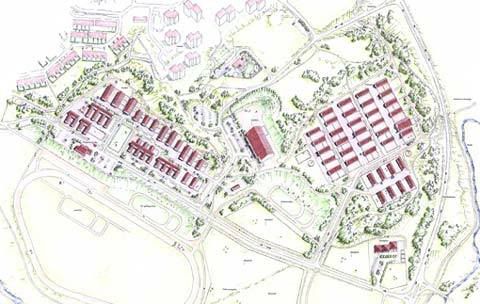 I found a map :)
The large house in the middle is the arena ! everyhouse with a red roof (on the map) has something to do with horses !
I just counted and there are 70 houses that keep horses
Well I cant post pics but my barn is huge!!! its has 8 stalls I think they are 12 x 12. We only use 4 of them, the rest have junk in them the barn is dirt floor there is a mud room with toilet, my dad has to build me my own tack boz and its 8 ft tall and 6 feet wide I think I can't remember, the barn has a lost but no hay in it LOL and its Tined roofed! thats about it its a really nice barn :)
---
3 barrels , 2 hearts & 1 passion
hmmm, i don't feel like posting pics..... mostly because my stables are gone...... there used to be like 20 stalls w/ runs, my trainer's apartment, an indoor small round pen, three little stalls with half runs, a big outdoor round pen, and a huge field w/ water crossings and trees, and logs, and a pond......... hmmm, now i'm sad.... :(