i work for free lessons on sundays and half off of charmer's board
at the barn we have
about 30 pipe corrals
4 barn stalls
a round pen
2 locker rooms
1 tack room
an office
2 arenas
4 pastures
a feed room
6 or 7 crossties
a wash rack
and miles of trails
i dont have any real good picture but i guess if you go to heartsnhorses.org you can look at there faclities and the gallery!

-there is 16 stalls. All occupied.
-2 tack rooms!
-a bathroom
- a office
-a 'classroom' for the campers
-8 sets of cross ties.
-80' by 200' heated indoor riding arena with attached to barn
-they have automatic waterers
-a gelding pasture
-a mares pasture
- a seniors pasture for the old ones
- yearlings pasture
-8 seperate paddocks for horses that get turned in at night. 2 -in each usually. chance has 1 other pasture buddy
-3 roundpens 1 is used to put the stud out 2 for horses
-1 training round pen out back.
- cross country corses
- miles and miles of trails boarders can go on anytime
- nice sanded outdoor arena.
- wash rack.
- the 'goat barn'
- and the cows pasture.
- a heated feed room
- hay loft with over 200 bales of hay
- like 7 acres of just hay
- tons and tons of jumps! [heaven :P]
- theres tons of shows that go on... but its not a show barn :P
- everyone is soo friendly never any drama going on!

I pay $450.00 a month... but i think its worth it.

i thinkkk thats about it! sorry for it being so long!
wow!!!! all those barns are just amazing!!!! lol pretty much made my jaw drop! lol we have none of that here.
shad lives in a paddock with Bella and i have an area where i can do about 2, 15-20m circles, to ride. lol and trails consist of roads and TSR's :)
brneyedgrl- Where are you in DE???
Sounds like you are getting a great deal at that barn. I am paying $250/mo for the same thing and I thought that was good. Our board is getting ready to go up. I am in the Smyrna area.
welp, here's 'the barn' It was built in the '30s, and gets improvements whenever needed.
Board:
$375 a month
includes daily turnout, use of large indoor arena, 4 1/2 miles of trails, 50 acre pasture to run around in (soon to be fenced in for fields), AM & PM feedings, we will stand with/hold your horse for the farrier, worm your horse, will set him or her up for spring/fall shots with the rest of the horses, we clean your stall, basically you just pay the bills and ride your horse, or we could ride them for you too lol
Here's a pic of the 'nicer' gelding's in their paddock munching on some hay
Charlie is the paint (boarder), Nick is the black TWH with the red halter (boarder), Toby is brown TWH that you can see under Nick's neck (boarder), Gordo is the ex harness racer that's roan with his head behind Charlie (trail horse), and my boy Playboy has his head right under Charlies
A shot of the 'evil mares' paddock lol, and the barn
Rio in his stall just being... Rio :)
aha! here i present to you... the evil mares. dun dun DUN!
starting with the big arab/appy butt in the middle aka Comet or Comakaze
(trail horse), the small belgian is Isabelle (trail horse), the palomino is Cammie (trail horse), the sorrel next to her is Bella aka blue-eyed blondie (boarder), and the little black head peeking around Comet's butt belongs to Cinder (broodmare). :)
Front of barn and round pen
view from the paddock
View from the aisle
Stable hand and barn security
[/url]
---
"Be a best friend, tell the truth, and overuse I love you
Go to work, do your best, don't outsmart your common sense
Never let your prayin knees get lazy
And love like crazy"
I took some photos while I was out there waiting for Blaze last night. It's a nice, small (they never have more than 25 horses at a home, including their own) and cozy. They have 4 stalls in their barn, a really nice tack/grain room, 40x40 indoor work arena, large outdoor arena, and huge pastures combining for a total of 65 acres.
barn-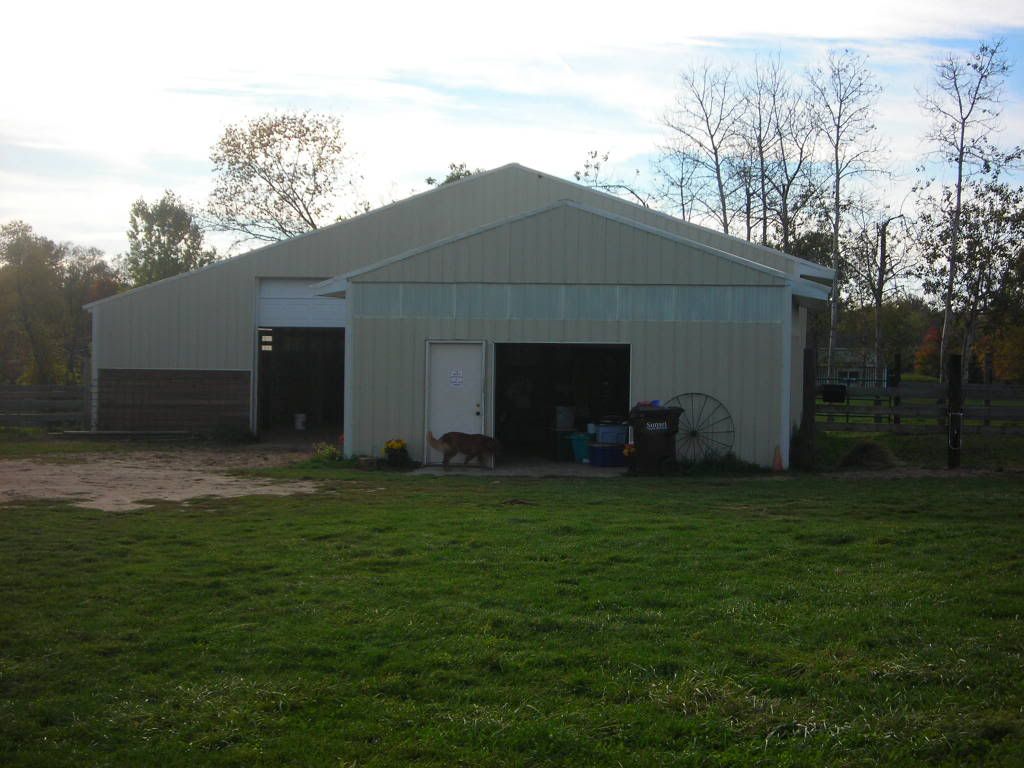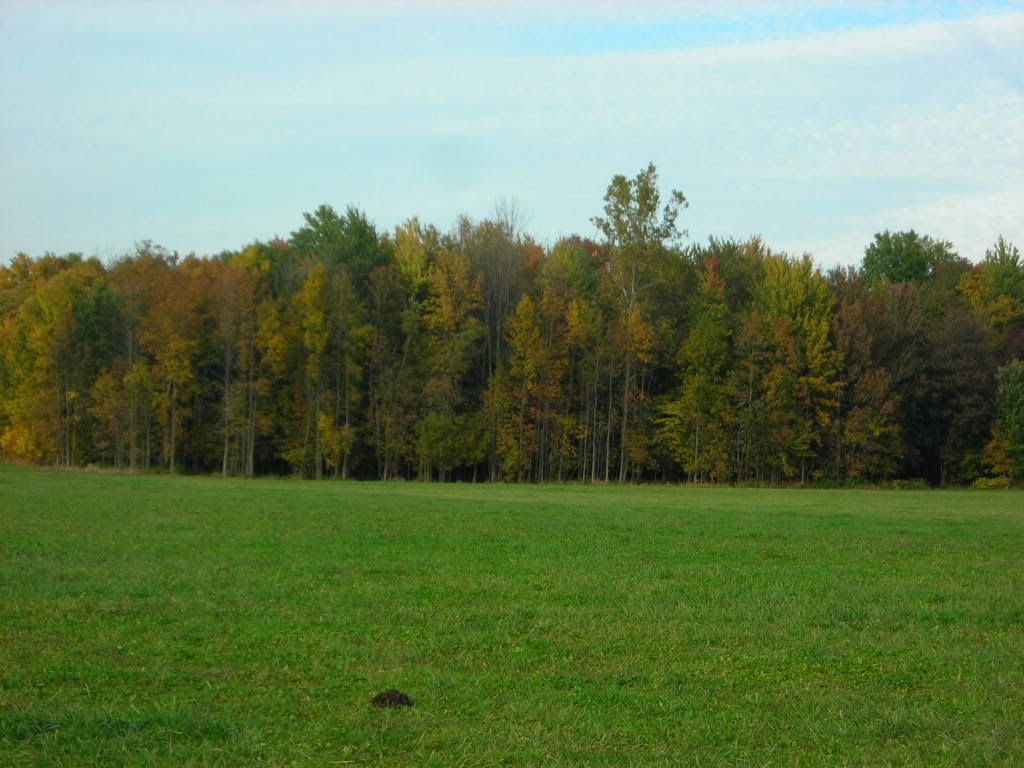 the outhouse. classy-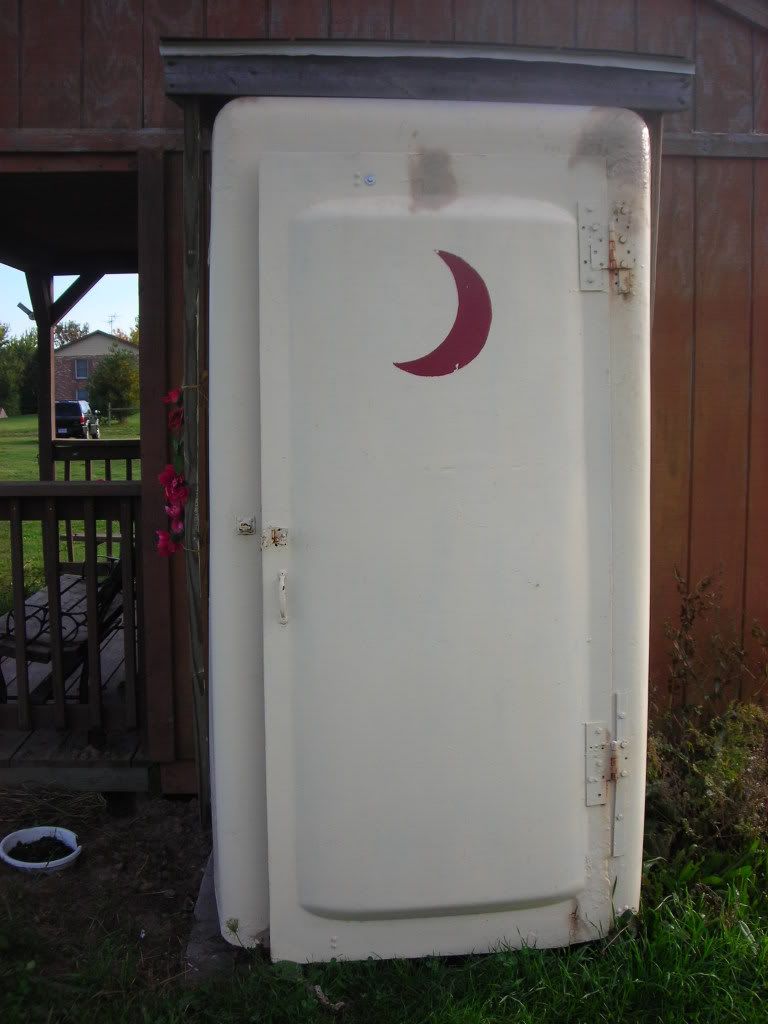 nice out house. ;)
---
Quote:
ok. tell us as much as you possibly can about your stable, what it looks like, why you like it ect.
heres mine:
I ride at a show barn....
WOW how much did that cost to build!?!
Thats like my dream barn...
Well here is my barn. Around 15 stalls but only 11 are being used. One stall is a dog room, another is a feed room, One side has runs.a hay loft with holes in the floor so you have to be super carefull. A nice indoor arena with lights! An out house...Good size lockers, its looks really grungy becuase there is tons of garbadge, kids toys, just a bunch of junk all around. Three galloping fields! And 600+ acres to ride on.
Here is the web site (when it was clean)
index
---
From east to west a travlin gypsy found her prancing pony for now their hearts run as one...into the north
~Traveler
Hoofers:
www.hooferridingclub.org
(go to gallery- I love the Halloween pictures)- there are two barns, one indoor arena and one outdoor arena, a big cross-country course, lots of fields, a club room, and tons of trails that are shared with the other barns in the area.
Madison Dressage: doesn't have a website but there is one barn with an office, two bathrooms, a lounge with a kitchenette thingy (cabinets, fridge, counterspace, etc.), and an attached indoor arena. There is one sand outdoor arena, one big field (grass is cut down and is arena-shaped) and an arena with gravelly stuff that is for dressage. There are lots of trails and fields, too. I can't post pictures because I have them on Shutterfly and my stupid computer will let me copy/paste pictures from everywhere BUT Shutterfly- it just posts some long strand of letters.