I used to board, but I don't anymore, I am at a good friend's place:
5 12x12 stalls
3 huge runs attached to 3 of the stalls
14 acres of 'up to your knees and it's so thick you trip" grass
4 large paddocks
1 large regulation dressage ring with mirrors
1 small regulation dressage ring
1 24' roundpen
Horses grained, hayed, and watered 3x per day
We all buy our own feed/hay/supplements and each of us feeds 1x per day...best of all: no boarding fees
---
kickshaw
Justin (qh/tb)
Boo (asb)
WAIL!!! My barn sucks!!! WAIL!!!!! I'm going to send a pix of my riding arena tonight... when I get home I'm going to take a pic. It's been raining all week and it looks like a fishing pond! LMAO....
Here's the barn when we first put it up last winter. it still needs so much work.... sniff... all you fancy people... sniff... i feel like the poorfolk!!! LMAO....
farmpony84,
....but you don't have boarding fees
---
kickshaw
Justin (qh/tb)
Boo (asb)
LOL!! :P So true.
---
Ride more, worry less.
here's the barn from the house and the house from the barn.... i know... needs TONS of work....
Doesn't look too bad!
---
Ride more, worry less.
brrr!

beautiful place, though!!
---
kickshaw
Justin (qh/tb)
Boo (asb)
Well, the barn where I work is pretty basic - but it's also pretty cheap! And when I get my own I may be taking the option (after I've had it a while and providing it is suitable) to allow the owner to use it for riding lessons and so only pay 'working livery' fee - half off!

Price includes:
Use of a box to stable your horse for as long during whatever part of the day you desire, all with automatic waterer
- you may opt out of this completely, or only for the summer and keep your horse out 24/7, as many do, which brings the price down considerably
5 fairly large fields and one slightly smaller
- well managed, fertilised, automatic waterers, well-fenced with post and rail and electric tape, mares and geldings kept separately, sympathetically organised so that there are no clashes, rotated, harrowed, ragworted every year, never had restricted turnout due to them being too wet/overgrazed etc.
Use of the outdoor school and lightweight polyjumps and poles
- sand, regularly managed but does flood in really bad rain
Use of a larger jumping paddock with heavier wooden jumps, including barrels and fillers
Miles and miles of good hacking and bridleway access
Use of the unlocked tack room and locked lockers if you wish (most people take their's home with the because the place is quite remote)
Huge brand new barn for storage
All bedding
- good quality shavings, enough for a half-bed, pay extra for deep-litter
All hay
- fed ad-lib in winter to stabled and turned out horses
All BASIC feed
- mix, sugarbeet, alpha-A and hi-fi (and probably anything else basic if you requested it)
People who will be up there twice a day, EVERY day, to check on your horse and turn it out/bring it in/feed it/change rugs/muck out etc. for no extra cost (they will do this unless you specifically tell them you would like to do it) and who KNOW every horse personally, all are good friends with the owner, not just employees
Owner is a qualified dressage/showjumping instructor who is VERY knowledgable and willing to help, will go out of the way to support her liveries (except the crazy guy...)
Relaxed, friendly atmosphere where people are pretty much willing to be flexible to your horse's needs

Price does NOT include:
Farrier services
Veterinary needs/wormer
Special dietary needs
And, of course, all tack rugs etc. - are yo seriously telling me some of your yards PAY for your rugs???

I wish it had:
Electricity - used to but the underground lines gt damaged and the owner cut the supply rather than dig the whole road up to repair it, saying it's cheaper and we manage without, which we do (we have a camping stove and a generator for emergencies/short-term use)
A toilet - kinda sucks, really wish we had one, but if we were desparate the yard next door would let us use theirs
Hot running water - especially in winter
An indoor school - you have to pay a BOMB for one of these round here and even the 'posh' yard on our road doesn't have one, but a girl can dream...
Everyone's barns sound pretty nice!
---
Ride more, worry less.
in our boarding stable the price includes:
-the stall (my horse stands in the wooden stable)
-basic feed (hay and grain twice a day, automatic water all the time)
- daily turnout
- indoor arena
- outdoor arenas
- big pasture
- some paddocs
- tack room
Stalls are cleaned once a week.
that's how it looks:
the wooden stable: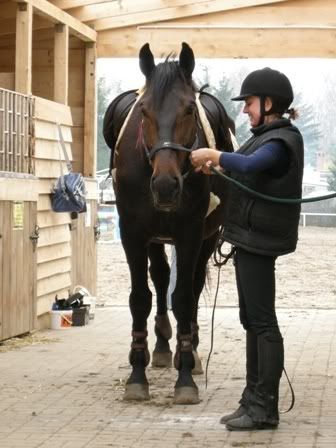 indoor arena:
paddock: