Hhaha..So we have one side that runs along the road woven horse fence,the west side is wooden fence and in the woods its a eletric..We started or should I say we wanted to redo the whole front with woven horse fence but like most projects they start out good and piddle out fast..Maybe one day we will finish it..
Paddocks are 4 board oak. Pastures are twisted wire alternated with white tape.
We have white vinyl fencing on the road side, and white 3" eletric tape in 3 strands surrounding the perimeter plus electric wire below and above that. I dislike both fencing. The vinyl pop out too easily if the horse scratches on it, and the electric has alot of maintenance to ensure its working.

I wish I had 4 board all theway around
Because of the cows, the outside fence is 4 strand barbed wire. Cross fences are barbed wire at the moment, but will be replace in a few months with electrifed tape. My arena is Ramm fencing.
I had cattle fencing when I first moved in. In one respect it was better than what I have now--no dogs, coyotes or kids could climb through it! I replaced it in 2008 with what the manufacturers called "Stallion Fencing." It's 5 ft. high, and each piece has 4 metal verticals, and is 10 ft. long. Each piece is bracketed to an 8" diameter fence posts. After much discussion my mother found me the company. They now longer make this type of fence. wth?!? I like it a lot. If I ever had to replace it the posts are about 8-9 ft apart--haven't ever measured, just a guesstamite--and I'd probably put in an alternative type of poling. I used to admire the old welded fencing, and you see a lot of it still standing, though rusting, even though most of it is 40-50 years old now. EVERYBODY climbs through the fencing, but none of my horses feels inclined to jump it.
These pictures gives you a good look.
(Don't have any picture of "Buster", my 5 yo QH posted here.)~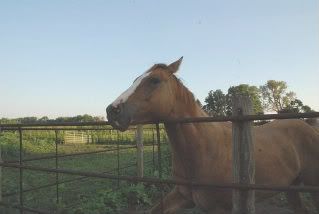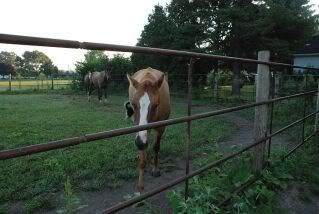 You can really see the difference in height between "Buster", 15'2hh, and "Sweet Cup & Cakes", 16'3hh, here!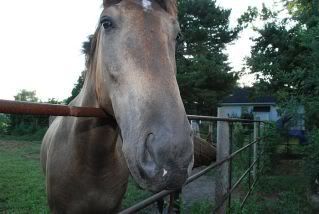 Banned
Join Date: Jul 2009
Location: In a land far far away, or so I wish.
Posts: 12,825
• Horses: 0
Paddocks are no climb with a top board.
Pasture is three strands of coated high tensile on wood posts.
What was supposed to be the temporary turn out that has turned into the sacrifice turn out is T-posts with electric tape.
We have 280 acres and the perimeter is 4 strand barb wire. We have a couple cross fences and those are barb wire also. One of the cross fences is just one strand of barb wire, we've never had an issue with any of our horses trying to get out or getting hurt in it.
Similar Threads
Thread
Thread Starter
Forum
Replies
Last Post
Pig fencing

farmpony84

Other Pets

0

03-10-2011

05:03 PM

Fencing

kmdstar

Farm Forum

17

10-18-2010

07:45 PM

Fencing

kmacdougall

Barn Maintenance

11

03-27-2010

10:03 PM

Fencing?

White Foot

Barn Maintenance

11

03-08-2010

04:16 AM

Fencing

themacpack

Miniature Horses

6

10-11-2009

09:01 PM