The barn that I board/ride at is quite small. Its only got four tack-stalls, 9 stalls and 1 foaling stall.

Its got a fair sized indoor arena. Its large enough to lunge and canter in without constantly turning. It also has a very large outdoor arena but not as large as some I've seen.

Most of the property is covered in horses, the woman that owns the barn has tons of horses. She's got over 7 pens and they've all got lots of horses in them. She's probably got at least 50 because there are back in the woods more horse pens that I've seen but never really counted. Most of the horses are kept out side with large shelters.

As for riding room there are lots of trails deep in the woods behind her house, but some haven't been ridden for years upon years and been worn down and lost, while some are still actively being ridden. There's a small trail leading to the road which empties into dirt roads and old two-tracks which are great to ride on.

Overall its a small little barn used for lessons, boarding and leasing during the show season. One great thing is that whatever is lying around the barn is free to use, tack, equipment, ectr. Of course, she pays for the hay and sweet feed of my horse which is included in the board fee, which is only 140 a month which I think is a pretty good deal since she's so close by.
well my old horse barn that i rode at before it was sold was huge! it had 10 tiestalls in all for the big shows that were constantly happening,atleast 40 stalls in the large barn,a feed room,tack room, a 2nd story on the big barn for all the show stuff like flowers,ect,ect, then there was a smaller barn that had about 10 stalls and one foaling stall, then, to big outdoor arenas with lights, & last, a huge indoor arena that was usually split up into 2 still large arenas. i really miss that place
but my moms purse sure didnt! :P
my barn is fairly new and not large at all :-p the main barn has two "stall" sections, connected in the middle by the indoor arena. about 20 stalls on each side. a large heated lounge with a bathroom...fridge, microwave..that kind of stuff. huge heated tack room. outdoor arena, indoor washrack with hot and cold water, multiple turnouts and grass pastures with run ins. and it all sits on about 200 acres
traiiiilllsss
oh, and my horses best barn buddy would probably be my sisters horse, since they are turned out together :)
Trained
Join Date: Sep 2007
Location: Hatton Vale, QLD, Australia
Posts: 5,227
• Horses:
7
wow!! there are some really nice places there. im soo jealous lol at the moment i am agisting at probably the worst place i have ever been. all up there is only about 6 acres of land with very little feed so my hay bill is huge. there is no arena, nowhere to jump apart from natural jumps in the forest and a small space where i set up a few jumps and there is very little decent fencing. but there is running water lol and we have our own yards, stables and tack sheds so thats one good thing i guess.
we are going to move to a pony club once the horse flu ban is lifted and its an absolute dream compared to this place. 60 acres of flat green land, indoor arena, show jumping course, cross country course and so much more *drools* and all for the same price i am paying now
---
"I whisper but my horse doesnt listen...So I yell!!...He still doesnt listen"
Well my family's farm has 15 stalls (8 in the "lower barn" and 7 in the "upper barn"). The lower barn has a heated tack room, heated viewing lounge overlooking the outdoor (it has couches, a TV, radio, tables, fridge, etc), owner's tack room (filled with all my stuff
), and a wash rack. The upper barn has a tack room, wash rack, and is attached to the indoor arena. We've got 4 huge pastures & 1 paddock. Heated water buckets and water troughs during the winter. Fans hung during the summer. Mmmm, I think that's it. Pictures!
Viewing lounge.
Lower barn.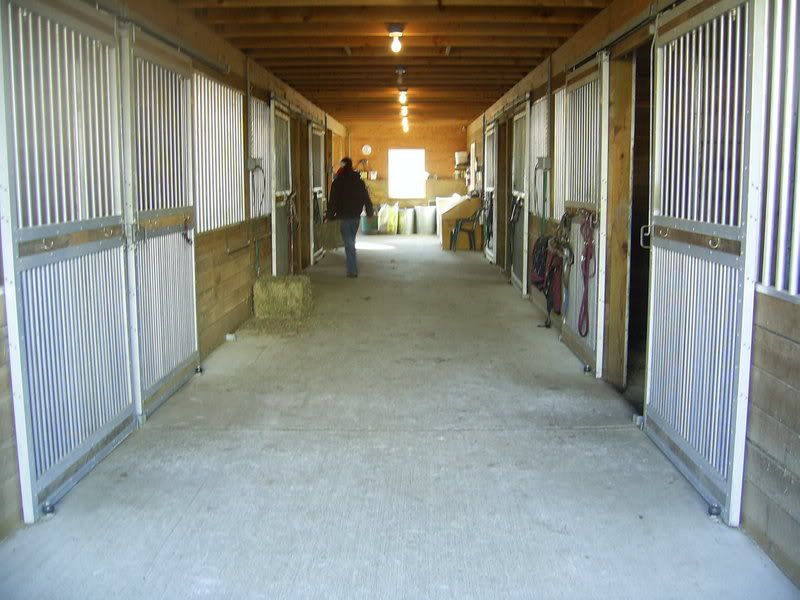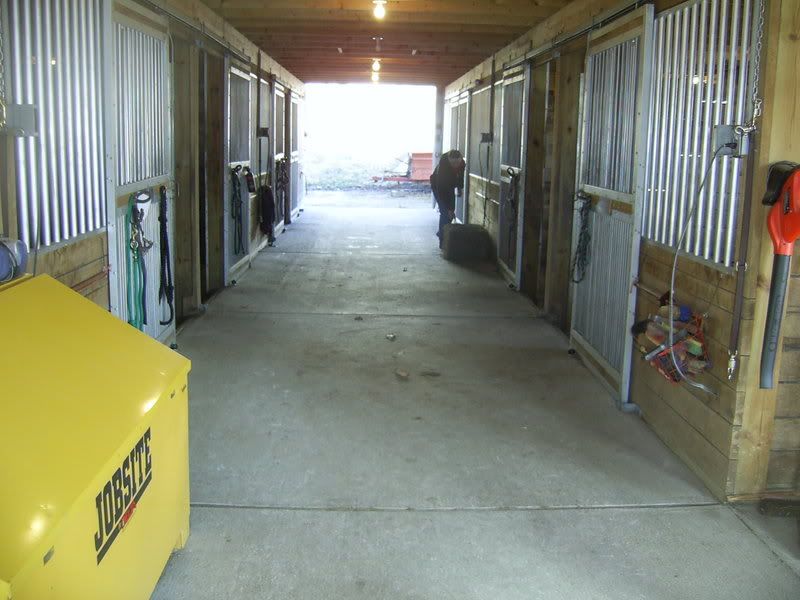 Upper barn.
Pastures.
(That big building is the upper barn/indoor.)
our Show barn is 68 achers(SP??) with three large pastures and one paddock

two barns, three coming soon. A heated tack room, office, feed room, bathroom and lounge. Each stall has a automatic water...umm we have a heated wash stall with heated water, padded stalls with windows. Our indoor is 66'x138 and our outdoor is 150' x 270' with full sets of jumper, hunter, and eq fences. Theres also a little pool for summer :o
Quote:
Originally Posted by Tiffany01
my barn has
15 stalls
Indoor ring
outdoor ring
turnouts
round pen
office
hay room
feed roon
tack room
jumps
a fat goat.
Whats the name of ur barn????? i noticed ur in PA and u have a goat...theres a barn in PA i used to show at wth a goat lol
We have are in the middle of building a large indoor FEI sized arena(trainer does GP stadium) and have a current indoor arena of 80 by 180m. We have an outdoor arena with the plans of adding a new grass ring this summer.

We have pasture, paddock and indoor board. As I said the current trainer is originally from the California and moved here a year ago. Between her own competitions she teaches Hunter/Jumpers.
I LOVE my barn, my trainer and barn owner. My barn owner is already like my aunt, she's so nice. I get to ride all of her horses, whenever I please.
Anyway, my barn...Large covered arena, breezeway barn, large stalls (with the little "paddocks"), paddocks (all with shelters - the horses that have 24/7 T/O have huge, nice shelters), friendly people, trails, jumps...It's wonderful.