Quote:
This is my set up.
First the outside. All of the split rail you see has been since redone and is much sturdier than it was.
Attachment 124703
The barn is actually a big 24x18 run in with an automatic waterer. That is on the other side of where the stairs are. The rest that you see here is a feed/tack combo room. I was also given a 3 tier saddle rack which is now where the wooden saddle rack in the picture is.
Attachment 124705
The cabinets came from our kitchen. DH put them up and built the workbench after we ripped them out of our kitchen.
Attachment 124704
Like the cabinets! Although I'm behind schedule in my renovations (My place was just a tiny house and one falling down shed when I bought it) my plans have always been to put the cabinets up in the barn when I rip out and re-do my kitchen, which may be this summer.....only three years behind.
I vastly underestimated how much time it was going to take to build a farm from scratch, and I think like Alex says, I would much rather have modified an exhisting older barn. They have so much charm and history... and usually plenty of room too.
My place is busting at the seams.
Beautiful barns everyone!
Teen Forum Moderator
Join Date: Dec 2010
Location: South East Texas
Posts: 7,157
• Horses:
2
Could of sworn I had pictures of ours but I dont see it! Its as primitive as it gets ;)
we only have outdoor stalls. There are six, but two are holding hay and one has our tractor/trackless train in it so three are in working order xD Sorry about the hole in the wall, a very grumpy mare kicked her way through it and we hadn't repaired it yet. We only use these stalls for quarentine/injuries, and you might be able to see that behind two of them are small 30 x 35 runs so that they can do a bit of exercise/graze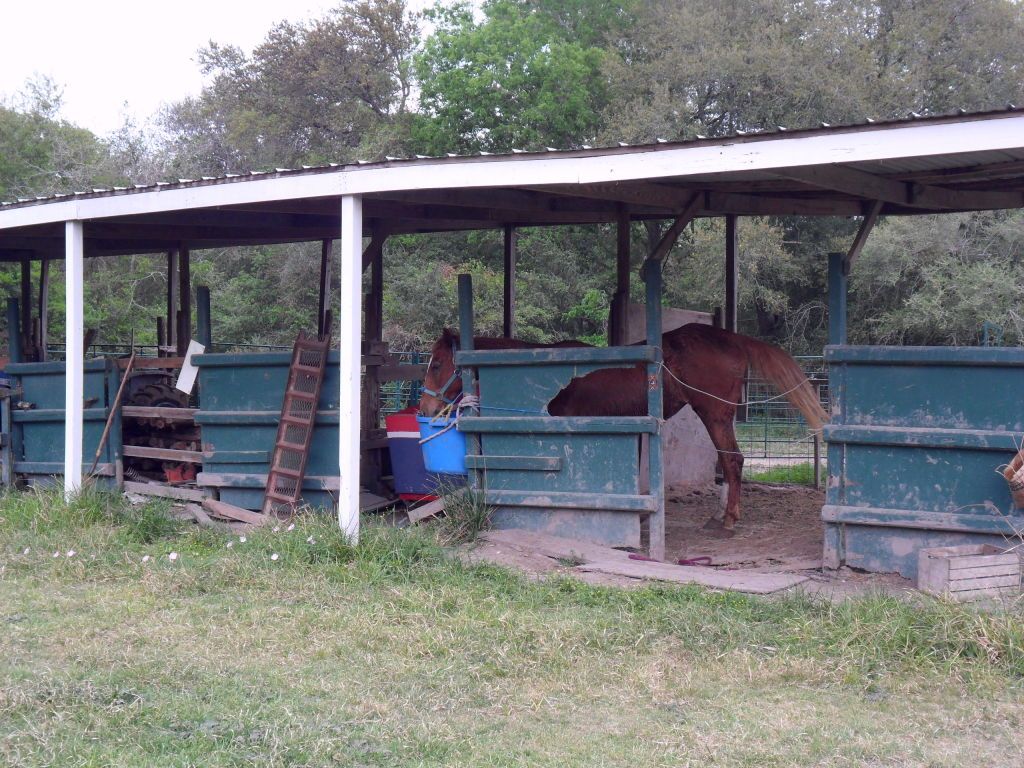 Our outdoor arena (now repainted green xD)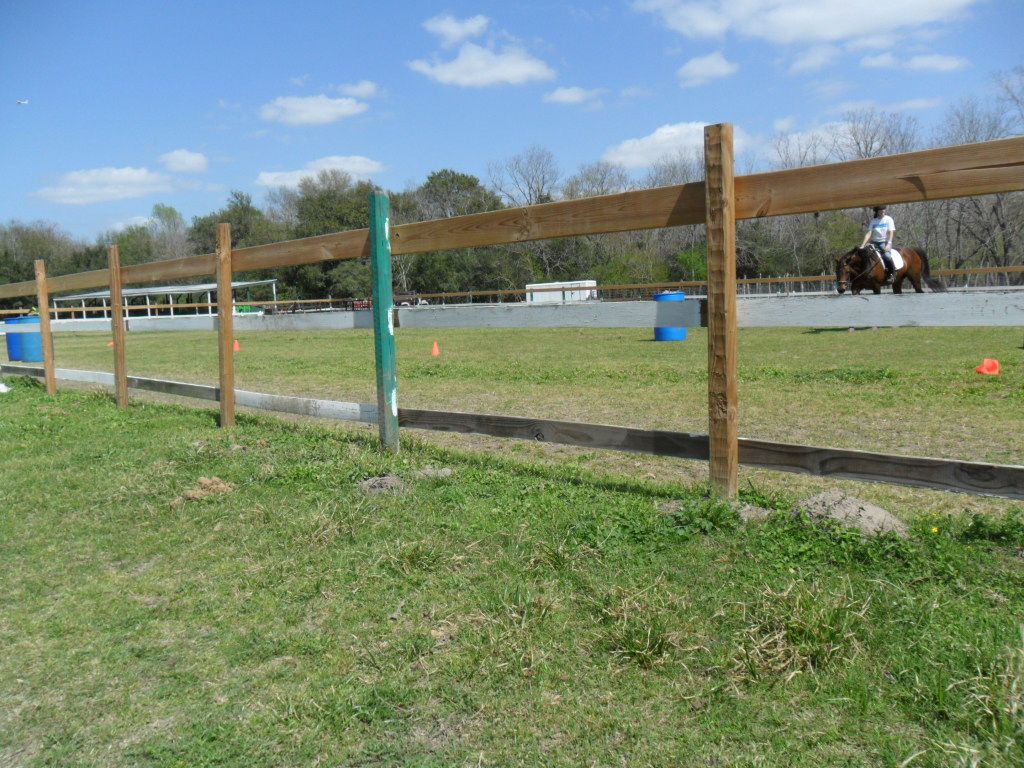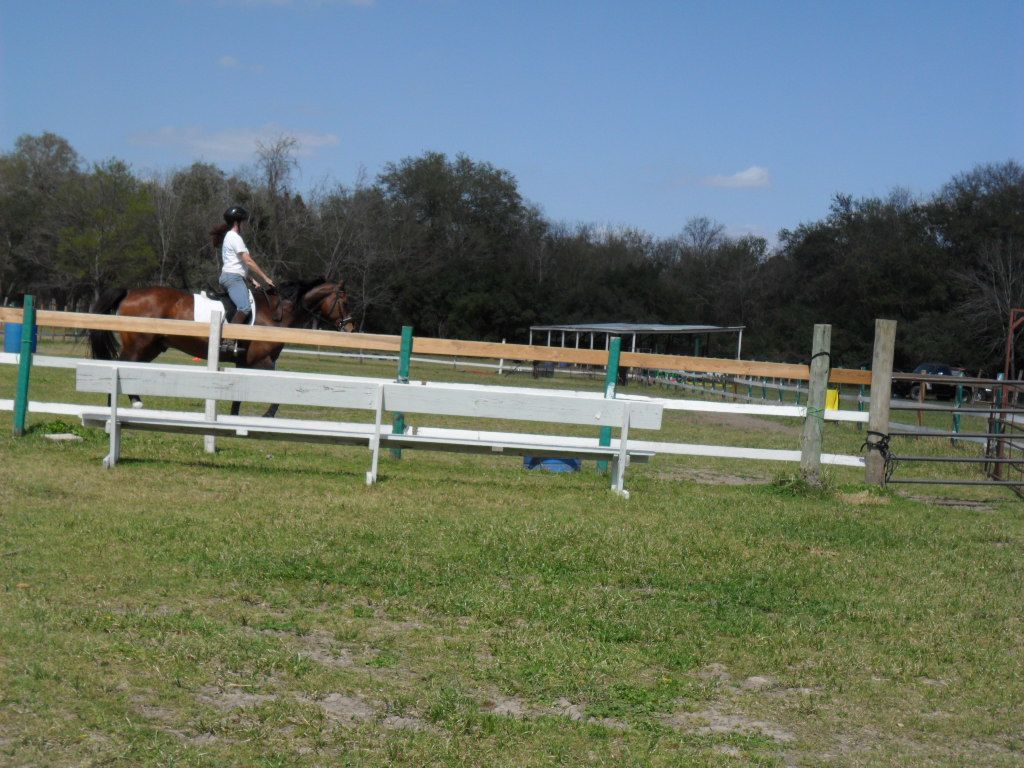 The deck- just somewhere for a bit of shade. Behind it are our tack and feed containers. We arent allowed to have permanent fixtures for those because our land is leased Army Corps land. Between the containers is a covered area that we use to store hay and our buggy. Behind that is about 1 acre where we have our large chicken coops, turkey pen, and rabbit hutch.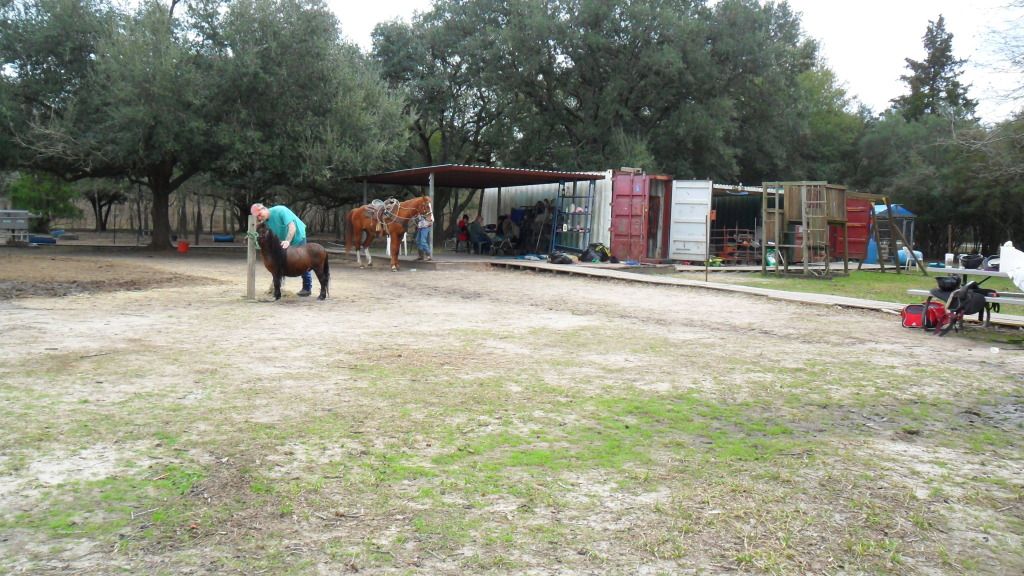 Another look at our outdoor stalls and our obstacle course ;)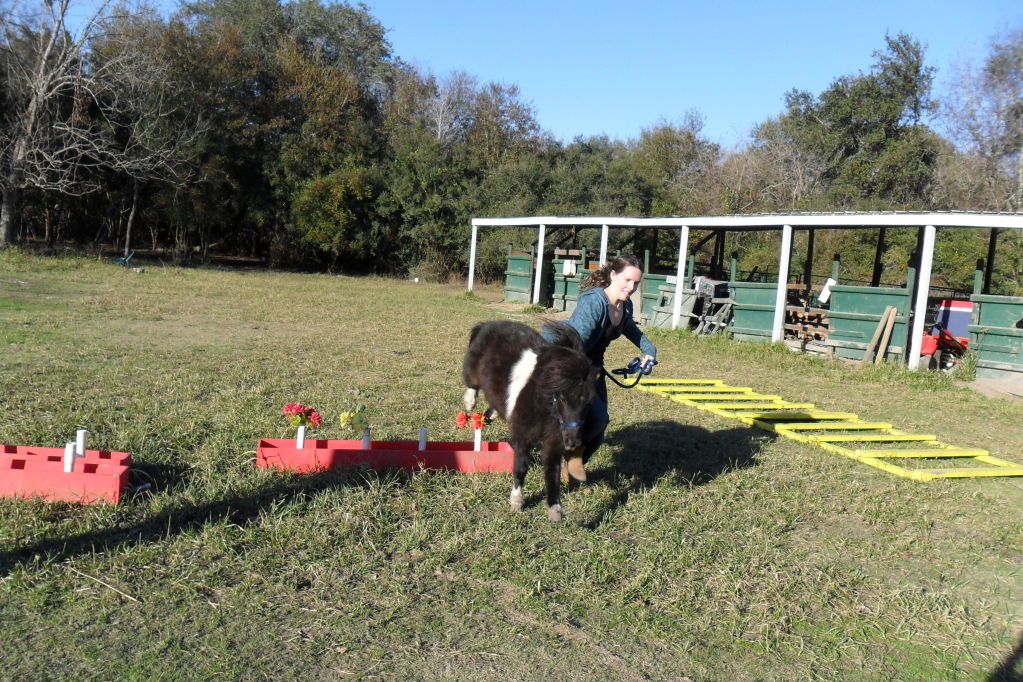 Behind my mare is our mare and foal pen, with its own 3 sided shed and water spicket. We use this when we still have them away from the other mares but out of the foaling stall.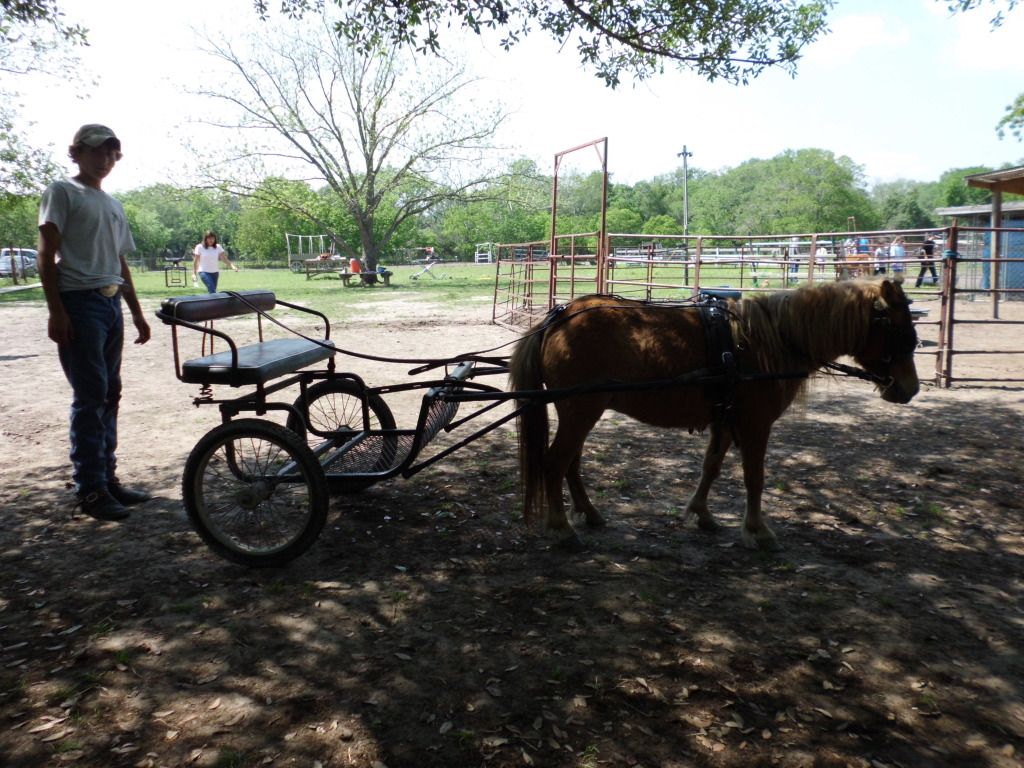 I don't really have pictures of our pastures, but one is a 2 1/2-3 acre dry lot for the minis and easy keepers/laminitis prone horses. Then we have a half wooded. half pasture pen for the lesson horses that is 5 acres, and a 12 acre pasture across the bayou that is for out ranch horses. It has no offical shed because about 1/3 of it is heavily wooded with large trees. We also have two stallion pens that arent pictured, with individual sheds and 30 x 30 runs.
---
Everyone in your life is meant to
be in your journey, but not all of
them are meant to stay till the end.
I don't have a barn, but here is my stable when it was first built and my field (which is also the view from my house).
in Winter (garden in foreground)
This is my 56' by 64' barn. I have 4 stalls and soon to be tack room. my now tack room is 12 by 12 with a door to the outside and a window. they have a little 16' by 12' shelter in the front of the barn and then next to that with the large door is the hay where we had over 250 small bales. the stalls are 10 by 10. and the tack room is 10 by 16. i have a tie up area by the tack room they have two ponds they can go in and three pastures, the main one with the barn one next door and the one with two ponds and a nice woody area!
Phone 011.jpg
Phone 015.jpg
phone 938.jpg
phone 753.jpg
Phone 970.jpg
phone 772.jpg
---
Last edited by HarleyWood; 01-14-2013 at

06:36 PM

.
heres the barn i keep my horse in. It has a play pen...but right now the goats are using it. :P
Heres the inside of the barn
it has 9 stalls. not all of them are used though. i would say only 4 of them are being used.
A MESS!!! Lol. I'm fighting to keep hubby & dad's "projects " from invading.
Posted via Mobile Device
Definitely subscribing to this one! What a fun idea, I love looking at other people's barns too!
I'll take some pictures of my place tomorrow and share them with you guys.
---
"A rider who would trade partnership for obedience
will have to settle for neither."
Thank you to everyone who has posted pictures! We are building a barn this spring, and your pictures give me some great ideas! I will post pictures as well once construction starts, but we still have quite a few months of winter to get through first.
I love looking at barns and horse set ups, great thread idea.
When we moved here just over three years ago, our barn looked like this (the inside was even better)
Here is our little re-claimed cattle barn now, still a work in progress:
Inside we have a 14x14 stall, a 14x20 stall and a 12x16 stall which double as run ins if/when the horses need to come in:
One of the paddocks:
Side pasture, out door "arena" with 70' round pen behind it, the main pasture and the barn: