Barrel Racer Opinions Needed...Lets Bling-Out Rumor!
---
I just have this *feeling* that Rumor is going to resume training in the spring/summer. Ill be hauling her to shows to have a look around and to poke around on. And she needs to look good!
Im mainly looking for an eye-catching, extremely fancy headstall. Preferrably a browband (more bling)
Ive been thinking on this for awhile, but man, i can NOT decide on colors! I dont like to be stuck with one color...Like pink or blue...Because i constantly change colors.
Although i saw a orange/red combination that i would DIE FOR from dazzle rock tack. *sigh* She would look amazing, but i want opinions/style choices i should look into.
And of course, a matching breastcollar and wither strap would be awesome.
Gimme your ideas! Im open to anything right now...And, id like it to be able to be put on a sorrel as well. Eventually Chilly will be back in the game once she foals. :)
Posted via Mobile Device
Green Broke
Join Date: Oct 2009
Location: Outside of Oklahoma City
Posts: 2,653
• Horses:
6
Personally, I feel she has a bit to much red in her to pull off red or orange.

I'd look more into turquoise, blues, greens, and purples.
---
Be wary of the horse with a sense of humour. - Pam Brown
I think she would look AWESOME in black and red!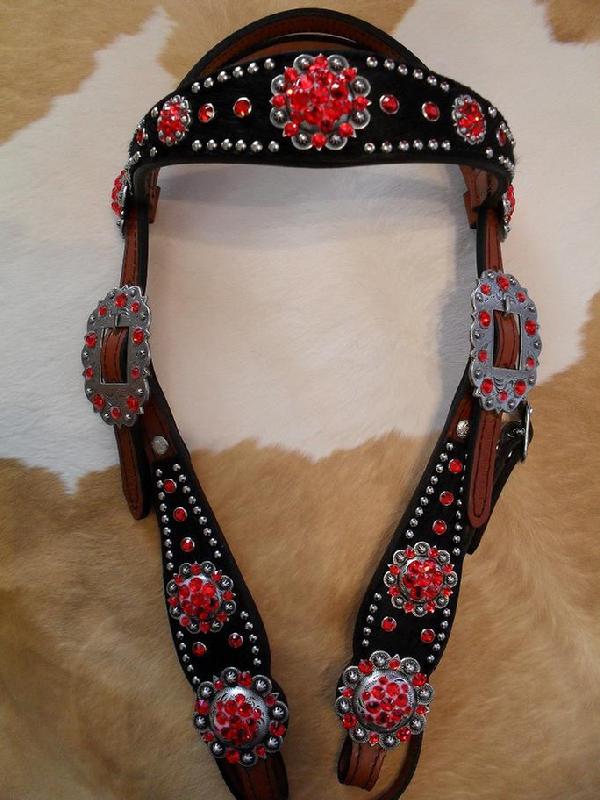 I would say leather with clear bling. Jmo :) no color she has a lot of color and I wouldn't wanna take away from that :)
Posted via Mobile Device
Quote:
I think she would look AWESOME in black and red!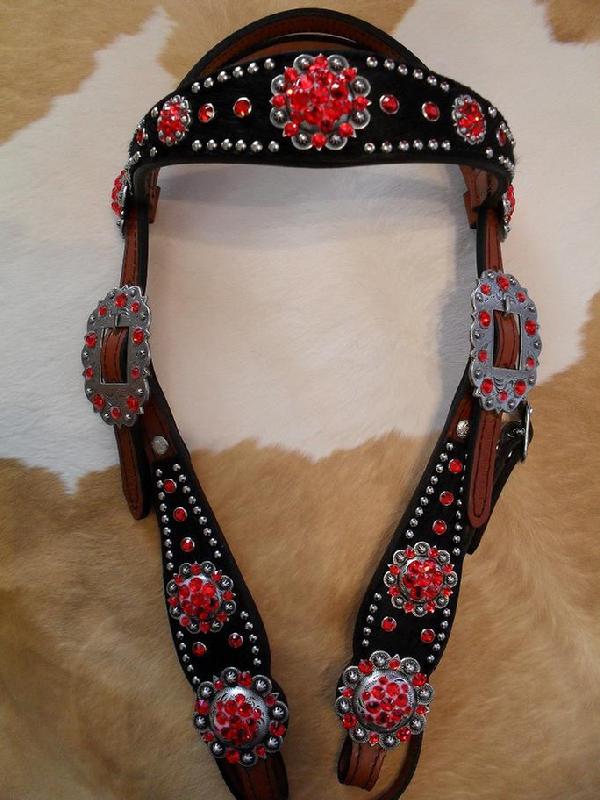 I love that headstall :) and yes I agree she would look good in those colors :) didn't think off that lol
Posted via Mobile Device
Elite Designs
The red/orange combo on this page was what i considered. Not necessarily this style though.
Or...a white....easy to keep clean...background/inlay...crystal color...no idea?
Posted via Mobile Device
That is crazy you just posted that, I was JUST looking at the same page on that site
The black/red is cute!
Posted via Mobile Device
Check out deuces wild tack website they have some really neat tack
Posted via Mobile Device
---
Last edited by Horsecrazy4; 01-11-2013 at

10:34 PM

.