Thanks, I hope so.. I do get to bring Nikki up later when I get settled, pretty happy about that. I joke saying that I'm going to give them barrel lessons and make them appreciate bling, they just laugh but I have sneaky plans..

Anna, I'll DEFINITELY post pictures! I am very thankful I got the job and I lucked out, there aren't usually things like that available here but my name got brought up and I talked to my now boss and got the job. So excited!
---
I am Sparkly Meanie Doodie Head and I approve this message!
---
Last edited by DrumRunner; 01-10-2013 at

03:47 PM

.
Yup annanoel, I just graduated in May. It feels great!!

Followed by getting married in June (my hubby and I spent the majority of our 7+ years together by not living even in the same state!!! That was hard.).

And starting my new job right away in July.

2012 was a whirlwind. I can't wait for this snow and cold and winter to go away (too bad we are getting a blizzard this weekend.....) so I can get back into horse season!
---
∞•*˚ Βгįťţαňγ ˚*•∞
It is not enough to know how to ride; one must know how to fall.
Beau, you had a busy life! I'm glad you've gotten to where you can enjoy your horses and run again.

My boyfriend and I live 6 hours apart so it's nice to hear your situation and how things worked out.
Posted via Mobile Device
Quote:
Drum -Hmmmmm I have tons of pairs, but KO Trading has never failed me yet. Lots of cute yet durable ones and the straps I have are great quality. Brand-wise besides KO try Circle Y I had my last pair for 8 years before I got rid of them, or Weaver has some as well that are okay. If you go Weaver though I'd take a look in person don't order them online.

If you're looking for custom ones check out KB Custom Creations or Magics Custom Tack on FB. They both do spur straps and for the most part they cost what a nice normal pair would. (:

CLaPorte- LOVE that headstall! Wow not usually a pink or butterfly fan. What brand is it if I may ask?

Sorrel- I think the red would look great on him. I've always thought red looked sharp on pallys. Gotta' be tough though not too girly for him. ;) LOTS of bling too, lol.
Its Double J Brand, i believe. $400. LoL.
Posted via Mobile Device
I hear ya, Drum. Although I would have killed to be only 6 hours away! For the first 3 or 4 years, we were about 3 hours apart (which at the time I thought was too far). Then for about 4 of those years, I was about a 24 hour drive from him. Crummy!

But it sure makes you appreciate your time together much more. You don't take things for granted.

The longest we went without seeing each other was 4 months. And that was too long! So glad we are finally done with that.
---
∞•*˚ Βгįťţαňγ ˚*•∞
It is not enough to know how to ride; one must know how to fall.
Ok....since this is a "fashion" thread....I am gonna try and bring back....NEON BABY! Lol!
I am going to get BRAVE and post this photo.....no LAUGHING and I BETTER not find this on another site with captions all over it lol!
NBHA Finals......2012.....OH YA BABY! BLAM
(Catching me off guard doing whatever I was doing lol)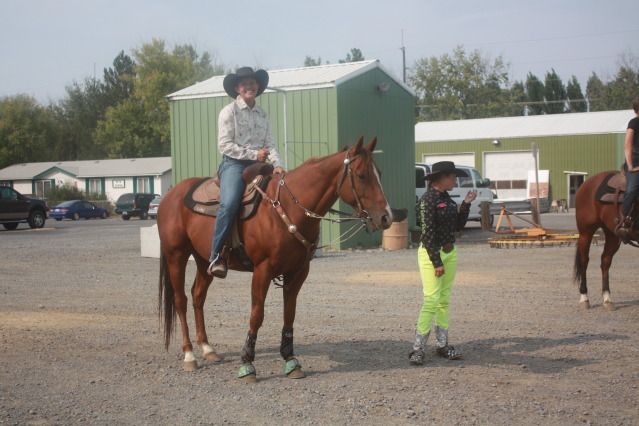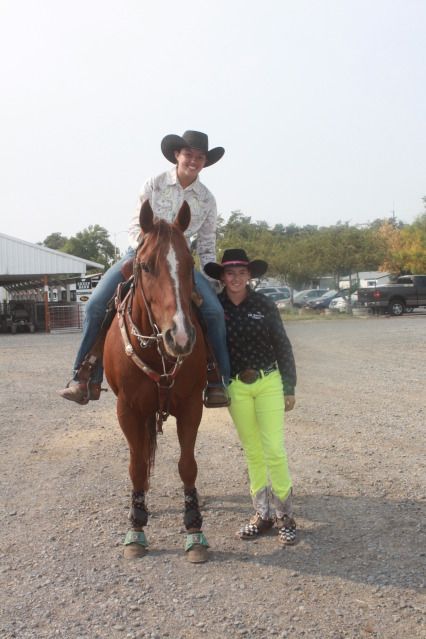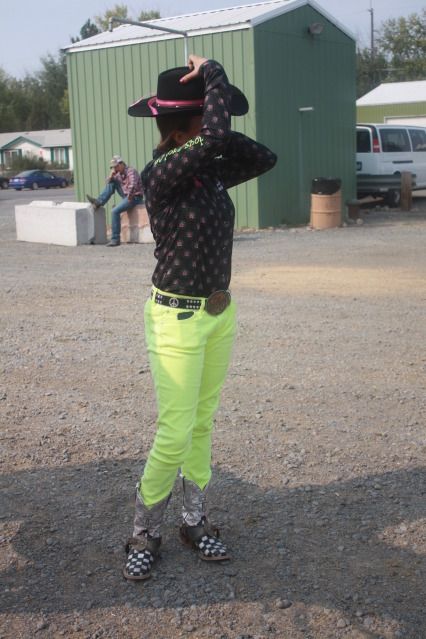 Ya ok.....I am crazy.....but I HAD to step out of my comfort box of blue denim lol! I got WILD I also have a pair of Hot Pink ones I need to break out....I AM going to go online and buy some that are not skinnies lol....
So uhm....ya...BAM THAT is how I ROLLLLLL
*quickly looks around for something to hide behind*....
---
Conformation is how far the horse CAN go,
Mind is how far the horse WILL go,
Training is how far it DOES go.
Pstch. If anyone says a word (which they shouldn't dare), you'll just smoke them in the arena anyway with your amazing JJ.
That at should shut anyone up!!
I personally am not a fan of neon colors (I'm kinda sad those 80's colors are coming back again). But then again, I'd pick neon over boring black or grey anyday! Color is better.
---
∞•*˚ Βгįťţαňγ ˚*•∞
It is not enough to know how to ride; one must know how to fall.
Lol I love color......but am actually REALLY shy about standing out in the crowd. So it shocked a lot of people when they realized I was the girl walking around in neon skinnies LOL. As for the 80's I am loving the brights....but not so much the flower jeans, short shirts....lol.
---
Conformation is how far the horse CAN go,
Mind is how far the horse WILL go,
Training is how far it DOES go.
I love them! Something about your boots goes great with them! :)
I held off for a year and a half. Finally broke down and read the whole thread. But i am in so much trouble now. I need jeans but my mom doesn't believe in jeans that are more then 10-20 bucks. she also doesn't believe in online shopping. normally gets all my jeans from target or ross. I love all of the jeans here. Anyways, anyone have a pair of arizona jeans?. i had a pair and i liked them. Need more comfortable jeans to ride in and just wear around normally! I don't barrel race but i love jeans. except skinnies. i have a hard time fitting into jeans cause im so freaking short! anyone wanna help me?
---
I may seem small, but if you mess with my horse, I will break out a level of crazy that will make your nightmares seem like a happy place.