Belt Bridles during a run?
---
I'm getting this belt bridle for my xmas gift from my hubby but was wonderng about it possibly slipping off while running. It doesnt have an ear piece but could easily add one if that would help stabalize it more. Anyone run in belt bridles? Thoughts?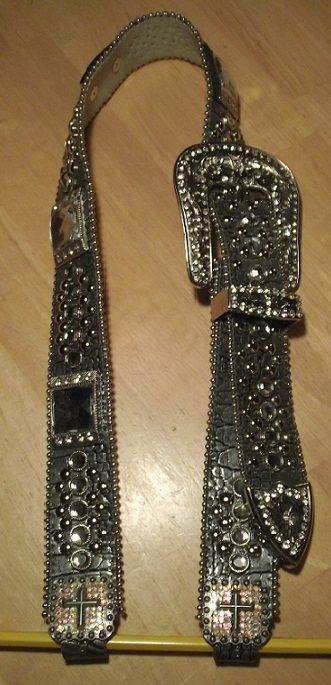 Ive seen many horses run in them. Ive never seen a problem with them slipping.

Btw, where are you getting that from? I think i need one! :-D
Posted via Mobile Device
some girl made it on facebook..she has a really bright green one for way cheap. Asking $30.....
I love this one. Maybe PM me her page so i can consult with her?
Posted via Mobile Device
My friend ties a loose throatlatch onto hers with fishing line or the same color of yarn as the horse she runs.
sure...do you have facebook..i can just give you her name..she can prob make you one
First get an ear piece second get it leathered for more stability. My trainer runs in them no problem as long as they fit properly then you should be ok.
---
just a small town girl with a big town dream :]
---
Last edited by BarrelracingArabian; 12-20-2012 at

07:53 PM

.
I personally am not a fan of headstalls without throat latches...I have some for just riding, but I WILL NOT run in them.

JMO
---
Conformation is how far the horse CAN go,
Mind is how far the horse WILL go,
Training is how far it DOES go.
ClaPorte, her name is Jourdain proctor..she's online right now.
I will try the fishing line...I think that will work and I have a friend who makes custom tack and she can add an ear piece.