Bits
---
What kind of bit do you use on your barrel horse ?

I just got into it and have been working my horse in a tom thumb bit . We haven't shown yet, just training and having some fun . I've thought about working her in a Wonder gag bit .
Posted via Mobile Device
The 'Tom thumb' bit will probably get some harsh reactions. I'm interested in these answers :) sorry I don't have a good answer
Posted via Mobile Device
Well I'm asking what bit THEY use not their opinion on what I'm using now haha (: Thanks for the heads up though .
Posted via Mobile Device
You'll find many of us really aren't fans of tom thumbs, they confusing and pretty harsh actually. Wonder bits are okay but I don't really like them either, it's one of those things that is personal preference on them.

If you are just getting into it I would suggest shopping for a Jr. Cowhorse Bit myself, a bit choice I'm sure other posters will approve of :)

As for my horses, I primarily use a small set of bits. A smooth snaffle, a smooth draw gag, a Billy Allen shank, a loomis, most of the Jr cowhorses (Except the single joint twisted), Sweet Six (Iron wrapped lifesaver or smooth) and a ring combination bit.
---
Pssh.I didn't pick up the wrong lead
It's called a counter canter...
...A very advanced maneuver.
I've thought about Jr Cowhorse bits but the only ones I can ever find are chain mouths and I am NOT putting a chain in my horse's mouth .
Posted via Mobile Device
Chains are an interesting mouthpiece. They appear really harsh (And I'm not saying they can't be) But there's a lot of interesting misconceptions. Obviously to be ridden with light hands, but there is no in between with them. Horses either LOVE them, or they HATE them. Kind of an interesting bit.
Now I'm not saying you should get a chain mouth, just something to think about.
Anyway, here:
Jr Cow Horse Bits - The Tack Stop
---
Pssh.I didn't pick up the wrong lead
It's called a counter canter...
...A very advanced maneuver.
Green Broke
Join Date: Aug 2011
Location: Middle of Nowhere, Saskatchewan
Posts: 2,641
• Horses:
5
Yay for Jr. Cowhorse!!!!!!!

I have the dogbone with the roller and I'm in love.

I've seen TT used in good ways, but mostly in bad ways.
And if you are doing barrel training, I'd go back to a snaffle anyway, or at least until you're far enough to know the horses strengths and weaknesses on the pattern, which could help you pick a bit.
---
Link is in a twisted wire ring snaffle bit, smooth d ring snaffle for everyday use.
Heart is in a argentina snaffle with 3" shanks and a copper roller middle.
Dennis is in a twisted wire snaffle gag combination bit

Their all push style pretty much automatic horses, none of them need much bit.
Posted via Mobile Device
Green Broke
Join Date: Oct 2009
Location: Outside of Oklahoma City
Posts: 2,653
• Horses:
6
Sassy - smooth o-ring
Rosie - Martha Josey Million Dollar bit.
How ironic, because I had a thread bashing the heck out of this bit. It was mainly written in angst from a girl I know who just saws on her horse like crazy with that bit. I practice in a snaffle, but once she enters the Pen she is a totally different horse.
Posted via Mobile Device
A lot beginner barrel racers come into the game thinking you have to have specific stuff for barrel racing..and this is true, to a point.. ANY bit is a "Barrel racing" bit..
The tom thumb is a bit that can get very mixed reactions from a horse. Usually not so great reactions, especially in the wrong hands or heavy hands. I don't like them and I don't use them.... A good step to take from a tom thumb is the Jr Cowhorse like many posters have already said. I personally love that bit..
I understand why you said you don't want to put a chain in your horse's mouth..but what a lot of people don't realize is that there are VERY different types of chain mouth pieces..Some can be extremely harsh, like the bicycle chain mouth piece...Or be VERY light, like a light chain mouth on a hackamore combination bit..That said.. Just because it's a "chain" doesn't exactly mean it's harsh..You just have to know your bits and what they do.
That said..
Nikki rides in a snaffle mouth piece combination bit.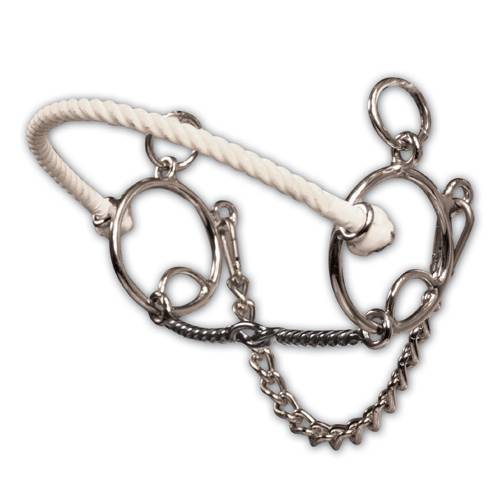 Hickory rides in a Jr Cowhorse, twisted mouth piece..
and Lark was ridden in a bicycle chain mouth piece before I got her and I refuse to put THAT type of chain back in her mouth because she is very sensitive about her mouth now.. So she rides in a LIGHT chain piece hackamore combination bit..
This is one of the harsh chain bits..
---
I am Sparkly Meanie Doodie Head and I approve this message!