Started
Join Date: Nov 2010
Location: Lethbridge, Alberta, Canada
Posts: 1,634
• Horses:
2
Single jointed, loose ring snaffle with copper inlays. My horse is very soft so anything much harsher causes her to really slow down.
Quote:
A lot beginner barrel racers come into the game thinking you have to have specific stuff for barrel racing..and this is true, to a point.. ANY bit is a "Barrel racing" bit..
The tom thumb is a bit that can get very mixed reactions from a horse. Usually not so great reactions, especially in the wrong hands or heavy hands. I don't like them and I don't use them.... A good step to take from a tom thumb is the Jr Cowhorse like many posters have already said. I personally love that bit..
I understand why you said you don't want to put a chain in your horse's mouth..but what a lot of people don't realize is that there are VERY different types of chain mouth pieces..Some can be extremely harsh, like the bicycle chain mouth piece...Or be VERY light, like a light chain mouth on a hackamore combination bit..That said.. Just because it's a "chain" doesn't exactly mean it's harsh..You just have to know your bits and what they do.
That said..
Nikki rides in a snaffle mouth piece combination bit.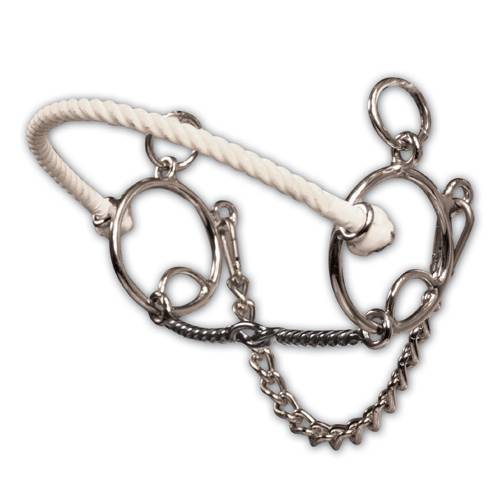 Hickory rides in a Jr Cowhorse, twisted mouth piece..
and Lark was ridden in a bicycle chain mouth piece before I got her and I refuse to put THAT type of chain back in her mouth because she is very sensitive about her mouth now.. So she rides in a LIGHT chain piece hackamore combination bit..
This is one of the harsh chain bits..
Okay.. I found an old Wonder bit that I'm going to try otherwise I'll be getting a Jr Cowhorse bit just in case . Is there anything anyone would recommend for a horse that constantly chews or mouths the bit ? She's ALWAYS chewing at my bit . I know there's a Jr Cowhorse bit with a roller that might relax her .
Posted via Mobile Device
Have you had her teeth checked? A chewy mouth is uncomfortable, anxious, irritated, nervous..it could be a number of things..Possibly even that the bit doesn't fit her mouth..There are just a ton of things that could make her mouthy. I would just try different bits to see what's she comfortable with. The Jr Cowhorse is a fantastic bit if you decide to try it..
---
I am Sparkly Meanie Doodie Head and I approve this message!
Her teeth are fine . Vet was out about a week ago for shots and checked her teeth too . And every bit I've ever ridden her in she chews . From the D ring I ride her in English to the training snaffle for Western Pleasure . Maybe she is just anxious . But I'll definitely try the Jr Cowhorse bit !
Posted via Mobile Device
I personally rotate through bits unless I am working the pattern. When I am working the pattern I use a twisted dog-bone Jr. Cowhorse. But other wise I use a snaffle with a fork or a sweet six with a german martingale.
I ride in a sharon carmarillo sweet 6 #745

and

Jr. Cow horse twisted bit with a dogbone....love both of them!