BW barrel saddle
---
I got my first actual barrel saddle today. I had just started saving up for an true barrel saddle, since hoping this summer I can start my horse on barrels. I wasnít planning on getting a barrel saddle for a couple months still. My dad was at an auction and found an 15 inch barrel saddle, only saddle there too. After talking to him on the phone, about he it decides to try to bid on it. Well, I meet him at the auction to see it once he bough it and see if anything else I wanted. We didnít buy any other horse tack.
Now I do have some questions. I didnít know until my dad already bought the saddle, that their was no place for a back girth, what would be the effect, I was told during barrel racing to always wear my back girth. Another thing is there is a maker stamp that says BW Saddlery, anyone know anything about the saddle maker.
Then the saddle is in rough shape, any good ideas, how to clean it up. The leather all is good, but when I mean rough shape as it has spots and stuff. I sit in it and it feel like a good fit, hopefully fitting out if my horse agrees with in soon. But thatís another story there.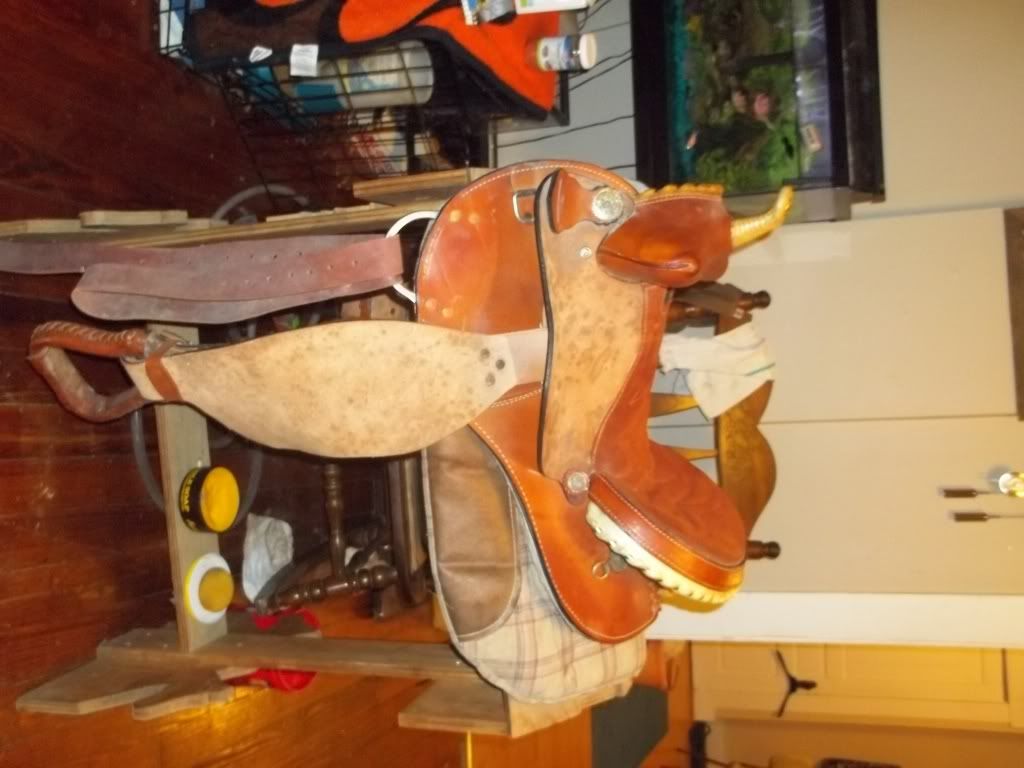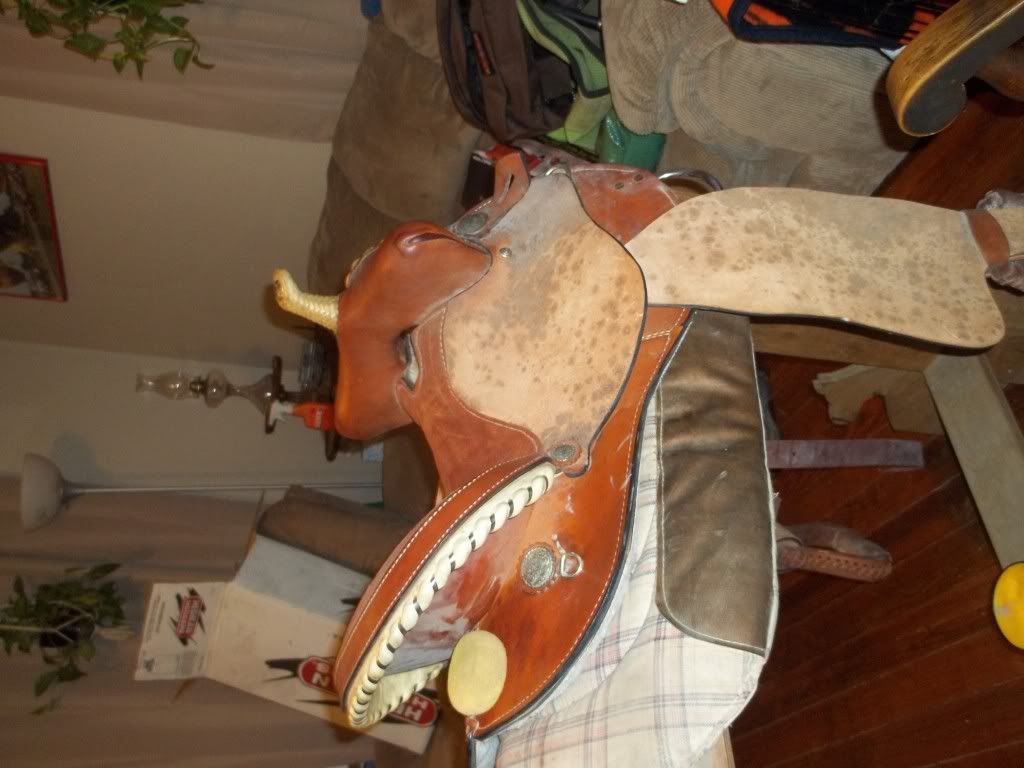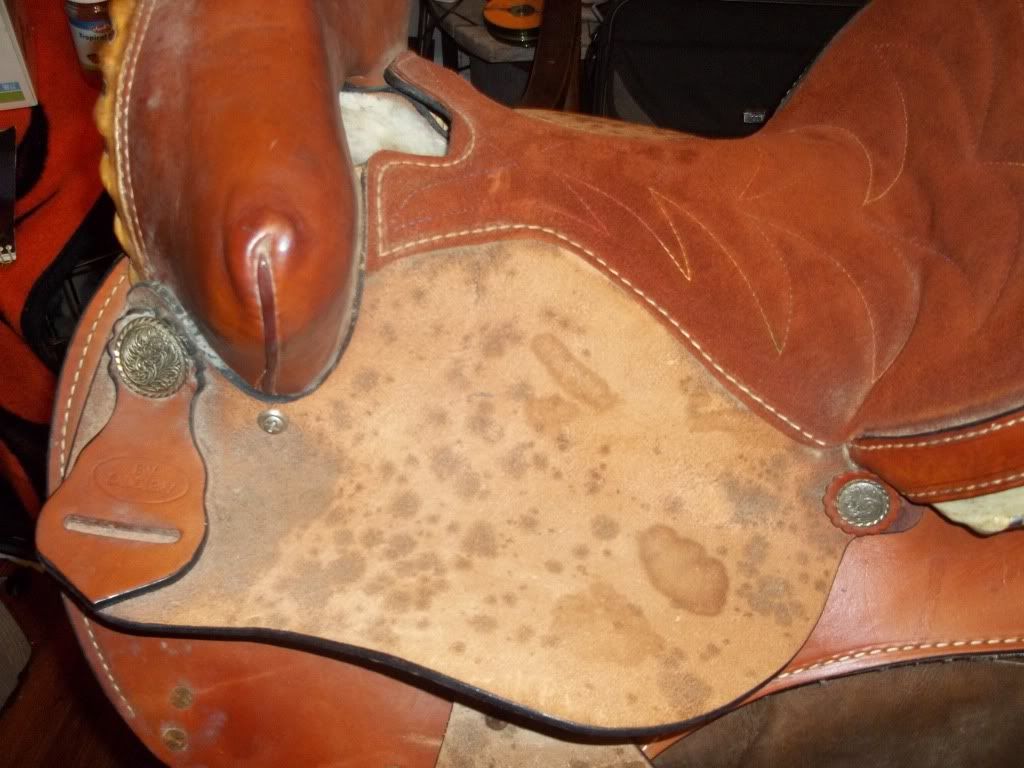 ---
Extreme Trail Rider and Barrel Racer.
King - 11 year old Tennessee Walker Gelding
Sassie- 7 Year old Appaloosa Mare
Just from my experience with saddles and spots on the rough out..It's there, and it's not coming off..You may be able to scrub it with something scratchy and even it back out a little but If it's soaked in and has been able to stay like that it's probably stuck there..The saddle looks okay and will probably look better with cleaning up..I don't like how the fenders are attached to the saddle..It looks like they could come off easy..To me, the back cinch is a MUST, but not all barrel racers are like that..It keeps your saddle in position and not bounce up in the back and push you forward..If you do decide to keep this one and run in it I would definitely replace the stirrups with aluminum with a grip..
My overall opinion would be to clean it up and sell it. Add that money to the money you've already saved. Look at some of the better saddles and sit in a few different kind..A cheap saddle or good saddle can make all the difference in the world when it comes to running barrels..
I have a KO Trading saddle and I LOVE it. It was only $800 customized exactly how I wanted it. My sister also has a KO and loves her's..I'll definitely be ordering from them again.
KO sells already made saddles for I think $700 but they will make to order whatever you want for $800..
This is the link to the custom saddle like I have..
Build Your Own Barrel Racer Saddle
---
I am Sparkly Meanie Doodie Head and I approve this message!
Started
Join Date: Nov 2010
Location: Lethbridge, Alberta, Canada
Posts: 1,634
• Horses:
2
It also looks like it has some mold on the latigo keeper next to the swells. My barrel saddle has a place for a back cinch, but it also has silver around it.
Agreed with Drum.

As for the back cinch, personal preference. I don't ride with one.

I would reccomend buying a used hereford :) I LOVE the Herefords, and used means you don't have to break it in! Another personal preference :)
---
Pssh.I didn't pick up the wrong lead
It's called a counter canter...
...A very advanced maneuver.
I also see some mold, how much did you pay for it?
Posted via Mobile Device
I would say that all the spots on the rough leather is mold. Which is a PITA to get rid of for good on smooth leather I can only imagine it would be much, much harder on rough out leather.
I'm not for sure at the price, as I wasn't there. He told me he almost got it for $150 but someone ran the price up, I'm thinking around $200. I wouldn't have bought it, if I knew their was no place for the back girth. Being a cheaper brand doesn't bother me as our other saddles are. At this point I did really need a saddle and it would have been a couple more months before I could have saved up enough money for the saddle I was looking for at $450 as a off-brand. I would like to get an higher quality saddle, but as a college student it's hard, plus my saddle wasn't fitting my horse right, so I haven't rode since I tried our other saddle, that I though out isn't good for a green horse as the seat is too slick.

Yes, there is mold on some of it, which, I'm pretty good at removing mold, as my Dad's saddle mold's every winter, no matter what we try. Most of the mold is removed, already, but two spots. All straps are good, it already looks better. Someone also mention something about how the finders are attached, can you please explain, because they are attached like my Dad's saddle, and my saddle I was riding in.

Thanks for the help, I know what you guys are saying about getting a better quality, but finances aren't allowing that at this moment. The money I had saved will be going to tack needed before we can ride again for my dad's horse, only $40. As a college student, with a horse who tries to kill saddles, (we are working on this, she is very green broke. So we won't be running barrels anything soon) Thanks, any help is good help.
---
Extreme Trail Rider and Barrel Racer.
King - 11 year old Tennessee Walker Gelding
Sassie- 7 Year old Appaloosa Mare
Sorry about the double post, but thinking about it even more, I believe We when go to our local tack dealer to get the stuff for my dad's horse, we should take both this barrel saddle and my trail saddle as clean up as possible and she want he will trade both in for. He really knows his saddles and if nothing he will give us an opinion on this saddle from up close and personal. I did notice something about the finders I'm not comfortable with the strap under the finders to hold the stirrups isn't complete instead it's all on the finder unlike our others. I have all our saddles here, cleaning them so I'm comparing.
---
Extreme Trail Rider and Barrel Racer.
King - 11 year old Tennessee Walker Gelding
Sassie- 7 Year old Appaloosa Mare