Cross training Pleasure and Games
---
Hey guys now i honestly get really ticked about barrel racing (not saying the sport is bad i dont want to get into that whole debacle) because i have encountered many a barrel horse that has been turned psycho, ie. as soon as your butt hits the saddle you are gone in 15 seconds type horses. I have met precisely 2 horses in my entire life that did games and were still calm and controllable on the ground and under saddle. i have also met many riders that were dead stupid in barrels ("i taught this off track thoroughbred how to turn around barrels at a dead run so therefore i am automatically a horsetrainer") around here(minnesota), most people who ride are on team games (barrels, pole weaving, keyhole etc) or team pleasure (or english sports which i want to get into eventually). I honestly think that barrels would be really fun to do if it was trained right, (ive actually tried it on a fast horse and i did pretty well) so now i have a challenge for all of you. I want to know how many of you cross train your horses in pleasure classes (english western doesnt matter) along with doing games, and how did you do it because i would like to try it!
If you know how to properly train and maintain a barrel horse......you won't run into problems. ALL my horses could be pleasure horses.....and I don't even show pleasure really anymore. I just train my horses correctly and don't constantly DRILL them on the barrels, the barrels are ALWAYS set up so they know that just because they see barrels doesn't mean they are going to go run through them.........

So you obviously haven't been around very many barrel races, because I have a HUGE pool of barrel racing friends and know a lot of people and none of their horses are out of control on the ground or under saddle. But none of us are weekend warriors either and listen to our horses.
---
Conformation is how far the horse CAN go,
Mind is how far the horse WILL go,
Training is how far it DOES go.
Yearling
Join Date: Jan 2012
Location: In the middle of NOWHERE! (seriously...)
Posts: 861
• Horses: 0
I agree completely with BarrelRacingLvr. If I wanted to, I could train my barrel horse to be a pleasure horse. He is very calm, even when around the pattern. When I am ready to run him, I get him hyped up and he dances on his toes, ready to roll. However, he is NEVER uncontrollable, nor is he hot-headed. He just has a big motor and likes to use it. (that includes stopping hard.) So, I'd say if you want to turn a pleasure horse into a barrel horse, go right ahead! Vice versa. Your horse might not be any good in the other class, but if they enjoy it, then it's all worth it in the end, right?
---
Strength
lies within the heart
but the strength to trust
lies between the horse and his rider.
Back in the day .. lol .. there were plenty of good all-around horses. I've shown english, western, and games on one horse. It can be done.

I remember when things started becoming so specialized and everyone had to have a WP horse, a HS horse, an EP horse, a game horse... it was crazy. I could afford ONE horse and he did it all!

Walked in, loped one small circle, ran the pattern, did another circle, walked out. (No chutes) ...

Have fun!
Like this?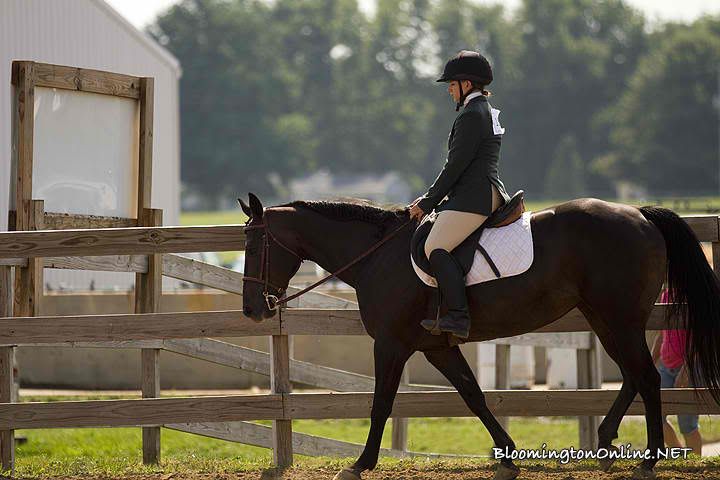 Excuse my english riding, not the greatest.
That's my mare, who I've sold (kinda) but she does english, I taught her to jump with an instructor and took lessons on her, then showed her in hunt seat and jumping classes at the local fair. We won too, and the last pics are of us last year in a western w/t class were we actually got called back in. She's a very good barrel and pole horse too, runs 2D/3D at NBHA shows.
I would say you haven't been around many well trained horses. My horse now who I've had since November I slapped my english tack on a few weeks ago, he can do the english trot because I taught him too already. The basics are all the same, if you have a horse well trained for basic riding you can teach them anything. Most people aren't going to cross train between western pleasure and barrels, they move to differently now.
Posted via Mobile Device
ticked
when people come on the barrel racing forum bashing barrel racing. Like this post. And just because you throw in the words
"I'm not saying the sport is bad"
as a disclaimer, doesn't mean you aren't bashing.
So you've seen "many" psycho barrel horses that like to run. Many?
And you've seen "two" horses that can do gaming in a calm manner. Two?
So you are basing your entire judgement off of "many" and "two". That sounds naive and ingnorant to me.
Sorry, but posts like these are really getting under my skin because we have seemed to have a lot of them lately.
Wrong.
There are "dead stupid" riders in every sport.
This sounds a lot like the "dead stupid riders" comment you made above, because you've ridden a "fast" barrel horse
once
and now you're an expert on how to train them right.
Although this one shown is small, he goes over jumps.
He does western pleasure.
He wins at halter (see trophy?)
He does competitive trail classes.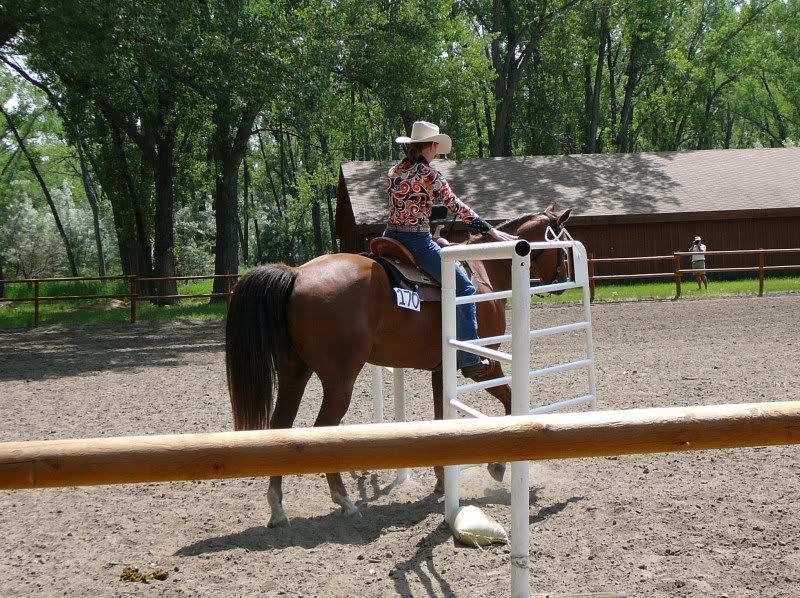 He carries rodeo flags and carries me in parades.
And of course, these are only pictures for ONE of my horses. I don't feel the need to clutter this post with more.
Maybe you should gain more experience before spurting off how we don't train our horses.
To train a horse to do many things, you've got to start with a TRAINED horse. Period. They should be able to do any fundamental: backing freely, stopping with a soft mouth from any gait, walk/trot/canter on a loose rein, side pass, know diagonals, turn on the fore or haunches, rollbacks, simple and flying lead changes, direct and neck reining, etc. Only when you can move any part of your horse's body in any direction, at any speed, at any time, should you start training them for any discipline or sport. If your horse is trained in the fundamentals, you can do anything with them (pleasure, reining, competitive trail, showmanship, horsemanship, barrels, poles, gaming, etc, etc).
I highly suggest you start educating yourself. Read up on Charmayne James, Ed and Martha Wright, Sharon Camarillo, Marlene McRae, Martha Josey, just to name a few. And watch DVDs with Dena Kirkpatrick, Charmayne, Judy & Rachael Myllymaki, Mary Burger, Sherry Cervi, and more.
And before you go spurting about other disciplines on their forums too (because you rode a good horse one time), you outta educate yourself there too.
---
∞•*˚ Βгįťţαňγ ˚*•∞
It is not enough to know how to ride; one must know how to fall.
okay everyone! i have been around barrel racing for years and ive boarded at barns where the only showing that people did was barrel racing ive seen great racers and ive seen terrible ones, unfortunately the majority of my experience has been around crummy racers who beat there horses on the butts and flop around in the saddle very uncoordinated like. did i say barrel racing was cruel? no. did i say i hate barrel racing? no. maybe its just the region im in! im sure you guys have met fantastic barrel racers with dead broke horses to boot! i honestly think barrels is really fun and i think i would enjoy showing in it. i think any sport involving horses would be fun! but the truth is i have been around really crummy people who go through horses like kleenex, because they ran their horses too hard on barrels (with one girl 3 of her horses had to be put down because of it shes on her 5th horse now) my intention was not to bash the sport beau159 my original goal was to ask people "HOW DO YOU TRAIN A HORSE TO BE GOOD AT BOTH PLEASURE AND GAMES?" and for the record none of you have really answered my question other than "you must not have been around a lot of barrel racing" and "my horse is dead broke" and "if you want to turn your pleasure horse into a games horse go for it!" none have answered my question of how you actually cross train your horse to be good at both!
so far i really think BarrelRacer23 has helped clear this up the most, thank you for your post and being level headed about it! the rest of you were helpful too but please calm down i'm not out to bash anyone theres lots of things i dont like about the other disciplines either (four beating in western pleasure lopes, rollkur in dressage, soring in gaited horses, starting so young in racing, etc.) if you would like id be happy to hop on the other forums and ask the same question! :)
and another note im not trying to turn my pleasure horse into a games horse, im trying to learn how to take a clean slate horse (never shown before but knows walk, trot canter) (forgive my poor horsey terminology, i never got it even though ive been riding for almost my whole life) into a solid western pleasure and games horse.
To answer your question, I dont think it's possiable to have a horse do both. At least do both well and good. In each discipline your asking the horse to move in a different style. Running a pleasure horse on barrels would just ruin all the hard work into making it into a pleasure horse. Why I like english, the horses move more the same so it's easy to go between. Actually the only horses last year to compete in the jumping classes were all barrel horses and riders. I can make one of my horses do the western jog, but not the lope. So cross training for both would be useless if you want to actually be competitive in one. Because they clash. It's easier to find disciplines in when which the horses move the same way.
Posted via Mobile Device
Truthfully, I think too many people specialize in one discipline and one discipline only and that helps to sour their horses faster. Many of those barrel horses you see that are psycho are a result of very poor training and riding because all they ever do is get saddled, go run barrels, go get turned out, get caught, saddled, run, turned out. Unfortunately, I see the same thing in other disciplines too. I've seen reining horses that couldn't be ridden outside of an arena because if you moved one muscle on accident, then might do a sliding stop or spin right out from under you. Cutting horses that are so ill-trained for anything other than cutting cattle that they don't know how to steer...or stop...or go unless there is a cow in front of them.

When my Dad was training and showing all the time, he would do reining and team roping on his WP and halter horses to keep them sharp and responsive and fit. He would do WP on his reining, roping, and working cow horses to keep them centered and calm and controlled.

None of them were psycho and all of them were winning the classes they were in, no matter what it was.

Heck, he trained a culled cutting horse and used her for reining and team roping mainly. He also placed in some WP classes on her and, at one show in OKC, entered her in the barrel racing after being asked to help fill the class. The mare had never seen a barrel before but took 3rd in the class (much to the disgust of the other barrel racers that she beat). LOL

Cross training and competing in multiple disciplines keeps a horse's mind centered on you and focused on what you are asking instead of staying focused on runrunrun.
The answer to how to cross-train your horse is to just train a dead good horse. A horse that stops when you tell him to, slows down when you tell him to, speeds up, turns, etc.

A horse with a good foundation and a horse that actively listen and obeys his rider should be prepared for almost anything.

Honestly I would train the pleasure first, then do the barrels as if it were a pleasure exercise in turning circles. Then turn on the speed. A good pleasure horse should be able to tell the different between when you want him to gallop fast and when you want him to do a pleasure lope.

I don't believe horses should be "specialized" animals. My western pleasure gelding ran barrels (he was dead last each time), but it was fun and he tried. Then the next day he could turn around and do his slow lope again. It's simply an extension of training.