Deep Flexor Tendon!?!?
---
Deep Flexor Tendon Injury


Have you ever had a horse with this injury?

If so what did you do for healing?

How did the horse heal?

How long was the horse out?

Did/have you run the horse again?


trying to get feed back on this kind of injury.


WHY:

a few weeks ago my mare came up lame. I noticed some swelling in her left front leg and it was a very noticable limp but there was no heat.
I ran some cold water on it and started her on some bute and put some liniment on it then wrapped it. A nerby vet was already schedualed to come out to do some blood work on another horse so I gave it a few days until he was planned to come out and let him have a look at it. She hurt herself on a thursday and it was the following tuesday that he came out.

By the time he had come out I had already self diagnosed her to have pulled her deep flxor tendon due to the fact of where the swelling was. Also after a few days of the above methodes of treatment she was no longer limping (well just a little almost not at all) (she was on half the recommended dosages of bute) and the swelling had gone down. The vet that came out - mind you - is no equine specialist, but from what he does know he said that my diagnoses was right (my farrier also agreed). when I asked the vet what I should do and his thoughts he said I could take her to have an ultrasound done to see what was really going on in there but that by the looks of things and how my mare was acting he thinks she may have just stressed it or slightly pulled it, he did not think she had torn or broken anything. He said to just continue to do what I was doing and give her time and she would be fine, he also recommended me to give her the full dosage of bute. About a week later he returned to give a shot that he had to order for the horse he did blood work on when he took another look at my mare, again he said not worry continue doing what I was doing and that she seemed to be fine. He also told me not to stall rest her and at this point nothing had changed. During this week I had kept up with the things I had listed above but I did go back to the half dosage of bute - just do not like to over due it, I also started her on a tendon supplement.
At that point she still had some swelling but was not limping at all so about a week later I stopped giving her bute. It has now been 8 weeks, almost 9, since she started limping and I am sick of waiting around. I am not worried about her being able to show anytime soon I just want to know what and if something is really wrong.
I went against my better judgement by trusted this vet instead of taking her to an equine specialist and waiting it out. Although she is sound to the eye and almost all swelling is gone and it really has not been that long seeing as it is a tendon injury, I just want to know 100% what the problem is.

I have an appointment Wednesday @ 4pm to see the vet and get an ultrasound done of her leg. I just want to know if and when I can start back riding her and make sure there is no major/minor damage done.

This is the first and hopefully the last time I have to deal with this kind of injury and I care more about her well being then about her career so please give me your thoughts and advise.

I am willing to answer all questions, thank you :)
really no one has anything to say???
You may want to pm Bubba13 about this - she has extensive experience with what I believe is a DDFT injury, or something similar.
Posted via Mobile Device
Oh, yes, the PM makes sense now. Thanks for volunteering me, bubs!

My experience was quite different. No swelling or heat, for one, and moderate but consistent lameness. The thing about the deep digital flexor is that it is, well, deep. Damage to it, unless I suppose it is extremely severe and affecting more superficial tissues, should not be visible externally. Because of its interior location in the leg, it is also impossible to ultrasound.

In my mare's case, we did two rounds of X-rays and two rounds of ultrasounds, and nothing ever showed up as a problem--she looked clean. The vet thought she might have damaged her sesamoid ligament, so injected that area, but nothing helped. We turned her out for several months and then tried stall resting. When she was still lame after six months, we hauled her to the hospital for an MRI. There they found that she had three tears, at least one quite large, in her deep digital flexor tendon of her left front leg. The biggest was seated under her navicular bursa. Another was way up on her cannon bone.

They gave her a 70% chance of return to soundness if we followed their protocol. Treatment included IRAP injections and two courses of shockwave therapy, in addition to six months of very gradual and slow transition from stall rest to solitary paddock to turnout. Then I began to ride her again.

She did come back that season, but she never felt "right." She actually won a big barrel race. Then out of the blue one day she came up dead lame on the same leg. A return to the vet showed, well, not much of anything again. More stall rest, more shockwave. We've repeated this scenario many times now. "Off" one week, 98% sound the next, here, there, everywhere. To make a long story short, that is. Every time the vet thinks it's something different--but he can't be certain, as again, ultrasounds and radiographs are clean. Her collateral ligament, he says, her suspensory....based on, what, a hunch? No one really knows.

My mare's original injury was in May of '09. She was diagnosed in October of '09. I went back to riding her in March of '10, competed on her throughout the summer, and she was badly re-injured that August. It's been on and off since, now for a year. I've had to retire my nine-year-old talented mare and give up the sport I love. I suppose that was not the happy ending you were looking for.

The ultrasound, in your case, is a smart move, but keep in mind that even if there is a problem it may not show anything. If she is sound now, though, the injury may be well on its way to healing (and thus not show up), or the lameness and swelling may have been from something else entirely.

If she IS sound, and vets clean, since you have no proof that you had a major problem in the first place, you could probably go back to light riding, gradually increasing the workouts. If she becomes "off," listen to her and scale way back, or go back to stall rest and the vet, better yet.

If they DO confirm a soft tissue tear, as about the treatment option shockwave. Also look into therapeutic shoeing to minimize the stress on the injured tissue, and you might discuss some of the new injections, such as IRAP and PRP.
THANK YOU:) I will let you know what they find and say.
At this point I am in no hurry to have her back running I just want to make sure she is in no pain. I know she is not acting or showing any signs that she is but she has a high pain tolerance so that is not saying much to me.
I am hoping she will be sound so I can get back into showing her because I have worked my butt off to get her where she is now! I would also hate to see her wast away in the pasture I mean she has the
lines
to make a good broodmare but she loves running barrels, poles, and cones she loves it all and the few months before she got hurt she was doing great!! She qualified me to state within 3 out of the five shows you have to attend and place in to qualify.
I just pray that I get to have the chance to show everyone what she has.
But I will be in and out of the vets in less then 24 hours so I will update. Also they say they record the ultrasound so maybe I can upload it and send you a link. --> If you wanted to watch it.
Thanks for your comment and I am so sorry to hear about your mare, she is beautiful and looks like she was killer!!!
well I was right she did damage her deep flexor tendon.

She has a tear in the middle of the tendon.
Vet adv another 6 to 8 weeks of healing and then I should be able to ride her again. Of course starting out slow but I will probably give her another 12 to 16 weeks off. No need to rush he recovery. He also said she is healing amazingly and that she sould heal 100% sound and should stay sound. I am hoping for the best and praying he is right.

p.s. I do not understand how people read ultrasounds....just looks like alot of black and white and gray junk :) but maybe it is just me.
I mean once he started pointing things out I had no clue what it was I was looking at but when I asked him he said if you do not know what "right" looks like you will never be able to catch the "wrong" so bubba13 maybe you should get a 2nd opinion. He also said unless I was pushed for time he would not recommend the shockwave treatment. Although he thinks it is a good thing, he would rather the horse heal on its own scedual, also he said I was doing something not alot of people do that until 5 years ago people thought was the wrong thing to do and that is to keep them out in the pasture. Of course you want to keep them somewhere that they have the least chance of hurting themselves more and it is not best to keep them with other horses that may cause them to hurt themselves more but people tend to stall them up not knowing it causes more scare tissue to form.
sorry for the spelling misstakes I am a terrible speller.

horseforum should get a spell check button :)
MRI (after being declared "clean" by two experienced local equine vets using both ultrasound and X-ray). All depends on location, location, location, as they say in real estate. Glad you got good news on your mare.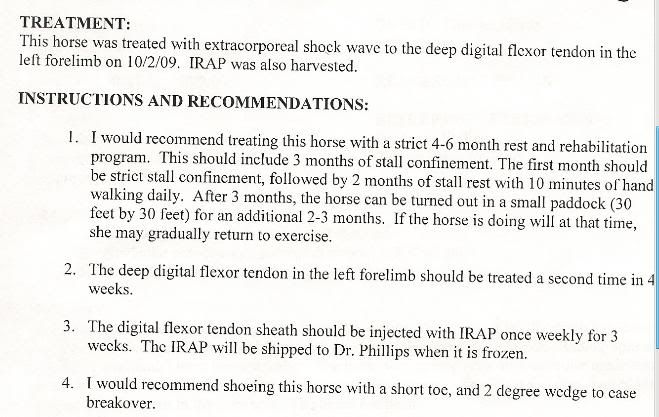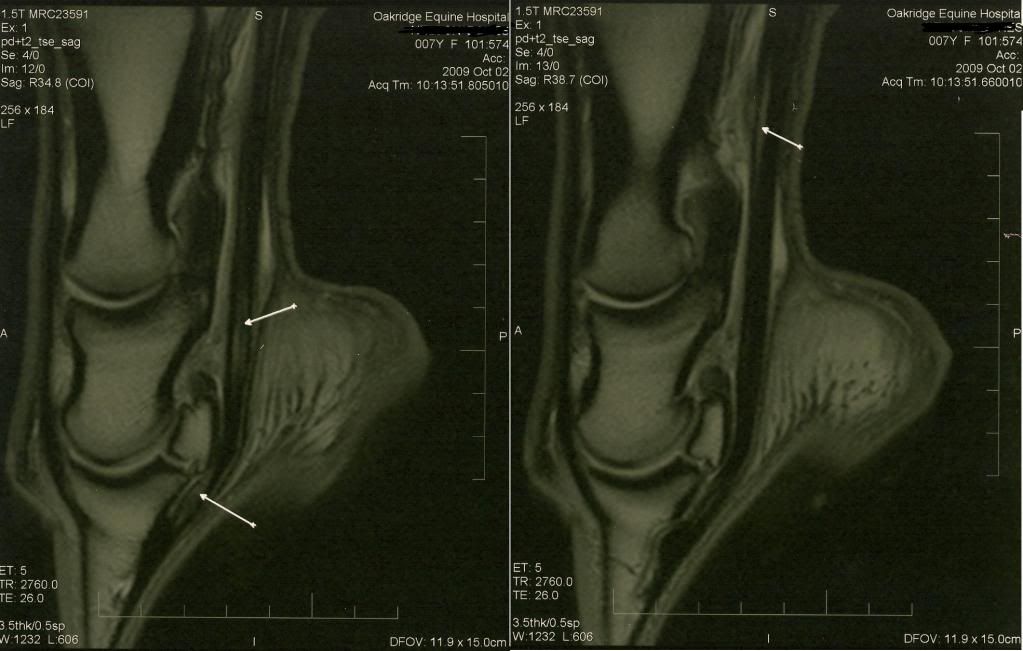 THANK YOU:) VERY HAPPY TO HAVE GOTTEN WHAT I TAKE AS GOOD NEWS!!!

again I have no clue as to what I am seeing in the images above...sorry about your mare and I guess you are right about location.
seems or vets have differences in opinions when it comes to how to treat the injury but hope something changes with yours. maybe with time off her injury will fix itself. horse amaze me when it comes to injuries so you never know.