Gidget
---
So I recently found Gidget's previous owner! I put an ad up on craigslist and about 2-3 weeks later I got a response!
Gidget is originally from Mexico and she was brought up to California. Gidget was 6 yrs old when she got her and she did all her training.I'm not sure if that means she broke her or not. Her name was previously known as Shaniah. She went and did drill team,high school rodeo,parades,trails,and jumping. WHO KNEW! I find it pretty exciting as I didn't know she did all of that.
My trainer said that she thinks that Gidget is actually more trained than what we may see her as now. I have been cueing her in ways where she gets confused. My trainer said that she turns on a dime and that if I actually think of what I am doing and keep a step ahead she listens better...I found out this is true. I barely have to use my body it seems! I have to keep riding her not just sitting for a ride...if I do she stops. I didn't realize this.
Anyways,with all this information and in sight I was wondering if Gidget is a finsihed barrel horse or if she is just really patterened. I'm kind of confused. I am waiting for a response from the girl to see what her times averaged out to and other questions. She has always been very marish so Im just going to deal with her pinning her ears. I don't think she means it in a nasty way...sometimes she does and it's very noticeable...but what are your thoughts
Here is Gidget previously:
Gidget goat tying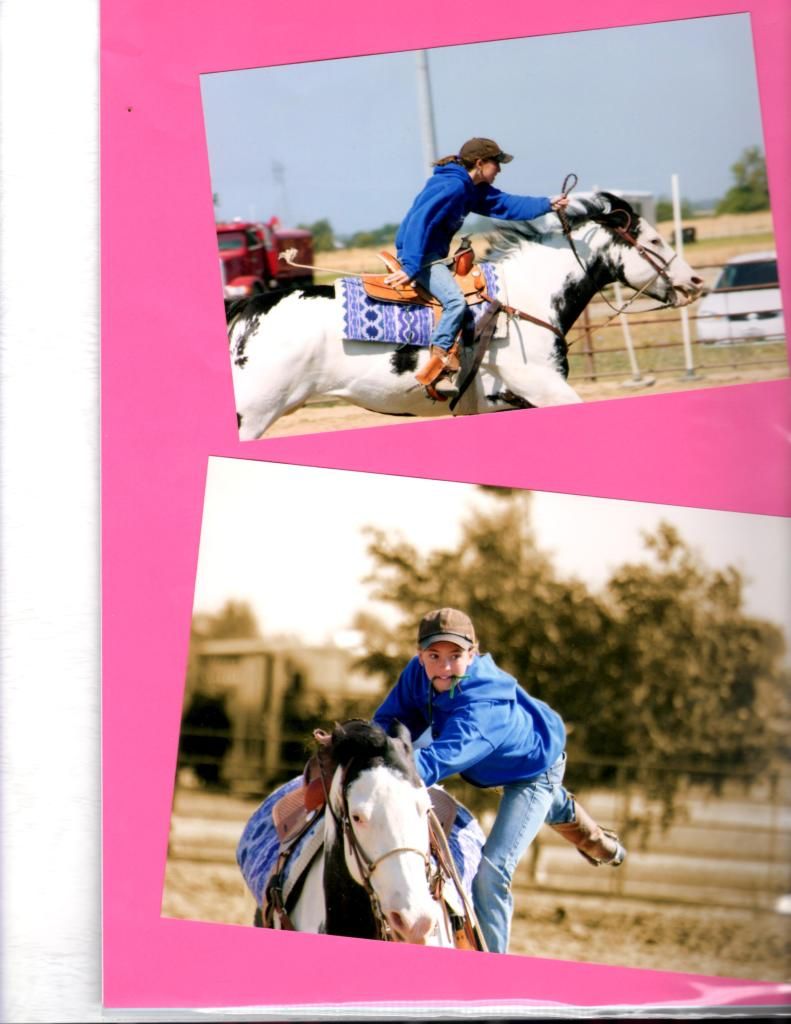 Gidget doing poles,barrels,and doing drill at the rodeo
and Gidget at a parade...look how cute and small she is compared to the other horses!
Green Broke
Join Date: Aug 2011
Location: Middle of Nowhere, Saskatchewan
Posts: 2,641
• Horses:
5
Cool! I think it would be awesome to find stuff like that out! I've never had the chance because we raised most of our horses!
---
I find it very awesome to get this information. ESPECIALLY after 2 yrs of not knowing. Getting a horse from a horse trader(technically) is almost a mystery when trying to find out information. But I contacted the guy I got her from and he gave me some names and I was on my way to finding out where Gidget came from so I thank him.
That is way too cool. Can't wait to see what happens as you two get farther along :)
---
Pssh.I didn't pick up the wrong lead
It's called a counter canter...
...A very advanced maneuver.
Neat!

It's always very interesting to run across an old owner of a horse you have now. Share lots of stories!
---
∞•*˚ Βгįťţαňγ ˚*•∞
It is not enough to know how to ride; one must know how to fall.
Green Broke
Join Date: Oct 2009
Location: Outside of Oklahoma City
Posts: 2,653
• Horses:
6
That's awesome!:)
Posted via Mobile Device
That's so cool!
---
I am Sparkly Meanie Doodie Head and I approve this message!