Quote:
Here's my last horse I had, he was a good horse, ran HARD, but he was lets just say..out of his mind.
LOL...Been there!
LOL, lets just hope I'm not going there again with this horse! haha
The people that bought my crazy horse use him for mounted shooting now
I about fell over when they told me thats what they were going to use him for when they came to look, i just said..good luck. But I guess he's good! beats me.
I've yet to meet a barrel horse that was "out of its mind" that wasn't the result of human/rider error, and that wasn't at least partially correctable.
Usually I would agree with you Bubba....bt I had an Impressive horse that truly has a screw loose.

I spent 5 months trotting him on barrels....exhibitioned him etc etc....asked for a lope....he reared at the 1st barrel....did it everytime. No pain....no soreness....had him checked.

Sold him as a trail horse. Stupidest horse I've ever seen.
Posted via Mobile Device
Quote:

Tennesse: good luck on the new horse! Is there anything wrong with your other one besides the eye? It would be pretty amazing if you could still run her! I showed with some people who ran all the games with a horse that was completely blind. Think of the trust that horse had in those riders.

Well, I found out last night that I am getting the new horse. We're going to pick him up this Saturday. As far as my mare, she's gonna become my back up horse. She has a lot of trouble turning the first barrel because she can't hardly see out of that eye (she runs to the left first), but beyond that she does fine. As soon as we remove the eye completely the cancer should be gone or at least in remission. We're just trying to slow down the cancer and let her keep what little vision she has left for as long as possible.
---
Red Money Maker (Red) - 2004 Sorrel QH Gelding
Quote:
I've yet to meet a barrel horse that was "out of its mind" that wasn't the result of human/rider error, and that wasn't at least partially correctable.
I totally agree. My mare (the first horse I posted on the second page) was a complete basketcase when we got her. The people we bought her from ran her into the dirt and the only thing she ever saw was a barrel pattern. I've been working very hard to get her sanity back and get her to where she enjoys running again. It's been a pretty hard journey so far, but she's improved so much by keeping her off of the barrels for a few good months.
---
Red Money Maker (Red) - 2004 Sorrel QH Gelding
congrats on the new horse tiff! i have no horse to show off because i am currently horseless
. But everyones horses are gorgeous. Once i can actually get another horse, i will be doing barrel racing with him/her.
---
quarter horses.....simply the best
I love how out of no where someone just has to make a dig at another person on here.
Although what you said bubba may have a great deal of truth to it, I have dealt with a few nuts in my day.
Just last summer I was working with a mare who I was told had ninety days pro training and that she was green but had no bad issues......so first day I go to ride her she was acting fine ground tied and saddled relaxed and quite but as soon as I got one leg over I felt her tense do I reacheddown gave her a pet and talked to her I felt her relax so I neck reined her to the left and then she dropped her head in between her frount legs and started rodeo bucking.
the second time I worked her I ground worked her until she was nice and swetty then git on with no problem.....for about s month that was a daily thing. She would do a little willy buck from time to time but other then that she was fine. I got ti the point where I would rather ride her then my barrel mare, shes trailed fine nothing bothered her at all.
then three days went by where I did not get to ride and when I went to ride her again it was back to day one. So another month goes by and all of a sudden she just snaps she is fighting me
Ravishing Beau, 1998 APHA gelding, 16.1 hands.
Currently going to be going through "rehab" for a locking stifle.
Once I finally graduate from grad school in May, anyway.
One of our first "competitive" runs, asking for speed. Age 4 (Yes, it was mighty cold outside. Hence the parka! And please excuse the tennis shoes
Leather was too cold for my feet!)
Last summer at a jackpot.
Couple years ago at a family rodeo. Took 4th place out of about 20 adult riders. Took 5th place high-point individual that day. At an earlier show that year, we won the high-point (along with a 3rd place in barrels, 2nd place in keyhole, and 1st place in sack race) and a trophy buckle.
Pole bending a few years ago. Knocked a bunch down (what else is new?)
Jackpot barrel race with about 60 riders. Ran in the upper 2D that day.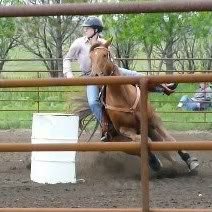 Still learning the ropes, as a 5 year old. I believe we placed but I can't remember what!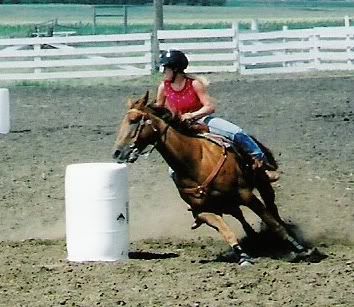 Look mom! No hands!! (Errr, no saddle.
) 4th place ride in the adult bareback dollar race, out of about 17 riders.
---
∞•*˚ Βгįťţαňγ ˚*•∞
It is not enough to know how to ride; one must know how to fall.
Im assuming youre referring to me?
Oh please i have alot of respect for her....ive known her from several forums. This is a horse forum and i like to discuss things.
Quote:
I love how out of no where someone just has to make a dig at another person on here.
Although what you said bubba may have a great deal of truth to it, I have dealt with a few nuts in my day.
Just last summer I was working with a mare who I was told had ninety days pro training and that she was green but had no bad issues......so first day I go to ride her she was acting fine ground tied and saddled relaxed and quite but as soon as I got one leg over I felt her tense do I reacheddown gave her a pet and talked to her I felt her relax so I neck reined her to the left and then she dropped her head in between her frount legs and started rodeo bucking.
the second time I worked her I ground worked her until she was nice and swetty then git on with no problem.....for about s month that was a daily thing. She would do a little willy buck from time to time but other then that she was fine. I got ti the point where I would rather ride her then my barrel mare, shes trailed fine nothing bothered her at all.
then three days went by where I did not get to ride and when I went to ride her again it was back to day one. So another month goes by and all of a sudden she just snaps she is fighting me
Posted via Mobile Device