Introducing Saltys Red Rock (my new horse!)
---
Well, I guess I have had him for almost 2 months now, but life has been so crazy I still call him new.
Graduated from optometry school (I'm a doctor now .... wow, kind of nuts), got married, started a new job, moved into a new apartment, and just about everything else I could possibly do all at once!
His barn name is "Red", he's 6 years old, and while he is a bit flabby (lack of riding, that outa be getting better now), he is built like a brick ****house! His stocky 15.1 build is certainly a change-up from my long-legged 16.1 Beau (who unfortunately, at the age of 14, is now an arthritis-stricken pasture buddy only
).
Red is VERY friendly and loves nothing more to be inside your bubble, wanting attention. His previous owners, albeit great owners (I know them personally), did spoil him on this manners problem, so we're working on it.
He is high-spirited and will go-go-go if you let him. From riding him the last month or so, and from watching him in the corral and pasture, WOW I cannot wait to finally get him started on the barrel pattern! He can fly and he can plant it and turn. And being a Texas High Dasher grandson, I expect no less of him.
Saltys Red Rock Quarter Horse
Anyway, so here's picture overload!
When I went to go look at him, before purchasing.
Our first ride, the day I brought him home. Was just trying to get him to stand still for the picture! (He's getting better at standing still .... we are working on it.)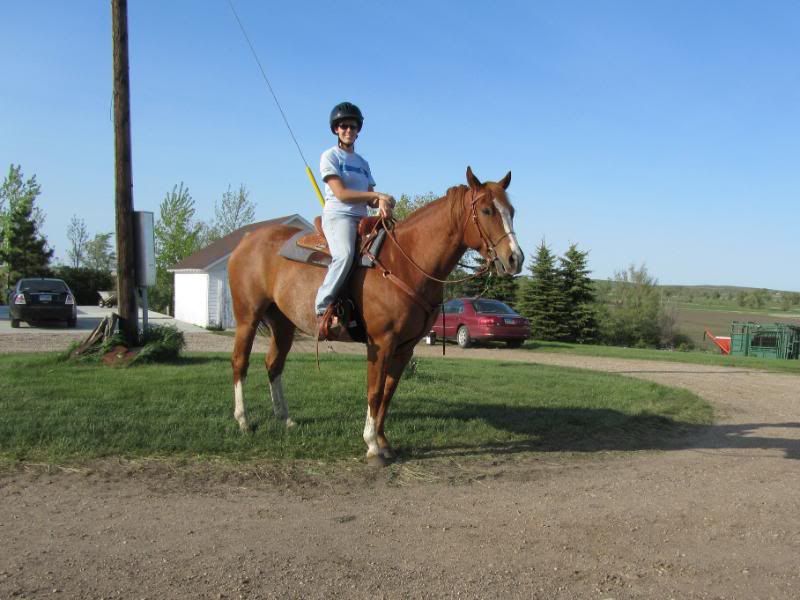 In the barn, before we went for a ride!
Can you say, booty?
Beautiful day for a ride! He always comes to greet me in the pasture. (And I may just always happen to have a few carrots for him.....)
And photobucket just quit working.
So I guess I have to post the rest later!
---
∞•*˚ Βгįťţαňγ ˚*•∞
It is not enough to know how to ride; one must know how to fall.
I love him! My friend who barrel races has a pony cross mare who has a face exactly like his, built pretty close to the same too. She can FLY, a 1D horse in all events and only half the height and twice the width. I absolutely cannot wait to see this guy in action...You should post a video for us to drool over
Posted via Mobile Device
Showing
Join Date: Jun 2011
Location: Cariboo, British Columbia
Posts: 11,770
• Horses:
3
Congrats! Looking forward to the pictures after he is all fit! He has great shape, now he needs some muscle to go along with that.
He's so lovely :)
---
"Strength is the ability to use a muscle without tension"

Oh I LOVE him!! He's such a cute little chunk! I love his look, I'm really bias to short and stocky and he definitely fits the bill. We must have more pictures! He's not lacking in the pedigree department either..I really like him.

Congrats on everything going on for you! I know it has to be awful exciting and crazy at the same time. Even though it's sad about Beau I'm glad that he's with you and definitely living a spoiled and pampered life.. How do he and Red get along? Looking forward to hearing more abut everything going on!!
---
I am Sparkly Meanie Doodie Head and I approve this message!
Im VERY jealous of your grass! Where Im at, every pasture is dirt!

And your new kid looks like a bucket-o-love! Congrats
---
The Truth Harsher Than One Would Think
Gorgeous gelding! Love his pedigree to.
---
quarter horses.....simply the best
SorrelHorse: Once I ever get videos "drool worthy", I will absolutely upload them!
DrumRunner: Yes, I am very hopeful for his barrel racing career, based on his pedigree. I've never had a Texas High Dasher one before, but as I am talking to people, Red fits the bill. He is so in-your-face-friendly and loveable.
Yea, I am still really sad about Beau. Tugs at my heart everytime I go out to the barn, because I just wish he could be back to normal. I'll hop on him bareback every now and then, but that leg is bothering him so much right now, I feel bad doing anything more. But he looks so sad when I leave the yard with Red! I know he still wants to come along.
So he's living the pampered life, but he is THE BOSS when it comes to him and Red. Poor Red always had a few bite marks on him, but that's the way it goes. They most certainly are buddies, though.
KissTheRing: I am actually so very fortunate with the retired couple I found to board Beau and Red with! Most of the pastures that are "mine" for them, haven't even been grazed for the past few years, so they are loaded thick! Love it.
I finally got to go out and ride last night for the first time in 2 weeks, after all the wedding hub-bub. And Red was the most relaxed ever! Usually he will hardly stand still, he just wants to get out and go do something. But.... maybe the fact it was 90+ degrees yesterday with humidity had something to do with it.
I'm sure he was spent after standing in that all day.
And I also took him over a low cavaletti (sp?) for the first time, horseback. I walked him over it a few times, and then sent him trotting at it. He jumped it cleanly like a pro! Such a good boy. Now we just have to work on neck reining ..... That's his big problem spot right now. He was NOT ridden much at all before I got him. And we have to work on the fact that slow is okay! If I cue him to trot or gallop, he seems to thinking faster is better. But it's getting better.
I am really surprised and impressed with how responsive he is to my legs though. He's doing well in that department.
Anyway, here's more pictures!
I caught him at the end of his itchy roll in the dirt.
---
∞•*˚ Βгįťţαňγ ˚*•∞
It is not enough to know how to ride; one must know how to fall.
Video Practice
---
Well I've had Red on the pattern for about one week.
I find that we're moving pretty quickly because he's 6 years old, very athletic, and ready to go riding-wise.
I brough the hubby along to do some video for me (he's not a horse guy, so bear with him on the videos and pictures! I thought he did pretty good though, besides missing the first barrel.)
There's an arena that does barrel races about twice a month, and they offer free Monday practice. So we hauled him there.
He wanted nothing but to go-go-go-go, although first of all it was mostly nerves for him being in a new place. So I'm holding him back pretty much the whole time.
Hubby got two run-throughs at a trot, and then I finally was sick of holding him back and so I said "what the heck" and let him gallop through and see how he'd do. Eh .... is what I figured. But he did really want to go back toward the gate to get out to the trailer (where hubby was standing video'ing, so he's biased going toward that end of the arena).
Anyway, I'll post more info when I get home tonight, but here's the videos.
Shred away.
And what the heck galloping! (Yes I know he was on the wrong lead coming in. I have a heck of a time getting him on that right lead. We're working on it)
---
∞•*˚ Βгįťţαňγ ˚*•∞
It is not enough to know how to ride; one must know how to fall.
I would just remember to take things slow..Especially when working on his turns. He doesn't know how to follow through with his body yet or how to correctly turn, that's why he's blowing the back side of the barrels. I would do a lot approaching the barrel, stop and back while asking him to disengage his hind quarters towards the barrel then make him keep a nice smooth arch around the barrel..I wouldn't continue to lope the pattern, especially if he's only been on the pattern a week..He may be 6 and physically ready for it but he may not be mentally and it could sour him or just let him begin those hard to break habits..Not saying you're doing a bad job, just giving my advice..
---
I am Sparkly Meanie Doodie Head and I approve this message!