Loooooonnngggg weekend update lol!
---
Boy lol soooo tired! My weekend started Thursday morning bright and early at 5am as we headed off to Central Point for the 2nd rodeo of the year. Man was that a long 13hr trip....not to mention the whole crew was crippled (the cripple crew consisted of my mom, me, and our friend which is my buddy in the system right now lol). So our friend was layed up in the LQ on the first leg of the trip because her back was tweaked, so she was doped up and dramamined out lol. Had to stop and drop of a mare to be bred along the way, and then had to stop again once we were in Oregon to get shoes on her horse. THEN we finally finished the day off by pulling into the grounds!
We went and checked in, paid, got our numbers and then got stalls. After we got stalls we rushed back to watch the rest of the barrels in the 1st perf. Well I didn't have my number or card with me so the rent-a-cop all but felt me up lol. Gah she got in my face (as I was trying to watch our one friend head through the gate) and my friend got through because she had her number stuffed in her pocket. So she was trying to drag me through and wannabe security was in my face as I was trying to spit out and watch at the same time. I said I got a number (half paying attention and trying to get by lol) and she with her hands to the sides and in my face was all "uh where is it huh? do you have it? where is it then?" I finally spit out that was in the trailer and shoved by her lol to miss our friends horse jerk the reins out of her hands and head back to the gate...
So we watched the rest of the girls run (only missed the first girl I think). The lady also was in my moms face (she sent us to go finish watching the barrels as she got the dog settled in the trailer). She was PISSED lol. So after almost climbing over the rent-a-cop lady and finished we went off to the trailer.
Friday morning we got up, led the horses over to the arena and walked them around (I didn't want to ride JJ in there as he would be a jerk more than likely. And Sabrina was too much of a cripple to ride). Chatted with some of the other girls that were up in slack in the arena...let JJ roll since oh he was just SOOOO insistent that he NEEDED to drop on the spot before he swished his tail off lol. Then got ready after a while...
Now for the run he worked SO good, had a great run. The ground in slack was just....deep? Felt like he was swimming...his legs were moving but he just wasn't grabbing anything. And the thing they worked the arena with looked like a taffy stretcher thing! And I was 3rd out....so no packing from runners. Ran a 14.7 way out of the money as everybody who was in the money after slack got knocked out the last 2 perfs. And to top it off there was NO photographer....I had a beautiful run and then there is nobody there taking pics. Lol. So we waited for another friend of ours to run then she travelled with us on the way back. We drove 8hrs to Yakima where we stayed for a Benefit race got in at 11pm...
The next morning JJ was soooo not wanting to do much lol. And wasn't to enthused when I saddled him. He didn't move at all and I had to squeeze by him as he was standing lengthwise with the trailer. Then bridled him and he was NOT moving lol....so I just turned and started walking off. The look he had was like "UGH...fine I will go" and he sorta just plodded over and sighed but woke up as we long trotted. He worked super good ran a 16.5, lead it for the longest time then Sabrina took the lead and was leading it till the last gal we wanted to watch ran...then she came in and layed down a smokin run lol. So was sitting 5th when we headed home....and supposedly I ended up 11th in the 1D? Not sure....that is by the text Sabrina got so will wait for results as they didn't sound to certain lol.
Oh I better do a quick update about the 1st rodeo of the CRC last weekend....it was uhm...ok lol. I head in to the arena...get him set up and right as I get ready to turn him and go they yell at me to stop and hold up....so I hold JJ and pull him up at the top as they fix the 3rd barrel. Well that screwed me over completely. The minute I had to stand and wait JJ pretty much thought we were then doing a training run since I pulled him up.....so he lost all his fire and coasted to 1st, I checked him on 1st and he all by completely shut down, then shut down on 2nd and worked 3rd decent. He got a little confused lol.
So now for some pics and vids lol.
Coulee City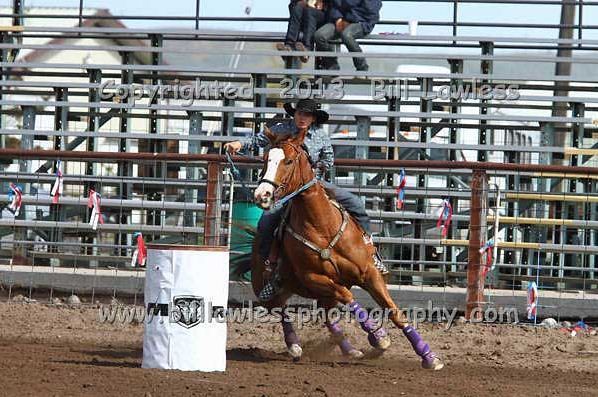 Know what happens next?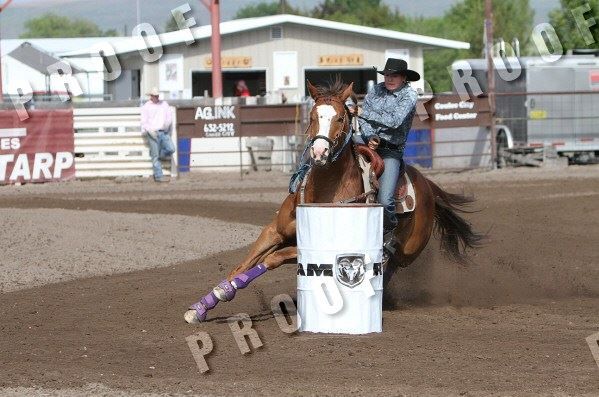 https://www.youtube.com/watch?v=u4chs6qv59Y
Central Point
On our way there....pit stop to get shoes on his traveling partner.
Before our Run
https://www.youtube.com/watch?v=T_RmN7-9i1k
Featherland Barrel Race
https://www.youtube.com/watch?v=mMrWxCti1ig
---
Conformation is how far the horse CAN go,
Mind is how far the horse WILL go,
Training is how far it DOES go.
There was a photographer at slack in CP... I will see if I can find her name....
Quote:
Originally Posted by
kickinupdust326
View Post
There was a photographer at slack in CP... I will see if I can find her name....
That would be awesome if you could! :)
---
Conformation is how far the horse CAN go,
Mind is how far the horse WILL go,
Training is how far it DOES go.
Showing
Join Date: Jun 2011
Location: Cariboo, British Columbia
Posts: 11,770
• Horses:
3
Thanks for posting, loved the vids & pics.
Im loving the pictures! Looks like you had a fun yet exhausting weekend!
Couldn't find the photographers name! Sorry! If I come across it I will let you know.