my barrel prospect, what do think of her?
---
This is Ruby, 2 year old AQHA filly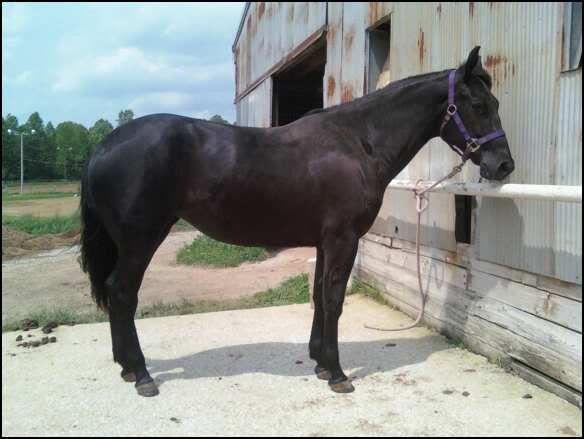 Her pedigree
http://www.allbreedpedigree.com/black+ruby+moon
---
Last edited by BarrelRacer86; 06-28-2011 at

12:54 PM

.
Need better confo shots, but overall she is pleasing to the eye. I like her bloodlines and given those she should make a pretty good speed horse. I had a Top Deck bred mare as a teen and she could fly!
---
Life is like a camera. Focus on what's important, Capture the good times, Develop from the negatives and if things don't work out, Take another shot.
This isn't the greatest pic of her, but its more side shot. Makes her look more sickle hocked than she really is
Posted via Mobile Device
doc bar is an amazing horse that was a good horse to have. we owned the son of doc bar. his name was doc bar II he was an amazing cow horse. so if you want to do a little bit of cow work maybe learn roping or team penning etc she should do swell. you have three bars in there three times which makes your mare stand out more. if you dont mind me asking how much did you pay for this mare?
she is very cute! and has good lines. but although I have my fav blood lines I am not all into must have running lines to be a good running horse because I have two horses at this time who have no running lines that are known on their papers that are barrels horses to the core and I have had a gelding that was breed nothing but for running and he turned out to be a dud so it is all about the personalities and work ethic to me. but she is super cute would love to see some videos when you start her on the pattern. just keep her loving her job and like most horses that love their jobs she will take and love hers too. :) good luck!
I paid. $700 for her, which is about right for around here on an unbroken filly
Posted via Mobile Device