Ohno! My mom is starting to beat me!
---
Ever since my mom has gotten her new horse, Heidi and I have been left in the dust, and I couldn't be prouder!
My run:
Her run:
Guess how old my mom is too!

She's 50 and still going strong. <3
When I read that title, I read it as your mom is starting to BEAT you, LOL. I was just... O_O LOL.
Oops. I hope not may take that the wrong way. O.O xD
Are you kidding me I wish I could get my mom on a horse ;) She always asks for thats about to die out of our three LOL! Anyways you AND your mom BOTH did great!
Fantastic!! Enjoy those moments, I desperately wish my mom would still ride with me though I have no doubt she'd whoop me in any event we chose to compete against one another in lol! She had some injuries many years ago and hasn't gotten back in the saddle, very disappointing for me because she really, really knows her stuff and I would love to see her put it to use instead of picking her brain via conversation :(
---
Life is like a camera. Focus on what's important, Capture the good times, Develop from the negatives and if things don't work out, Take another shot.
It's sad to hear that your moms don't ride anymore. =/ I'm sorry.

My mom still rides even though she has a bad back and loss strength in her right hand. She's getting back surgery in November.
Posted via Mobile Device
Enjoy Mom! You have no idea how lucky you are. My mother is terrified of horses so it was always an uphill battle when I was a kid. My 19 yr old daughter is a timid rider so that leaves this mom always riding out alone.
Awesome! Good for your mom.
And I totally read your title wrong too, haha.
My mom just turned 54. And she's usually my traveling buddy. We go back and forth on who wins what.
Moms are awesome.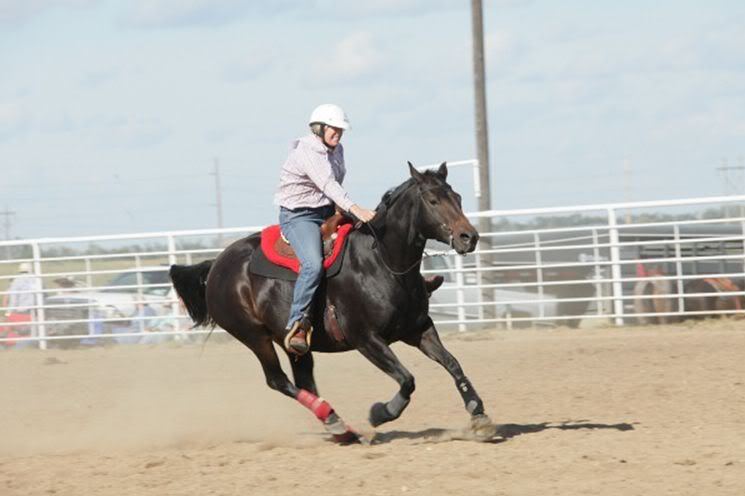 ---
∞•*˚ Βгįťţαňγ ˚*•∞
It is not enough to know how to ride; one must know how to fall.
lol I read the title and was like -..- lol then I saw that it was barrel racing! GREAT JOB i wish my horse could run like that:)
---
http://www.horseforum.com/member-journals/sunnys-thread-160521/ << read about Sunny and I. Our journey