rumor's 3rd show...videos!
---
last night was rumor's 3rd show of the season. she was in heat again, unfortunately. when she is in heat she pulls an attitude and does this head tossing, front end throwing bull-crap. it drives me nuts but you just have to ride her out and then get her attention on you and ask her to go forward again.
she walks like the arena is a gas chamber until we get to the opening of the arena and then she puts her game face on and forgets about everything except focusing on me. she is really coming along. she needs more work. i have a hard time working her at home because of my lack of arena footing. with her leg the way it is, i dont like riding her on grass as a preventitive measure.
she is 100 percent sound!!! and doing wonderful.
she gets pentosan injections every 3 weeks and doing well with that. also gets smartpak's senior joint supplement, pure msm, and corti-flex with ha. shes doing so great, i havent seen her take a bad step since finding this diet and supplement method that works.
first event was bending/kegs. and she did great. kept the pace i wanted. turned well at the top. and looked good doing it!
speed and action was next. nice forward motion. when riding her she tried breaking into a canter, which i have no problem with, except it felt funny. like she kicked out or wasnt balanced, or gave a half-hearted buck or something. so i pulled her back into a trot and just completed the pattern easily. her stop was wonderful and she is in the habit of backing right away which is wonderful.
poles was the 3rd event. everything went well until the turn at the bottom of the pattern. she wanted to go back to nutmeg, and i wouldnt let her. so she did her 'throw my head and body sideways' until i got her back on track. just sitting her out and then pushing her forward is my method of dealing with this. keep the hands light and stay off her face. again, on the way home, she wanted to canter and it didnt feel right so i pulled her back up to a trot. she was feeling extra witchy due to her heat cycle. brat.
barrels was the 4th event. she has this natural bend to her, an extremely flexible horse and im so glad for that. she naturally can set herself up for a pocket and im extremely thankful for that. first barrel was good, 2nd barrel, she didnt want to turn completely so threw her little fit again. sit her out and push her forward and the 3rd barrel was great. she gives plenty of room going around the barrel. in the end, she finally cantered nicely so i let her go. she was wonderful. smooth and fluid. great brakes at the end. so happy with that.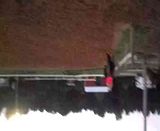 sorry for the upside down video. if anyone knows how to fix it let me know. my bf must have held my phone the wrong way. lol.
down and back was after that and she wanted to canter right off the bat so i left her. she slowed to a trot for going around the barrel and then cantered nicely back. i actually pushed her to a little faster canter on the way back. she finally had settled down and was really listening. boy does she have a stride to her! i cannot wait to feel her really stretch out beneath me. ive never done it before on her so it will be wonderful!
...no video as it was too dark...
flags was the last event. i trotted her the whole way, she was very curious about the bucket on the barrel, but no food was smelled so she kept going. lol. around the top barrel, i did not even have to touch her, she had such great bend to her! all natural and we went and stuck the flag in the next bucket and finished the pattern. awesome event for her. it went great!
...no video again, too dark...
so many people disqualified in kegs, that i actually got a 5th place ribbon on rumor! legitimate!!! that ribbon will be framed! absolutely 100 percent!
and......heres the one video i got of me on nutmeg. my bf sucks at videotaping. haha. i wish he would have got the full stop but the legs are pretty cool!
Posted via Mobile Device