saddles ? lets see em'
---
Ok suuper bored so I'm curious to see other peoples style or choice of barrel saddles. I love mine its all personalized from sued /seat/leather color up to my name on the back. Its suuper comfy and the first day I got it we went out on a long trail ride in the mountains on a couple jumpy arabs :]. It fits pretty much any horse I put it on and my but is hardly ever sore. My BO got hers and then all 7 of us girls got one we all have our names on it and our chosen seat color I'll show the ones I can find
mine first
on the quarter mare I leased (it was only a few months old at this point)
on the TB mare I leased
on the arab I leased
My BO's on one of her TB mares Slewpy
My friend sydneys on the arab mare she had for a little barbwire
my friend briannas on her lease arab gelding trigger
mirandas on her old arab/quarter mare sister
ill have to get pictures of the back some time or go find em :/
---
just a small town girl with a big town dream :]
I have a Hope saddle circa 1830's. It was the saddle the pony express saddle was modeled after. It has been rebuilt with new leather.
The bare saddle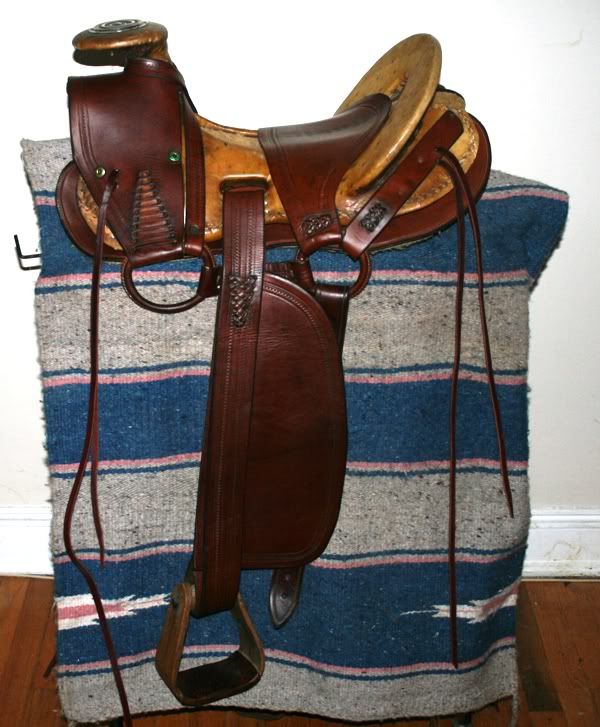 With the mochilla on
With the pommel and saddle bags
The newfangled bentwood stirrups
The original cottonwood stirrups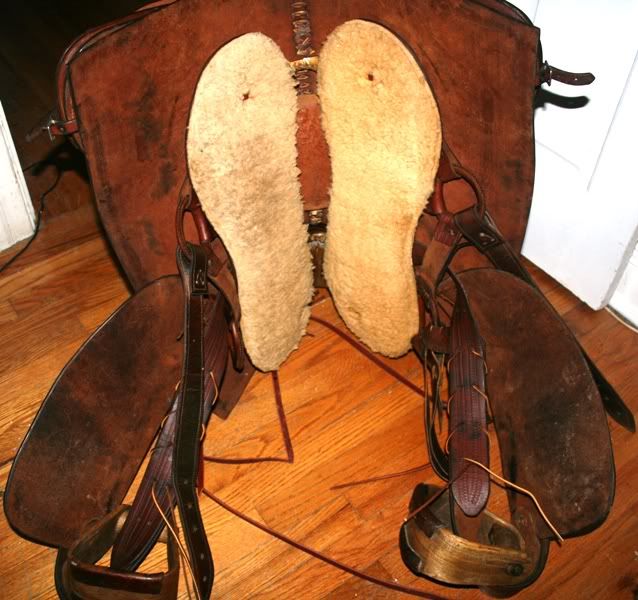 It has a matching martingale and bridle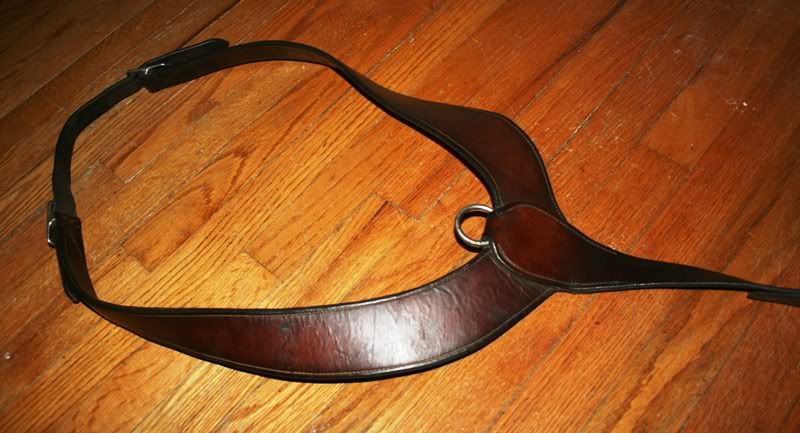 By the way.....I am selling it if anyone is interested.
wow allison!! that is awsome I have never seen that before! :] thanks for sharing !
---
just a small town girl with a big town dream :]
This is the only picture I have right now..But I just recently bought this Tex Tan Barrel saddle and I LOVE it. It's super comfy, and has fit both of the horses I have put it on. (Ignore the bell boots on the stirrups, I put them there when she is just standing by the trailer, waiting for her next run
)
haha i do that also with my bell boots in fact they stay on my saddle when its in the shed also other wise I lose em' haha but that saddle does look comfy :] almost like my friend laurens
---
just a small town girl with a big town dream :]
That's a very cool saddle, Allison, but is it comfortable? My arse is going numb just looking at it. What's the seat size on it, and out of curiosity, what's a saddle like that run, price-wise?
My saddles
The ostrich: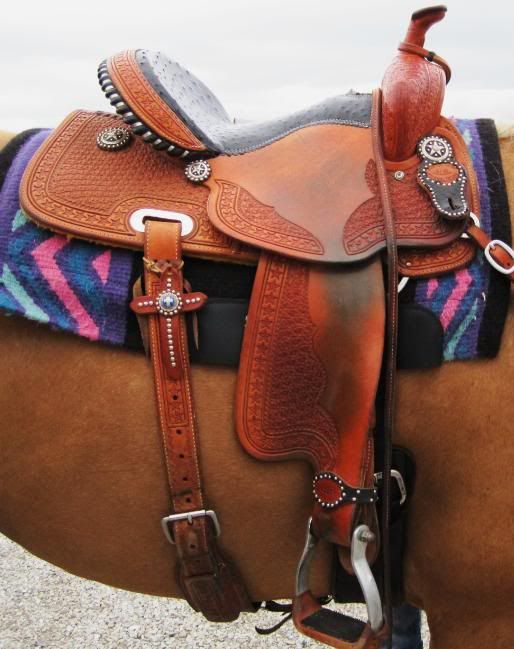 The alligator: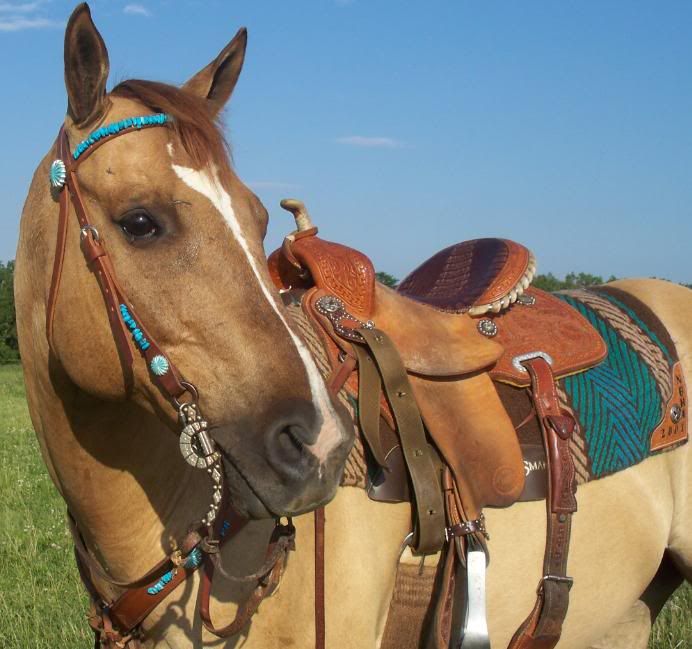 (That's genuine ridgeback gator hide...a lot of the ones you see now are very realistic embossed cowhide, but this is the real deal--after I ordered this, the saddlemaker starting making a lot of the faux gator saddles, combining that idea with the insert idea from the cowhide saddle pictured below. AND he started using the tree I special ordered for the cowhide saddle on his own models. I think his buddies from several other companies jumped on the bandwagon, too...so I may have unwittingly inspired a few national trends!
)
The stingray: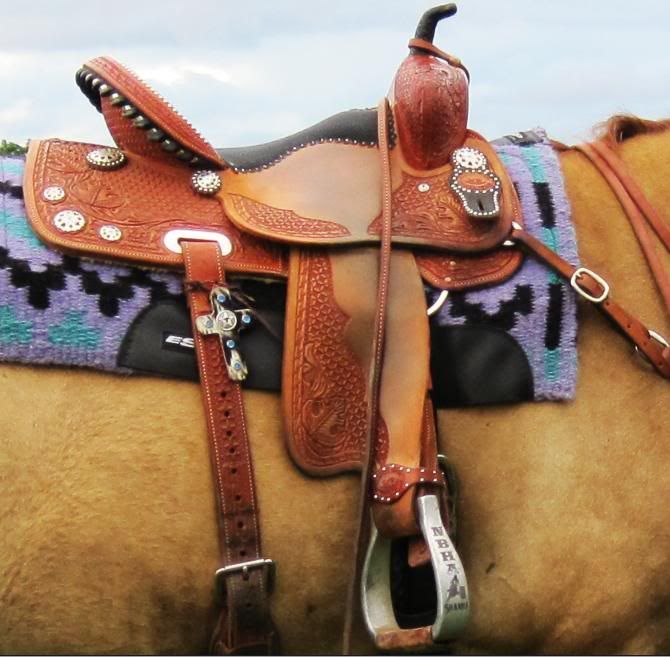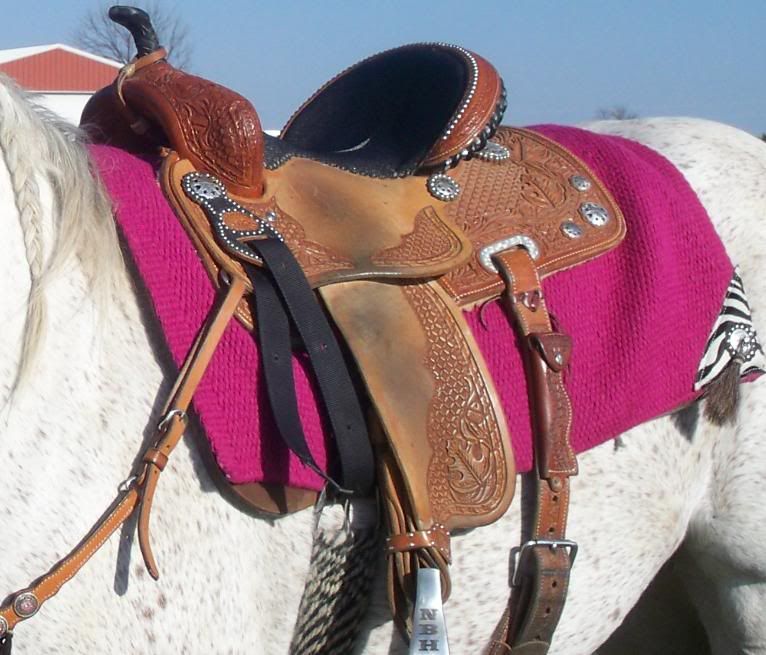 The cowhide: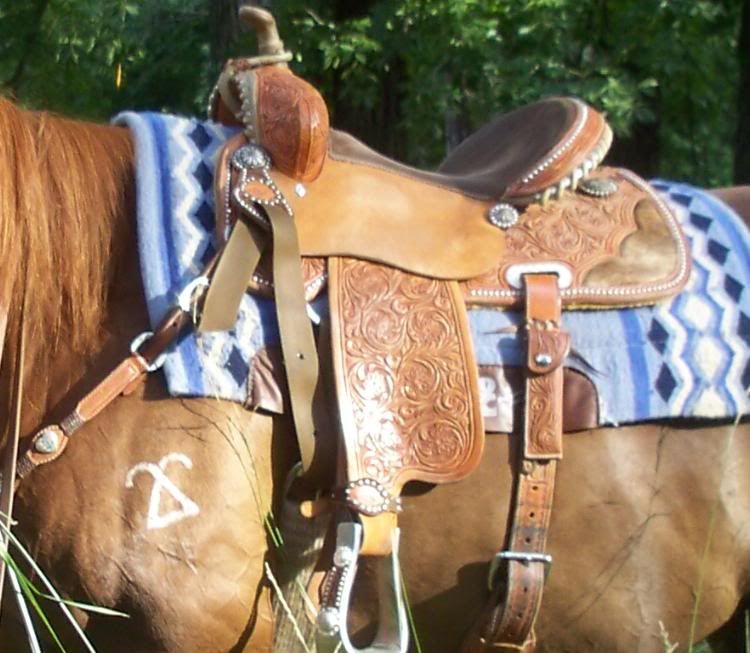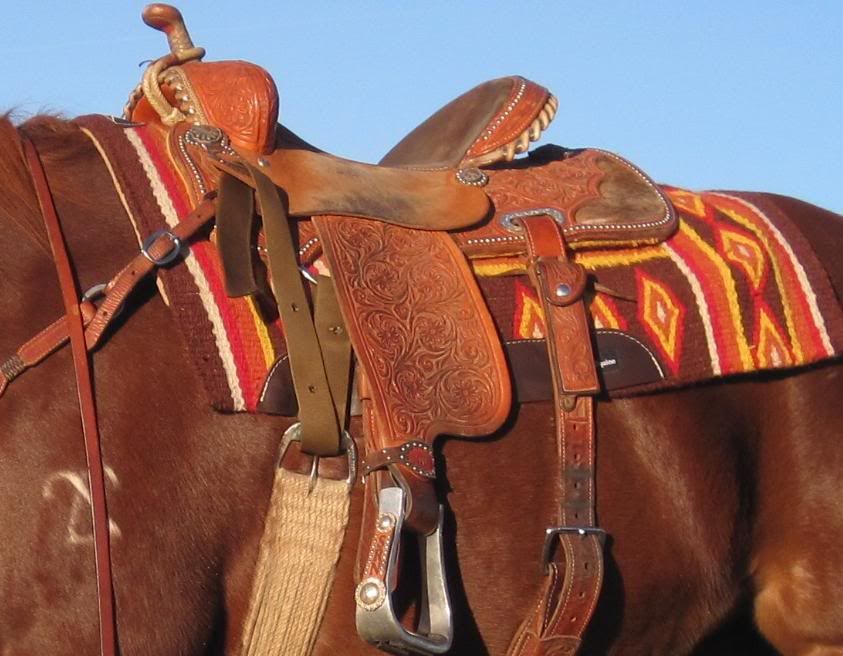 All were built according to my specifications on standard but specially-chosen trees. Genuine exotic hides on all of them, hand tooling, etc. All by Rocking HR Saddlery of Frisco, TX, and ordered through PFI Western Stores. They're really great saddles, attractive, affordable, high-quality. I'd recommend that company (or Teskey, which is virtually identical in price and quality, though not associated) to anyone looking to buy a semi-custom model. I don't think you'll regret it.
I've got the HR trophy saddle too, which is great. Very nice for an "economy" line. I had a horse flip over on top of it, then take off down the road with the saddle dragging under her feet. The saddle lasted for the better part of 100 yards bouncing along the ground like that before coming loose in a heap. The Blevins buckle was broken and a concho was ripped off...and that was it. I got it fixed for free and was back to riding it the next day. I had a handful of other HR trophy saddles, and I sold them all for good prices...and coulda sold more, easily.
Showing
Join Date: Jun 2011
Location: Cariboo, British Columbia
Posts: 11,770
• Horses:
3
Maybe if you added some sheep skin before you put the mochilla on, bubba's arse wouldn't get numb. Very interest saddle Allison, very americana.
wow bubba i am in love with your saddles all of the saddles i posted were made around my BO's styling but we all had our names stamped on the back and seat color changes and oil colors but the horn is our special signature she ordered them specifically to have that horn (can't rememeber exactly why haha its a total gutter when doing hurry scurry xD)
---
just a small town girl with a big town dream :]
OT, but just noticed the above photo. Please tell me that's not a true spade bit....