Sent My Barrel Horse To The Aquatred *Pics/Video*
---
I dropped off my girl Wednesday evening at the "horsie spa" and man...it was a NICE place!!!
The people are incredibly friendly as well. Shell be there 3 weeks and have 16 sessions on the aquatred. Cant wait to see how beefed up she gets
PICS!!!
Driving up the driveway
About to unload
Part of the covered arena/hot walker area
Barn
AquaTred. The water is 80 degrees F
Coppers stall
Exploring the run behind her stall
"I approve mom"
Her neighbor Magic
Chowing down
Enjoying her swim!!!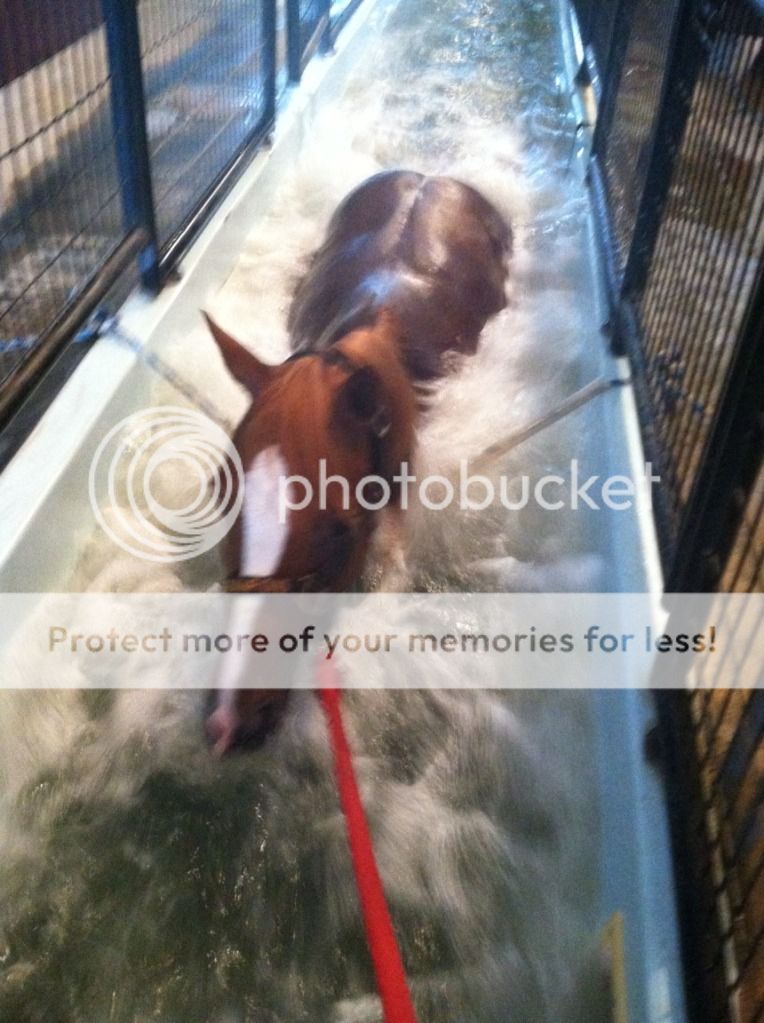 Video
Licking her lips..."ahhh this feels good!"
---

"If you're dating a cowgirl raise your glass. If you're not raise your standards."
That's so cool i woulf love to do that for my horse when i get one to seriously run on :).
---
just a small town girl with a big town dream :]
Right on! That's something on my "when I hit the lotto" wish list. Before & after pics are definitely in order :)
---
Life is like a camera. Focus on what's important, Capture the good times, Develop from the negatives and if things don't work out, Take another shot.
WOW1 HOLY BEE-JESUS. Thats a super awesome facility.
Posted via Mobile Device
That looks awesome! I'm actually jealous that she gets to go to the "spa"! Haha.

The place is beautiful, she is a very lucky horse. ;)
Posted via Mobile Device
Im excited...she definitely deserves this. Shes been off since April due to a horrible abcess.
Here is a pic from last week....in my excitement I forgot to take "before" pics of her at the facility LOL
---

"If you're dating a cowgirl raise your glass. If you're not raise your standards."
HOLY COWWWWWW! whoah.. she is one lucky horse lol.. who much does it cost! gezzzz lol luckky girl!
---
http://www.horseforum.com/member-journals/sunnys-thread-160521/ << read about Sunny and I. Our journey
Green Broke
Join Date: Oct 2009
Location: Outside of Oklahoma City
Posts: 2,653
• Horses:
6
Can you say SPOILED? :)
---
Be wary of the horse with a sense of humour. - Pam Brown
Green Broke
Join Date: Jan 2010
Location: south of nowhere, north of nothing
Posts: 4,643
• Horses:
6
sooooo spoooiiiiilllleeeeddd! what a lucky girl....that barn is nicer than my room O.O
Wow, that is a crazy nice set up. Lucky her!
---
RH Queen O Anywhere "Sydney"
2009 Sugarbush draft