Went to a nbha show Saturday and took Link. In Open I didn't push him past the second barrel and we hit it, but had a nice time still. So In Youth after being told to push him to the fence had a mostly pretty clean run and took 4th in the 2D. Video camera was dead (remembered to take it though) so you get a bad quality phone video lol

http://youtu.be/8NTHfVPVuRE

Posted via Mobile Device
---
Last edited by BarrelRacer23; 06-25-2012 at

05:41 PM

.
Well I went to the NW5D finals this weekend....didn't have the best of runs....BUT I did get these in the Average
I was VERY happy! He is out in his neck somewhere and ran super stiff to the right (first barrel) and just wasn't wanting to work it so we lost a lot of time there and wasn't running in our normal D. But I could careless what D I was running it really as long as my horse tried his best to work. And it broke my heart after every run because he KNEW he messed up and just walked out and back to the trailer...and he usually is an dork and puffs up like he is the king of the world.
Didn't win money.....but the times tallied up to place 1st in one of the Ds! My mom was BAWLING lol. JJ has now won 3 buckles and now his first 2 saddles in one weekend. Love my big guy!
And I also would have won the target race with the first two runs (they do the first two run and whoever runs the most consistant times win $400. I ran a 15.502 the first run and a 15.501 the second run *bangs head* lol so if I would have paid the $10 I would have $400 lol!
Here are a few more pics from the weekend (don't really want to post the videos lol but any of you really REALLY REALLY want to see them maybe I might but I doubt that.)
Saturdays Run
Mondays Run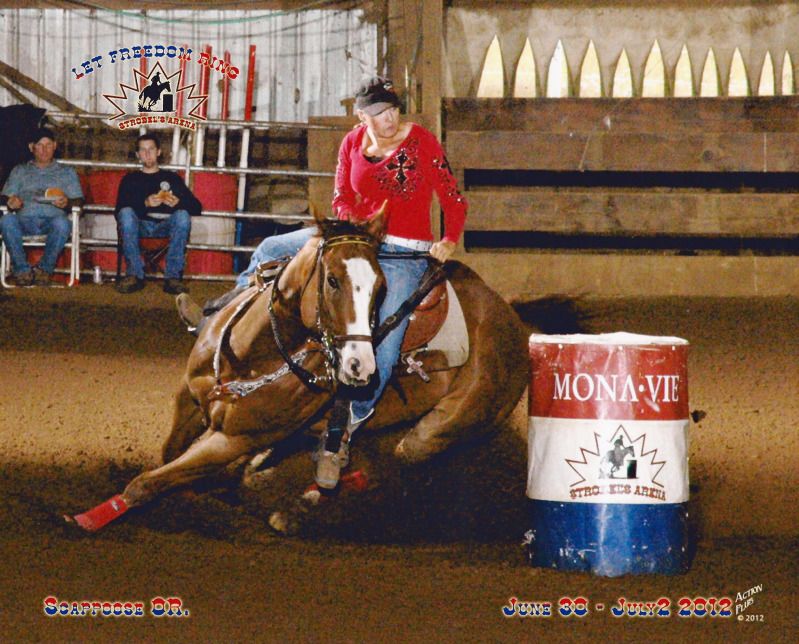 Riding JJ and Ponying Scrat Friday (got there thursday, went to ocean Friday)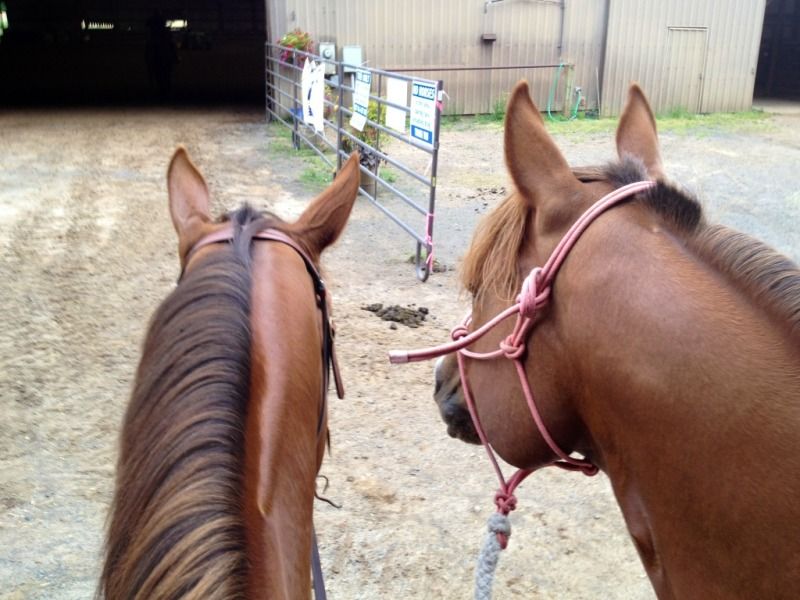 JJ in his BOT Sheet, and my Polos turned to Cold Water Wraps since I somehow left one of my CWR at home....so had to improvise. This was after our run and really didn't want to use more water then I had to letting it run on his legs for 20 minutes (never do it there since all the water runs off her well). Left them on for 20-30 minutes after every run. Also sprayed him down with Sprayed him down with Sore No More before putting his BOT on.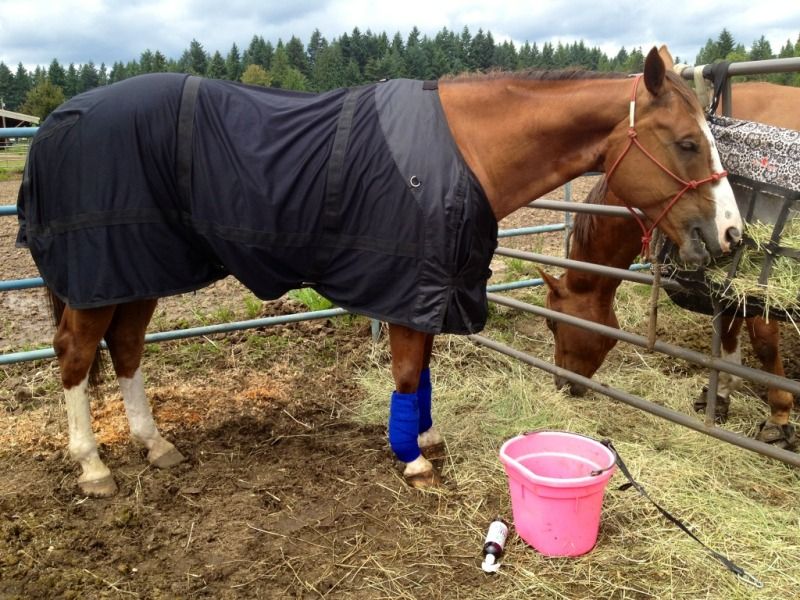 In is BOT Sheet AND boots after is CWR, left those on from the time I was done with the CWR till about 1 hour before we went to bed when I wrapped his legs with NBs and rubbed him down with SNM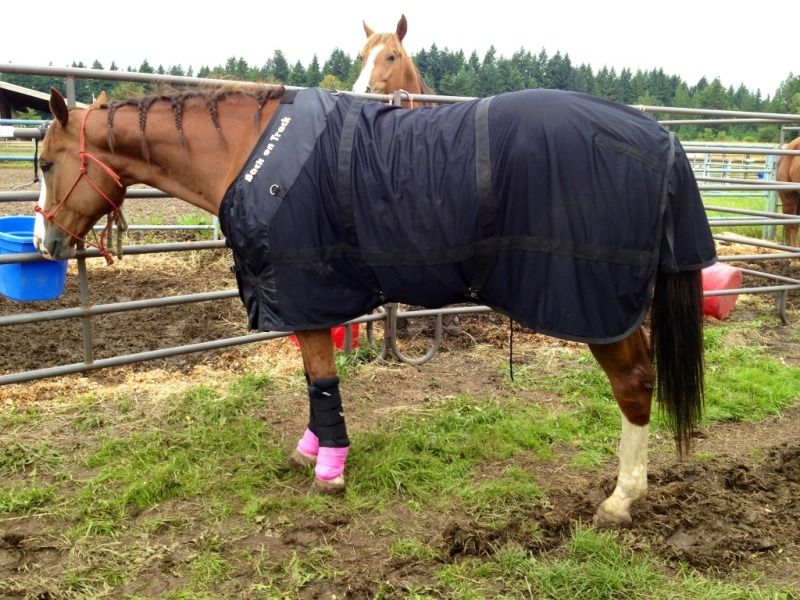 JJ in his BOT and NBs w/Standing wraps for the night.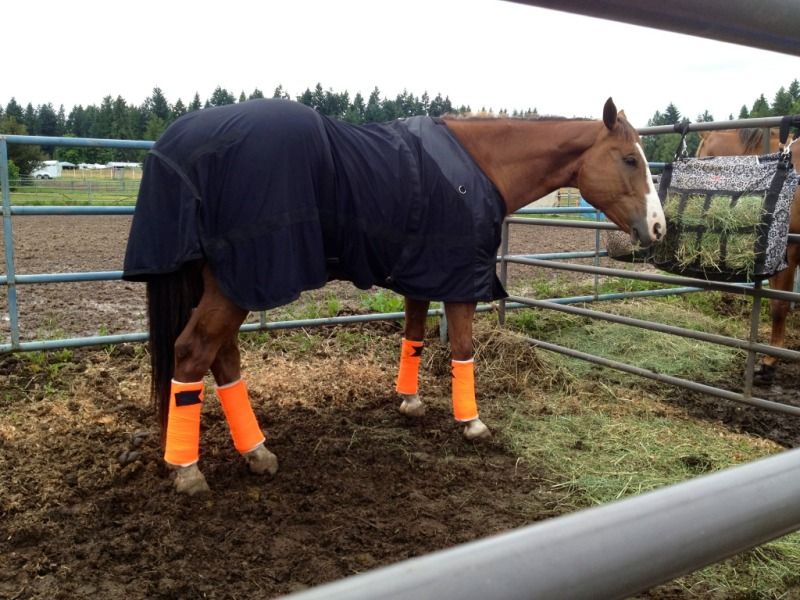 Then Scrat didn't think that his hay was good enough so helped himself to JJs.....until JJ had enough of that lol.
Then I rode Scrat and helped our friends daughter in the Arena since her horse wanted to be a stinker (before it was her run walking to stand)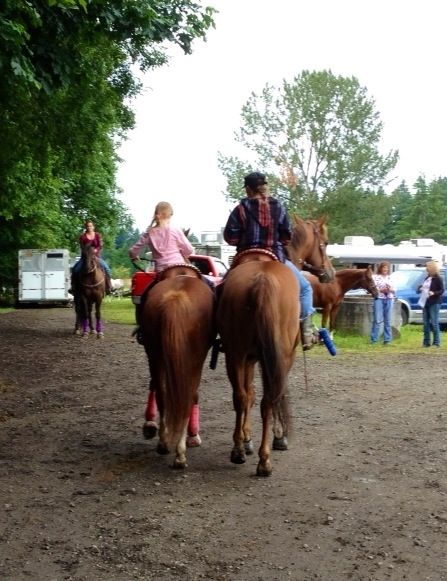 The Boys ready to head home!
JJ glad to be home :)
So I had a pretty great weekend really :) One of my favorite races to attend!
---
Conformation is how far the horse CAN go,
Mind is how far the horse WILL go,
Training is how far it DOES go.
---
Last edited by BarrelRacingLvr; 07-03-2012 at

09:47 PM

.
I'm going to stop being lazy and post my success about the weekend now. BTW congrats BarrelRacingLver!
So my barn had there IBRA super show over the weekend, Friday was a fail neither horse did good. But Saturday night Link was great! I only ran Open Barrels and ran 7 tenths offf the fastest time who was ran by the kid who won Teen World a few years ago and wins about every big show around here, and I was only 5 tenths off 2nd place who has been winning alot this year at the big shows too. So I'm happy with that competition we ran 4th in the 2D, he finally kicked it up a gear this weekend :) as for Heart she ran about what I expected her too, she needs work and more time but she did win me some money back at least in the 4D 5th place. She'll get better and it was our first show together so a new experience. And videos
Links Run
Link 6-30-12 MCSC - YouTube
Hearts Run
Heart 6-30-12 - YouTube
Phone doesn't allow embedding
Posted via Mobile Device
Oh man, I was one point away from high point last gymkhana! Whoohoo!

20 second barrel pattern on a big pattern! So proud of my old horse, she's 29 years old and she's still completely insane with racing. We're retiring her this year though so I'm very proud that we did so well this year! So far we're in second for year end! Good Grannie Horse!!
Congrats BarrelLvr, love that saddle on JJ..

Well, I got the chance to come home for a few days and it sucks because my ponies are so out of shape. There is a super show in Perry all weekend and most of my friends are running in it. I'm going over tomorrow to yell for all my girls.. I did get to take my whole crew swimming this morning and we rode around the house. There is a big arena that's going to open tonight at 7 until whenever about an hour and a half from my house and my sister and I are thinking about loading up the kids and driving over. So yeah, I'm so bombing the thread with my non-horse show results because I'm feeling left out!! I'm glad everyone is doing well though!
---
I am Sparkly Meanie Doodie Head and I approve this message!
Alright guys so I have a gymkhana tomorrow. The last one didn't go so well on barrel or speed barrels but we did run our first A division (Equivialent of 1/2D) time in the mystery event which was Turn N' Burn. >
So ****ed proud. She KNEW I was very mad at her because during keyhole she absolutely had a hissy fit and was ignoring all my cues, but she stepped up for that one. My mom even rode her in that event and did really well.
Ruger did a time only, and he was an ass. lol He's a horse that can be ridden no problem away from the other horses, but HE has to be the one doing the walking away. Selena went to walk away from him as I entered the arena right after my Mom ran her and threw a total fit. Several strikes of the over and under and my spur in his hip and he was like "Holy crap, I'm SOOOO sorry Mom! I'll lope around the barresl now, I promise!!"
Yeah.
So we have another jackpot gymkhana tomorrow and I'm super excited because me and Selena have had a few tack changes (Bit changes more like) and she has been working super well in it at home, but we'll see how she does in the actual show situation. If she doesn't feel good in the first event I'm going to go ahead and put her back in her snaffle or billy allen short shank for the rest of the show. She has a tendency to change her opinion of a bit once we actually have to run full out instead of just doing drills.
---
Pssh.I didn't pick up the wrong lead
It's called a counter canter...
...A very advanced maneuver.
This was our latest run...not the greatest....the ground was hard and more of a training run then anything. So didn't let him run and he couldn't get a hold of the ground at all anyway so I am glad that I didn't let him run full out.


---
Conformation is how far the horse CAN go,
Mind is how far the horse WILL go,
Training is how far it DOES go.
Attended my last Ibra show as a Youth rider before state and nationals this weekend. It was a 2 day show. Saturday Link got 2nd in the 2D in Youth barrels and then hit a barrel in Open but had a faster time and would have been at the top of the 2D, oh well. Then yesterday he won the Youth even with me getting in his way and him slipping on the 3rd barrel. Open was an ugly run, he wasn't turning I think he was taking care of himself after slipping, the ground was basically just sand. But he was running harder than he has before and there's not really any coasting to Link at a show, he just runs. We ended up 2nd in the 2D after a kid came out and changed the whole placings lol. Makes me happy Link is working so good before we go to state in a few weeks.
Posted via Mobile Device
Had a race this weekend! Quincy had a Jr. Rodeo so we hauled peanut down and I brought Polly along with JJ as there was a race after the Saturday rodeo.
WAS gonna do exhibitions but they didn't have anymore...oh well. But I ran a 18.676 on JJ and not going to complain. I wasn't going for a fast run I was just going for a correct run. He sorta fought me on first (which he never shakes his head) but we were trying a Long Shank Cervi on him, works great in the short but doesn't like the long. The ground was dry powdery and deeper then heck around the barrels. So when he went to dig in to make his moves he just kept digging and digging for dirt that wasn't there. Would have been different if it was deep and more moister.
So I was happy with the run, he worked his first better then he has been. He took a step out coming in when I wanted his nose but didn't blow by like he has been wanting to.
I also camped on him ALL day and he got a serious CTJ the first half. He wanted to be an ass so he got worked like one. He has also been wanting to get a little hot so he walked all over the grounds and camped at both ends of the arena and by the end his head was low he wasn't chopping and was relaxed. And when it was my turn to run later that night he walked right in and was ready to work. He was focused, relaxed, wasn't tense (chomps bit when he is tense).
So I was happy with how he worked, and like I said above. I wasn't going for fast but for correct. And it was a good run and that is what we needed before my hometown rodeo this weekend :)
JJ- Spokane *18.676* - YouTube
Oh and I ponied Polly off JJ today and just let her look at everything and a few times she race horsed out on me and tucked her neck and pranced and tipped her head....she could care less about the cows (which shocked me) but didn't know what to think when she seen the goats being led behind her...was actually shaking lol. She did good though! Plan on starting and hauling her with JJ and Scrat as well just so I can start getting her seasoned to the barrel environment and get her realizing she isn't at the track lol.
First overnighter tied to the trailer and Jr. Rodeo experience :)
Watching the rodeo :)
---
Conformation is how far the horse CAN go,
Mind is how far the horse WILL go,
Training is how far it DOES go.
Love watching everyone's videos and successes!

I went to a horse show with my mom yesterday, with me without a horse! I don't have a trailer of my own yet and I couldn't find one to borrow, so we just shared my mom's horse.

I took second place with her in the bareback dollar race (no saddle, put dollar under your KNEE, and go around the arena western pleasure style. Last one with dollar wins). There were about 15 riders in the adult division. And I probably would have won it if the other girl hadn't cheated and grabbed her dollar on one of the stops. I pointed it out to the judge but he didn't do a dang thing about it. Oh well.

I took second place in the Egg and Spoon race. Again, go around western pleasure style with an egg on a plastic spoon, with your thumb behind the line marked on the spoon. I thought for sure I would have been out sooner because the wind turned my egg completely end-over-end twice. At one point, I was holding that egg on its narrow point. The wind finally got the best of me at the end.

My mom took second place in keyhole. Her horse isn't the fastest on the straightaway, but boy can she plant and turn quick.

I ran her in the barrels. She made a nice run but we didn't place. Again, she's not the fastest speed horse, and is having some soundness issues with foundering 3 times, but she's a dang good trooper.

My mom ran her in poles and would have placed if she hadn't tipped one. But not bad for never getting to practice with her!

My mom missed a ring in the ring race. There were some tough fast runs with everyone hitting them.

My mom tooke 3rd place in the stake race. (Two barrels in the arena, each with a bucket and a small hand flag on it. You have to switch the 2 flags.)

I used her for the tunnel race, but I thought she was gonna take off and leave me, so I was kinda slow! (You get off the horse, crawl through a tunnel, hope your horse stays, get back on and go over the time line).

And I took 2nd place in the Musical Chairs, which was my fault in the end. There were 12 riders to start and they put small hula hoops on the ground as your "chair". You have to trot your horse while the music is playing. When the music stops, you must get off your horse and put your foot into a hoop. If you go past a hoop, you have to go all the way around the circle. You cannot go back. And you cannot cut through the middle of the circle. For the last 2 people, you do a run off to the end of the arena. I totally had my reins in the wrong hands to jump off running for the run down, so she beat me by a split second. Rider error on that one.

My mom did the sack race with a friend. They didn't place, but still had a nice run.

And then for the last event, I took first place with a friend pulling me in the Scoop Shovel race. The shovel rider (aka ME) was at one of the arena, with your partner on a horse with a rope at the other. You've got to hook the rope on your shovel and get pulled back. You can't fall off. We had to run it in heats because there were so many entered. My partner has done this event for years and she's dang good at it. We easily took first! **** her horse pulls too! I could hardly breathe getting pulled behind him, there was so much dirt getting flung at my face! HAHA, but it was fun.
---
∞•*˚ Βгįťţαňγ ˚*•∞
It is not enough to know how to ride; one must know how to fall.