no problem! I've always loved paints! ;)
paint
---
simplyes53 Very nice two year old. What is the pedigree?
thank you. she is out of slick tation and sbr bodasious. she has buzz bars, three bars, poco and leo to name a few on top. tuff breed on the bottom and i forgot what else. her half brother is sbr formula one out of the same sire. he's world and reserve world champion. she has some pretty good breeding.
This is a mare I ran barrels on backin the 80's she is out of the old Tuff line.
Lady Bee Tuff Paint
This is a paint mare I ran barrels on in the 80's old Tuff line.
Lady Bee Tuff Paint
I like the old Leo, king lines.
Weanling
Join Date: Nov 2008
Location: I live in that card board box you pass by every day on your way to work.
Posts: 520
• Horses: 0
Here's a couple more... One of which is just my back up horse.
Casual Legacy Quarter Horse
19 years old, fat and outa shape... but can surisingly run a consistant solid pattern.
And the last, not technically a barrel horse, but an everything horse. He prefers OUT of arena work...
28 year old slice of heaven...
http://www.allbreedpedogree.com/scooter+smoking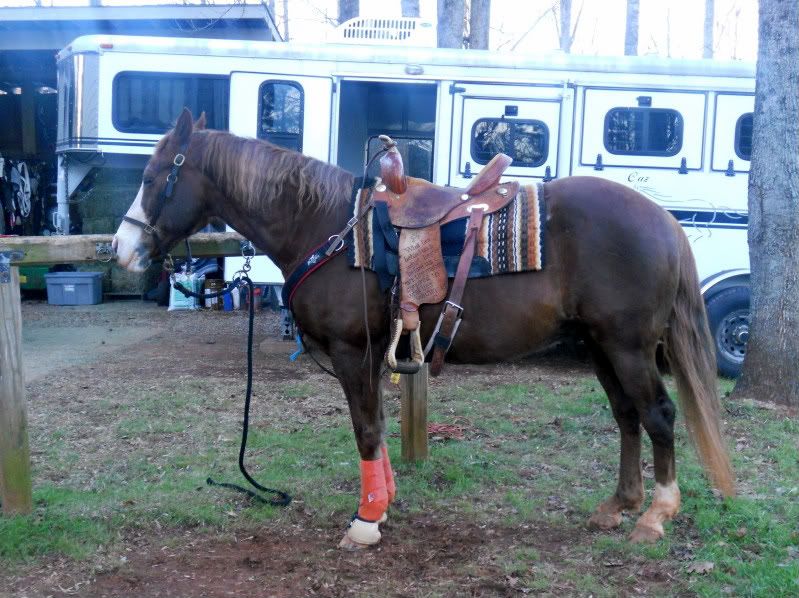 @ stonewall. yeah they have some of the same pedigree. what i really like about her is she is consistant and smart. i can work her and bring her back down. my kids even hop on her bareback.
Sbr Bodasious Paint
Slick Tation Quarter Horse
If you like an old pedigree this is a stud I own
Two T Texas Quarter Horse
I have two foals coming out of Texas bred to an own daughter of Lil Easy cash and a stakes winning mare out of a daughter of Dynaformer. We are excited about these babies hitting the track at 2, then futurities at 4.
Quote:
These are some action shots by a photographer. I asked if I could use the shots online and the arena asked me to make it more private and so I did. I'm actually kind of glad they asked me to blur a few identifiable things, like my face. I look like I want to kill someone. It's the game face, and I look like an idiot :). My horses don't though. The horse I'm riding with the blue socks is my main barrel horse and she has taken me to champ shows and if I do well in my high school rodeo with her this year, she will take me to nationals! 'm very excited. It's funny, she is a cow horse and she wins the barrels. The horse with the pink socks is my 24 year old bomb proof horse that love and I'm so proud of. She is being ridden by a friend who is also in the high school rodeo aswell.
haha, I've shown at the place in your pictures before i think? i recognize the lamp post in the corner where the little ditch thing is on the rail that my horse was slightly terrified of :]
I'd say we're pretty legit gamers, lmao..until he bucks me off in the classes lol! (I stayed on but he tried) We're actually English but I made him do everything lol