I use leather split reins for everything, just because I always have and they're just comfortable. I have 3 pairs, one for schooling, trails, and barrels that are shorter, thinner, and more lightweight, then I have a heavier, longer pair that I use for western pleasure and showing. I like the lighter weight ones better
---
Every horse is an angel... They just don't need wings to soar!
Well... I used to just use parachute cord braided reins made by a local guy because he makes them exactly how I like them and I can have custom colors... But, recently I went to Horsetown South with my friend, Sierra, and I bought a pair of braided leather reins and I'm loving them. They take some time getting used to but I'm loving them so far.
---
I am Sparkly Meanie Doodie Head and I approve this message!
Ive always used leather ropin reins. I've thought about getting some cool colorful braided ones like ya all mention, But im afraid of the streching and not getting used to the feel.
i use a few, i have leather with rubber, leather braided ones and then some split reins.
I use a leather roping rein on my mare Chilly. It's very soft and supple, I love it.

On Avalanche I use a pair of braided leather reins. They are nicely broke in.

I prefer leather over anything else. They look very nice on the horses and my hands don't slip on them.
---
"The greatest pleasure of a dog is that you may make a fool of yourself with
him and not only will he not scold you, but he will make a fool of himself too."
-Samuel Butler
I personally like the braided nylon reins the best, although I've ran in just about everything (leather reins, split reins, etc).
---
∞•*˚ Βгįťţαňγ ˚*•∞
It is not enough to know how to ride; one must know how to fall.
Green Broke
Join Date: Oct 2009
Location: Outside of Oklahoma City
Posts: 2,653
• Horses:
6
I use the braided ones with the square nots so I put my hands in the right place every time:)
Posted via Mobile Device
I use nylon game reins that are rolled in the middle to have part to hold on to a bit better. I don't really like them but they came with my tack set so it is what I use. I am planning to get some braided reins soon.
I use the braided nylon, the ones with knots in them. I used some cottom roping reins for awhile but they were just too long for me (Though VERY VERY soft and kind on my hands)
I like the knotted ones because of the grip. I adjust them to wear I want them, normally pretty short, right to where I have the nose control and enough "whoa" without pulling the face off.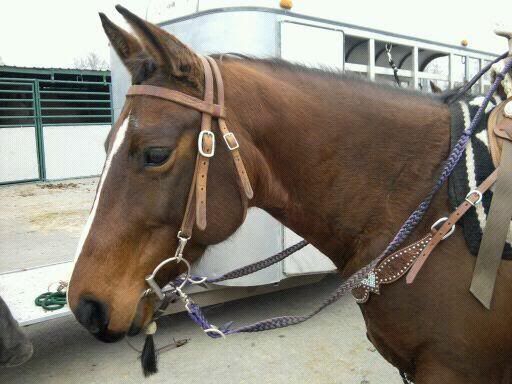 ---
Pssh.I didn't pick up the wrong lead
It's called a counter canter...
...A very advanced maneuver.