My Horse Hauler
---
I finally got around to doing a review on my truck. It's only the second new, off the lot, vehicle I've ever bought (I've always been a big fan of letting someone else take the depreciation hit!)
A year ago, fall 2008, I took the plunge and bought a Ford F350 Diesel and so far, knock on wood, it's been great. She sucks up the fuel but boy soes she pull. Not a drag nor a whimper when we're heading into Washington's high country with a loaded horse trailer behind us.
Click HERE for the full review
I loveee big trucks! =D Very nice!
---
When God Made Horses, He Painted The Good Ones.
"All I pay my psychiatrist is the cost of feed and hay, and he'll listen to me any day."

Wow, I have never done a reveiw before. i should =]

But yes, very nice truck!
---
Lettin' the cat outta the bag is a whole lot easier than puttin' it back. -- Unkown

I loveee Fords!
---
"I will no longer be carrying photo I.D. Know why? People should know who I am."
Sue Sylvester
from a ford man, very nice. wish we had the cash to spring on a 6.4 before the new 6.7 comes out and there's no more manual trannys...

what did you have before? many like to bash the 6.0, but dangit, i love mine. took me cross country several times safely, never whimpers with the trailer, and kept me safe through a deer and cow/calf incident.

what kind of mileage you get out of it? hear lots of across the board numbers due to the DPF (just remember lots of idling will cause more active regens and suck more fuel, too...)
Beautiful.

One of my biggest problem is finding a truck to match the trailer lol. When I went truck hunting in March I couldnt find a white truck anywere!!
that's b/c nobody wants white anymore! i prefer it b/c it stays cool in the summer and doesn't show dirt as bad...
Nice truck!!! I also have a Ford. Mine is an 06 F250 ext cab 6.0 diesel. So far I have had no issues with it and it handles my trailer fine. I pull around 16mpg around town and towing fully loaded about 12. This is the only pic I have of it Not very good..That's my trailer behind it I was camping in Va.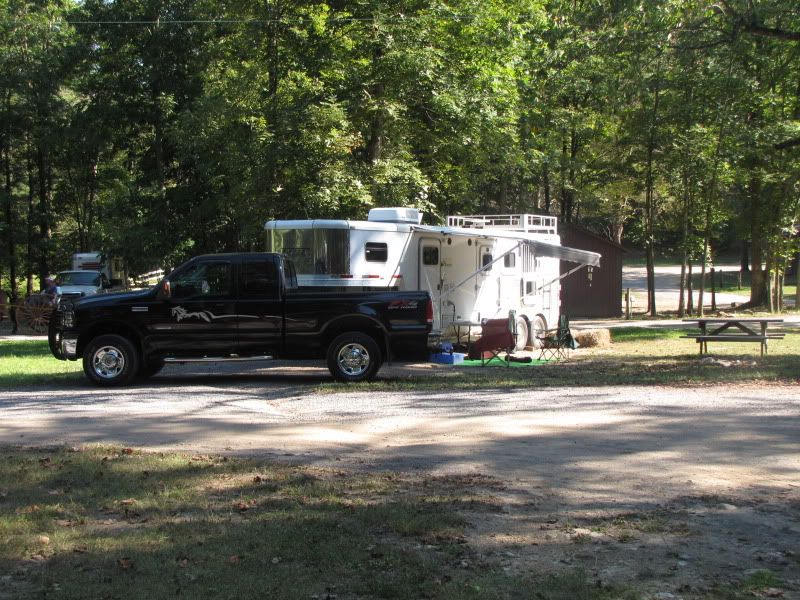 ---
Never Ride Faster than your guardian angel can fly

"UNTIL ONE HAS LOVED AN ANIMAL, PART OF THEIR SOUL REMAINS UNAWAKENED"
Similar Threads
Thread
Thread Starter
Forum
Replies
Last Post
horse hauler scam

aprilcain

Horses for Sale

4

01-07-2009

03:15 PM

Hauler Needed ASAP

WickedDetour

General Off Topic Discussion

0

11-08-2006

02:35 PM

Hauler Needed ASAP

WickedDetour

Tack and Equipment Classifieds

0

11-08-2006

02:34 PM