Yearling
Join Date: Jul 2008
Location: between florida and maryland, usa.
Posts: 759
• Horses:
1
jeepy.JPG
Here's mine.
(Ignore me standing on the roof, it was the only picture I could find.)
SHE is a 1994 Jeep Cherokee Sport.
I refer to her as a she because if you ask anyone of my friends, 'jeepy' has a mind of her own.
One time, I had just merged onto the highway and the radio wasn't working right or something like that, so I was like 'stupid jeep! good for nothing car! (and some other things that I won't mention
)' and next thing you know the gas meter jumps from 1/2 to EMPTY and she shut down. I had to drift to the side of the road. And she wouldn't turn back on, I tried like 4 times, and finally I was like ughh! I'm sorry jeepy! And I tried again... And she started back up fine. And the gas level was back up at 1/2 tank. From that point on, I refer to jeepy as a her. And I am VERY kind to her.
Anyways... back on topic.
She has 235,XXX miles on her,
and I'm hoping she sticks around for a bit longer,
because despite her attitude problem, I still love her!
2003 F350 Lariat Powerstroke
This is our POS! I love the truck itself, but I hate the mechanics/Ford. It's sitting at the dealership for going on 6 months now waiting for a new engine to be put in, which they just can't seem to figure out. Idiots!
I am a Chavy girl, but I like old school cars/trucks. I don't care for newer cars - minus the new Camaro - it's pretty sexy!!!!!
---
Last edited by Shawneen; 05-16-2009 at

03:29 PM

.
Its not fair how you all have big trucks :( But here is Clivey boy after I turtle waxed him last week
---
A good horse can never be a bad colour...
2004 4WD 2500HD Chevy Silverado
My every day vehicle is a 2008 Subaru Outback AWD.
My horse vehicle is a 2001 Ford F-150 V-8 4WD Step-side XLT(photo taken Nov 2007 when we bought it in California)
My poor husband gets stuck with our 1995 Buick Regal! LMAO!
---
~~~~~~~~~~~~~~~~~~~~~~~~~~~~~~
Oh, I forgot to add our newest edition!
It's a 1958 Chevrolet Apache Fleetside. Column-shift three speed. Starter on the floor!
She's a rusty beast, but we have plans to renovate 'er. She currently lives in the garage out back and we rescued her from an old farm guy where she lived in a field. I literally JUST sent in the title to get her registered today. We bought her May 19.
---
~~~~~~~~~~~~~~~~~~~~~~~~~~~~~~
I'll get better pictures later. A 2009 Ford Escape-sport edition.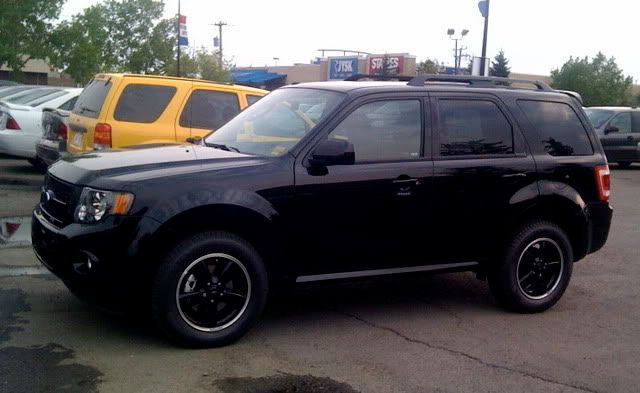 Yearling
Join Date: Jan 2009
Location: Tri-State (IA, WI, IL) area
Posts: 788
• Horses:
7
The "Redneck" truck, as we call it... A Dodge 2500 with a Cummins engine. (Hitched to the unintentionally matching horse trailer.
)
My winter vehicle, a Dodge 2500. Just get her new tranny in, too.
The FrankenTruck (now with FrankenCamper!) - My dad's old Dodge Ram that he crashed into a telephone pole, then fixed with spare parts from another truck, then crashed into another telephone pole, then fixed again with parts from a third truck. It's mostly just a field beater now, since it's not even street legal anymore.
"Senorita Squishy", as I've nicknamed this Dodge Dakota. My dad got it for $200 from his sister and then found out the brakes didn't work. So he 'fixed' the brakes.... and they still don't work.
It's the only truck on the property that I refuse to drive.
My little Chevy LeBaron convertible. Neither of the rear windows go down, and the top leaks like an old faucet, but I love her.
My mom's Jeep Grand Cherokee.
We also have a 89 Harley Sportster (with the engine currently spread out all over the garage), a Harley DynaGlide, a War Wagon, and an old Plymouth with a crack in the engine block, but I don't have pix of them.
I just shared this on the dream car thread, but oh well. Here's mine: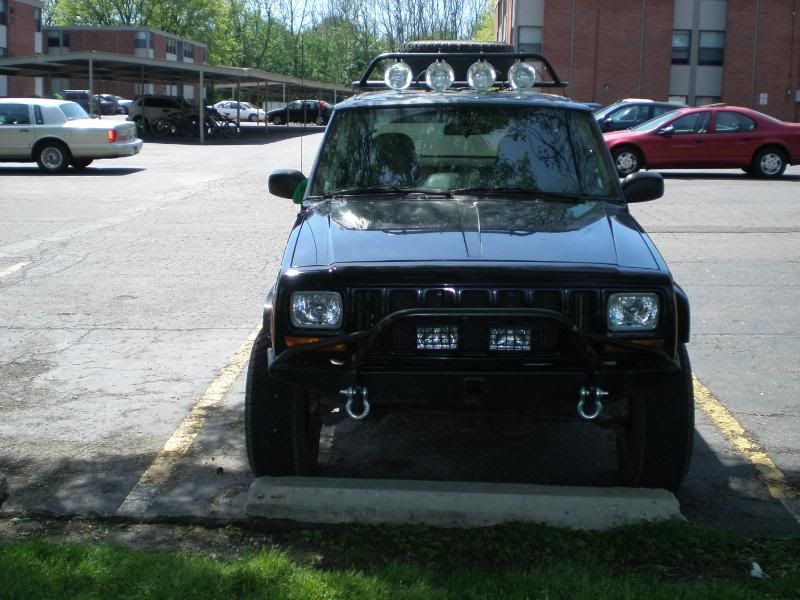 99 Jeep XJ with 4 inches of lift, 31 inch tires, upgraded dana axels and lockers, I have also added bushwacker fender flares and cut out the fenders since this picture was taken. I would like to drop a 350 into in and repaint it and prolly add another 2 inches of lift. Super awesome car, gets me where I need to go and starts every time (I swear by my straigh six right now). I need to start doing stuff to it that makes it get better gas mileage, not worse (she gets 15...going downhill...with a strong tail wind...).
I has 2!
Holy big pic Batman!!
That was from the day I bought it
I can't find the pics of it on the trail :(