Redneck window tint...
---
I am sure there are a few of these around here... I know I have one haha.
Yearling
Join Date: Feb 2007
Location: In the Phantomof the Opera's lair beneath the Opera Garnier
Posts: 1,112
• Horses:
3
Haha in Khazakstan we say verry nice!! :)
LOL! I - or actually my Jeep - was stylish without even knowing it!
---
Horses are God's apology for men.
Found this after I dropped my son & the neighbor hood kids off at the bus stop this AM.
Although it may have been my husband LOL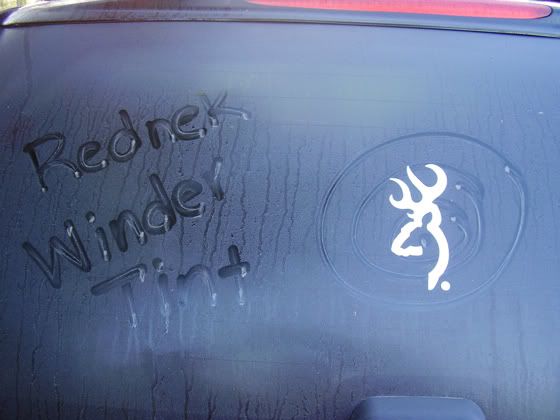 ---
Freelance Graphic / Print / Photo / Web Designer -
Designalist
Stop by and say hey :)
That is so cute! I love the "rednek winder' spelling makes that one very redneck like
I have a topper on my truck with no rear windshield washer. It gets
very
dirty. Guess I'm right down town.
---

"Until one has loved an animal, part of one's soul remains unawakened..."
- Anatole France
LOL that was cute. I wasn't expecting that kind of photo
thanks for sharing
i soo called that lmao
---
-L'eggo My Eggo "Eggo" - 9 yr Belgian Draft X Quarter Horse Gelding
-Frequent Flyer "Jett"- 9yr Belgian Sporthorse
-Dusty Doc Lou "Dusty" - R.I.P
I love it! My son is a huge fan of anything redneck, so I'll be sure to write this on his pickup!
For some reason when I read the thread title I was thinking of those "ricer" cars that invade my town every summer that have the black window tint on the inside of the windows but they didn't get all the air bubbles out so it just looks fugly.


There were a couple times when I got back from off roading with my jeep that I came out to find people had written stuff all over it. Couple times I had to rush to the car wash.