We went to an auction last year, there were TWO different types of belgians and percherons, there were the pullers(shorter, 17-18hh EXTREMELY wide, with low hocks short pasterns and proportionate feet). And the Cart/Show type(HUGE 19hh +, long slender legs and over sized feet-for some reson they remind me of Pugs). Two completely different types of horse all classified as the same breed.
Posted via Mobile Device
Yearling
Join Date: Jun 2010
Location: Bucharest, Romania. Eastern Europe
Posts: 1,079
• Horses:
1
As long as the evolution of a breed does not falter this breed's main qualities, I see nothing wrong with it.
I am only concerned that on the long term focusing on a single specific body related feature (such as height, let's say) might be detrimental to the breed's health, temperament and working capacity.

On the other hand, who uses draft horses to regularly pull heavy weights anymore anyways? I do not see an issue with people orienting to drafts for dressage and others, it's simply the evolution of things.
Solon, that Clydesdale video you posted is beautiful, thank you

So as long as these beautiful breeds remain healthy and strong, they can elongate their limbs as much as they wish :) I only hope that on the long term (40-50 years) it will not lead to weird results.
---
:)
Green Broke
Join Date: Aug 2010
Location: Southwestern Ontario, Canada
Posts: 3,324
• Horses: 0
I had a belgium cross colt that the first time I backed him was in his paddock bareback while Grandpa held onto his halter.....he was just that laid back.

There are people out there who do dressage with full drafts, it just might not be as common as someone on a warmblood or TB.
Quote:
I had a belgium cross colt....
Belgian.
---
Unless it weighs a ton... it's just a horse.
Draft horse motto.
We own a 9 yr. old Belgian mare named Epona. She came to us, having been abandoned by her previous owner at the barn where my son was taking lessons on our other horse.
At the time, she was very obstinate and mean, she'd been beaten by someone in her past obviously, probably due to people thinking that these big horses need an aggressive approach.
In our case, an aggressive approach was the wrong answer! Epona had "people" issues, she didn't like them. Our job was to show her 101 reasons why she should like us...we approached her with gentle hands, kind words and lots of positive reinforcement....
One year later, the horse that threw her trainer against a wall once, is now the most gentle and loving horse I've ever known. She is our angel....gentle enough for my 9 yr. old handicapped grandson to be around (with supervision, of course)...he loves to pet her and kiss her huge nose.....
As for riding, since she's wide, it is a different feeling rather than riding a normal sized horse. Especially for a woman. My son is this horses owner and he is her only rider....but we had a woman trainer work with her for a time.....she's smooth in her trot, but her canter is rather forceful....alot of impulsion.....
As for showing, drafts do ALOT of showing, and are doing quite well locally. At a show just last month at a local college, a draft took top honors in a beginner Dressage show, beating out alot of thoroughbreds.
Here is our golden girl: registered name Traces of Gold....we call her Epona.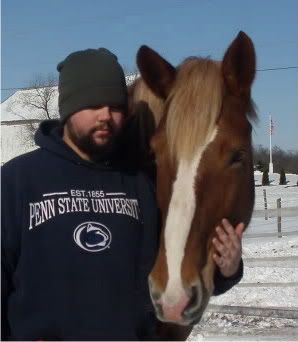 My son's best friend...the love of his life!
I had a belgian gelding until a few weeks ago. He had fairly smooth but large and fast movement. I have 2 Percheron mares and they are in my opinion the greatest horses ever. They both ride incredible, walk, trot, canter. One is very smooth the other is moderately rough. So calm, and although I don't believe any horse is "bomb proof" they are as close as it gets. Willing to go on any terrain. They do eat about double of the rest of the horses though.
My screen name says it all....I have a 7 year old mare and she is a dream in every way. She rides smooth and never spooks, she is extremely smart and is a quick learner. We have a thoroughbred and although she is a great girl she cannot hold a candle to our big girl Sarah.
---
Sarah Bella my 7 Year old girl
If you want to show or do a lot of riding U/S I would suggest a cross. I have two percherons and I love riding them bareback, but I would have to get a saddle custom made to fit either one! For just hacking around they're great and much fun but they're so large it's hard to do more than walk and trot. As far as feeding goes, ours don't eat much more than our normal horses. They really aren't bad to feed :)
---
-Sadie-
Green Broke
Join Date: Jun 2009
Location: Was in Ocala, Fl Now In West Union SC!
Posts: 3,175
• Horses:
1
Quote:
The posty legs of Impressive who was bred to run but couldn't so he set the standard for halter Quarters..bet non of those Halter horses could stand up to regular ranch work because of their poor conformation for work...Or the fact that some still are carriers for HYPP. Their conformation for work is junk.
You beter do some resurch before you start talking about this stuff like you know it all. My mare sonador is halter bred and is out of Impresive. She is my all around horse. She jumps, some dressage(I'm not trained in it so I cant teach her.) She has worked catle, can run the trails all day, and has the basic training of a raining horse. I have come across tones of horses out of Impresive that work just as much if not more than Sona.
Inaclick said...
Quote:
I personally see this trend it getting "lighter heavy" breeds slightly worrying.
They make me think of dog breeds, for some reason.
The Great Dane of let's say 50 years ago was bulky, strong, muscular and tall.
The Great Danes of nowadays are more and more lean and less muscular and honestly without a crapload of supplements and training they look like plankboards.

I agree, but sadly, we humans like to change things and fads come and go. Forty years ago, very few purchased draft breeds to ride. Now it is very common. In
some
ways, this is a good thing, since many draft breeds might have died out, after they were no longer needed as much, for work. There again, I still prefer horses to look like they are supposed to look. Consider this lovely Shire of long ago.
I think we'd be hard pressed to find one like him today. These days, Shires, Clydes and others, are much more leggy and usually, finer boned. I have a small collection of old Draft photos and none look like those we see today.
Regarding Great Danes. In about 1952, I showed my first Danes in the UK. They were not nearly as tall as today's Danes in the US. They were probably not more than about 34" tall, with wide bodies and huge bone. Now people flock to the 38" dogs, with fine bone and slender bodies. Many just look like Greyhounds with a large head to me. Bigger (taller) is not necessarily a good thing, considering all the accompanying problems now found in the breed. This I think, is also found more in the US than in most European countries. If I were seeking a Dane today, I doubt I would purchase in the US.
Lizzie