Not names I recognize but that doesn't mean much. Major's good looking. I like him better than their new stallion but they aren't good shots
Posted via Mobile Device
They call him Warwick! I saw him when my husband and I went to see the mare. He was in pasture condition, but looked okay. He had a nice personality.

Our mare had a colt by him that is now a yearling. IMO, the colt favors her more than Warwick. They're calling the colt Simply Southern.

I guess I need to post pictures of her so that y'all can critique her confo and help me determine whether or not to breed her again (probably not to Warwick).
---
Last edited by texasreb; 08-12-2012 at

06:50 PM

. Reason: Add add'l info.
texasreb - welcome to the board! You know pictures are mandatory. *wink*

Oh, and we'd love to have you drop in and say hi over on the Texas Horse Friends thread (see my signature).
Thanks Texasgal!
Here's our girl! Her name is Glencameron Simply Kinsey. We call her Kinsey, Kay or Special K.
Staring at the super scary donkeys in the neighbor's pasture: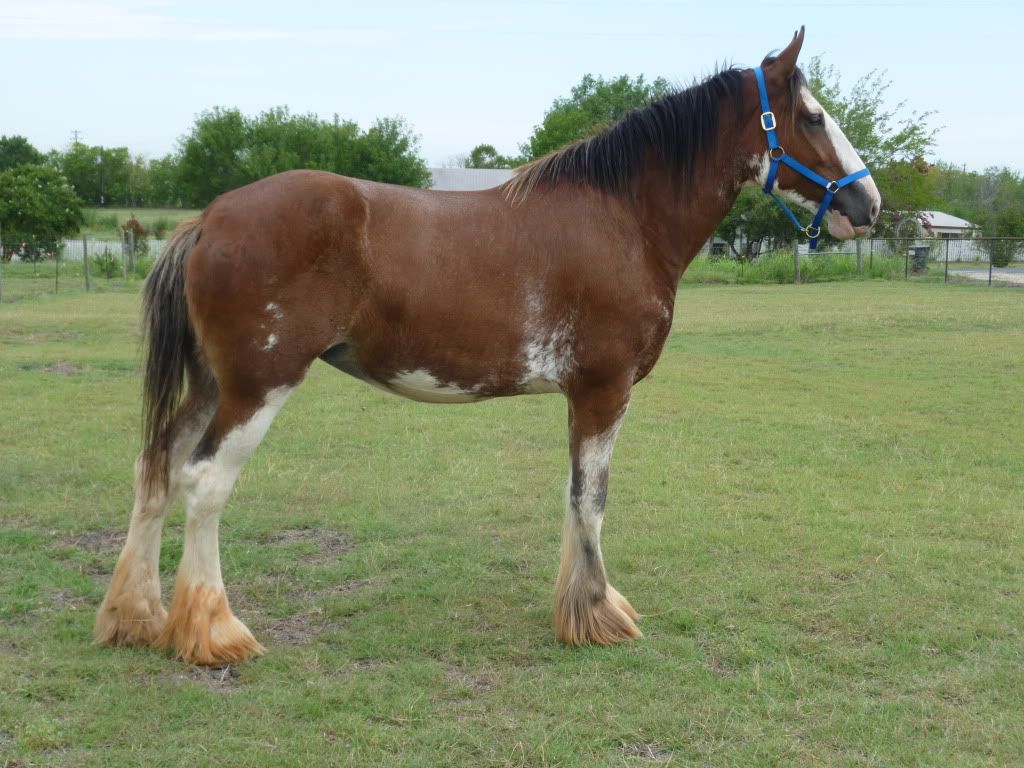 With her pasture mate, an untouchable rescue named Forrest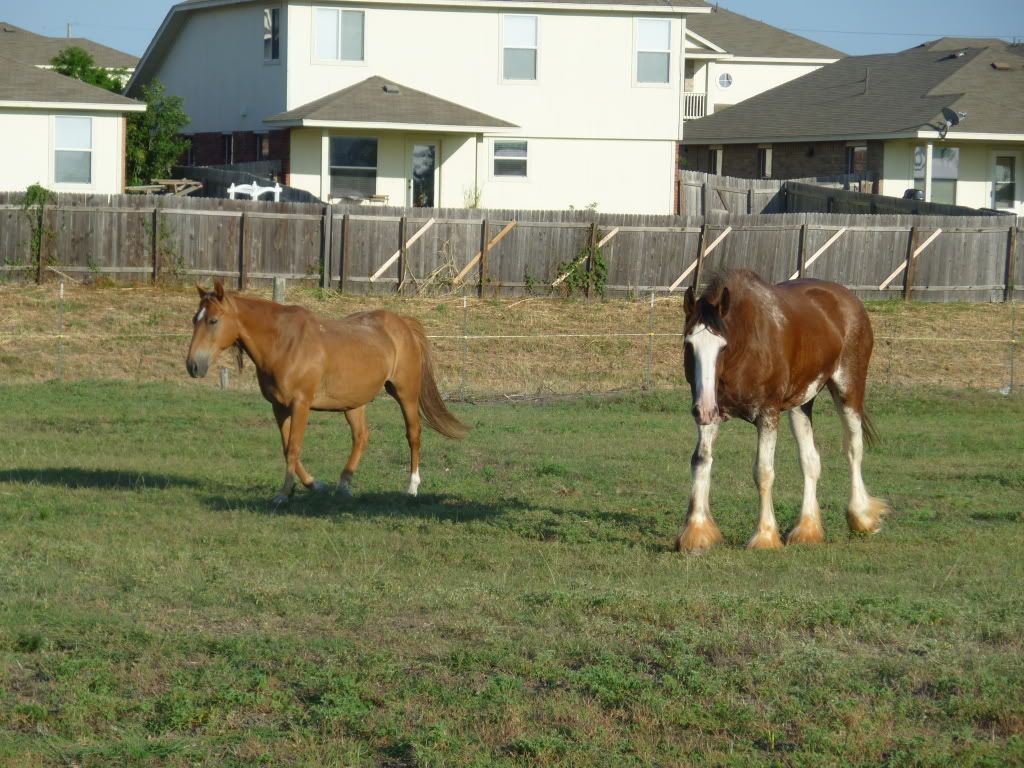 Walking home after a visit to the neighbor's house. This entailed walking past the super scary donkeys (on the left) and equally terrifying Longhorns (on the right). Truly a gauntlet of danger!
Enjoying the new round bale with Forrest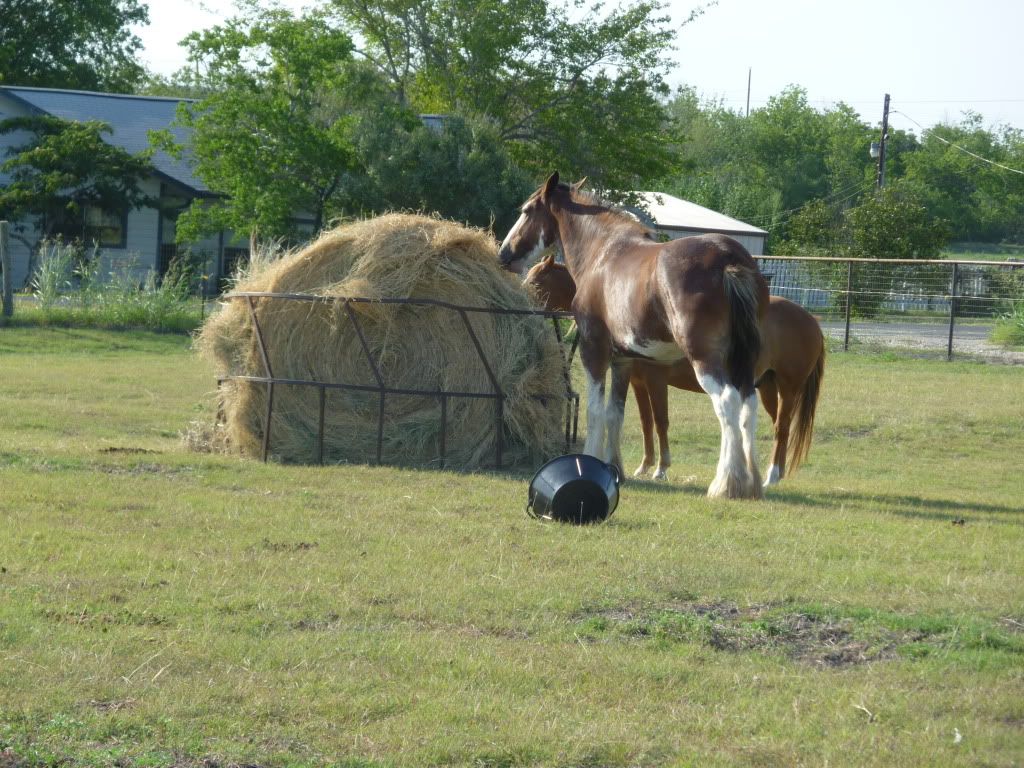 We have a lot of work to do with our girl. She is afraid of everything! This includes donkeys, cows, goats and electric fencing.

She's not at all afraid of dogs, tractors, quads or other horses. In one way, she's been super sheltered. On the other hand, she's used to being lead around by someone riding a quad and she's used to being in confined and cluttered spaces.

When we first met her, she was tied to a hitching post with barely enough room to stand. She had two fans blowing on her; another draft mare right next to her getting her feet trimmed; a row of lawn chairs with people sitting in them behind her as well as a pallet of shavings. She was also really close to a refrigerator that people were in and out of. None of this fazed her. We bring her home to wide open grassy pastures and she is terrified of everything.

Our acreage (about 10) is probably the most wide open land she's ever been on.
She lived in a hilly small paddock with nine other draft mares. Here, she only has Forrest and about nine acres to roam around on.

She is being difficult to catch and she walks all over us when we lead her.

We have work to do. She's a sweetie, but she needs time to relax and continued exposure to all the "dangerous" animals that live around us!
---
Last edited by texasreb; 08-12-2012 at

08:20 PM

. Reason: typo
I don't know much about Clydesdale conformation, being a Belgian owner myself, but I think she's gorgeous and looks stunning! Maybe she can help you touch the untouchable rescue haha....
Yearling
Join Date: Mar 2012
Location: Where the red fern grows....
Posts: 1,293
• Horses:
4
What are your long term goals with her? Did you go wanting to buy a pregnant mare? Have you had any foaling experience or a good vet who can be on call should the need arise?

She is a pretty mare, I am partial to Clydesdales. If I didn't own Percherons, that is what I would own, only black and white. She looks good and just be firm with her when your walking her, let her know your boss, she is to follow. Did they do anything with her, like riding or driving? Seems like she has a great new home...lucky mare!
GreySorrel--
Thanks for the compliments!

We were not seeking out a pregnant mare, but we were looking for a draft mare for my husband.

I have prior foaling experience and horse experience (stock type horses), but my husband does not. My experience was years and years ago (late 1980's). We currently live within 15 miles of a large equine veterinary facility that has a repro vet on staff. We also have a couple of mobile vets that will come to our place--once of which I've met. Hubby wants to have them both out to see which one he is more comfortable with. One or the other will confirm her pregnancy as we did not have her checked during a PPE. She was checked a couple of weeks prior to our purchasing her by the previous owner's vet--but we did not see the paperwork. I do know that she was pasture bred.

The previous owners did not break her to ride or drive. She was strictly a halter horse. Our long term goals are to potentially breed her once or twice more to another Clydesdale and trail ride and show her in local open shows and/or possibly breed shows on down the line. We have similar plans for the offspring.
Draft weanlings and yearlings tend to be a rather fugly group. Evaluate the bone structure and confirmation but don't get hung up on the overall presence of the colt just yet. She and Warwick might be a poor match but you won't know at this stage.
Posted via Mobile Device
I'll keep that in mind!
---
Last edited by texasreb; 08-14-2012 at

02:22 PM

.