Quote:
The picture above doesn't show a Gypsy horse though just a small horse - not even of cob type. Your grandfather probably didn't use a Gypsy horse but a native or native x breed - the Fells & Dales were very prominant as driving/pack horses in pre vehicle days. Vanner was generally kept for the descriptioin of the gypsy horses.
He referred to his horse as a cob. Considering the picture was taken over 130 odd years ago and people didn't move around the country too much people could basically describe their horses as they saw fit. It may not match what we in the modern world would call a cob but you have to put yourself in the UK in the 19th century when we spoke a different terminology and standards were totally different. Cobs were cobs(always associated with the travelling community or horse traders) and described just about any horse that wasn't a 'pit pony' or a racehorse.He considered his horse a cob. I can't argue with him as he has been dead for over a 100 years.
Quote:
Originally Posted by
thesilverspear
View Post
Ah... so they are classified as drafts. Doesnae matter. At least I'm not talking any more or less rubbish than everyone else on this thread. :)

Bluebird, if you had more paragraphs and less huge text blocks, people might misunderstand you less. If I'm reading a massive, rambling block of text, my eyes glaze over and it's easy to miss a sentence or two. Just sayin'.... it might help.

As with many of these classifications, "cob" has acquired slightly different meanings at different times. So there is little point, other than the purely academic, in using anachronistic texts to make bold assertions concerning current social or linguistic conventions of equine classification. I mean, who rides a "palfrey" anymore? All of which is purely practical. If I'm trying to sell a horse, I'm going to describe it in whatever language best describes to people who potentially might by it.
It is a discussion and sharing of opinions. There you go, short and sweet. Hopefully didn't make your eyes glaze over did it?
Quote:
e.g. one describes a Clydesdale as a 'Flashy Carriage Horse which was not used for ploughing' (written by someone from the USA who was an apparent expert on the Clydesdale - it gave The Clydie Society a bit of a laugh though).
That is hilarious! They are very good at ploughing!
We have a station here in NZ where the whole place is worked by Clydedale Teams - they are awesome. Some lovely photos -
Erewhon Station Horse Stud
We have some beautiful Clydesdales here because of our isolation we've not been influenced so much by the current breeding trends - though this changed when an American horse was imported. UNtil a few years OK DB brewery had two full teams of Clydesdales working through the country - one team in the North Island and one in the South ISland. My parents were viviting when we bumped into the South ISland team working their way up Takaka Hill - a rather large mountain range - their truck was having difficulties with the hill so they took the horses off, hitched them up and drove them to the top. A magnificent site that had mum in tears!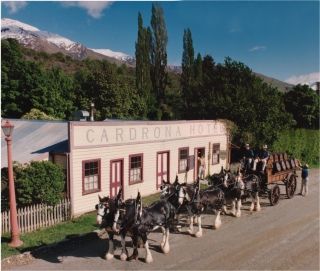 thesilverspear - not heard that term used for a very long time. Guess now we call them warmbloods!

Definition of PALFREY
archaic
:
a saddle horse other than a warhorse;
especially
:
a lady's light easy-gaited horse
See palfrey defined for kids »
Origin of PALFREY
Middle English, from Anglo-French
palefrei,
from Medieval Latin
palafredus,
from Late Latin
paraveredus
post-horse for secondary roads, from Greek
para-
beside, subsidiary + Late Latin
veredus
post-horse, from a Gaulish word akin to Welsh
gorwydd
horse; akin to Old Irish
réidid
he rides — more at
para-
,
ride
First Known Use: 13th century
Feathered feet - the majority of Gypsy ponies were called vanners for just the reason you say - were mixed horses/ponies of often poor quality! I come from Bucks and they were always refered to as vanners.
And herein I think, lies the problem. With the immense racism against Gypsies and Travellers in the UK, I do believe that any poor quality horse, was immediately said to have been bred by Gypsies. Considering the very few true Gypsies and Travellers in the UK, compared with the population, the horses they actually bred, were few. Certainly, Gypsies of old, used horses as their currency. Horses were their pride and ways of getting about the country. I'm quite sure, that not only their half-leggers were sold to the city companies for vanner work. It would seem probably, that sometimes, they had to part with some quite good quality horses.
About nine years ago, I wrote this piece, when a similar conversation, came about.
AntiquePhotos
This will show many types of vanners. Some large, some small, but all considered vanners of the time. I actually remember some old timers in England, who still called all horses who made deliveries, 'vanners'. I'm old enough to also remember when our meat, bread, groceries and milk, was delivered by horse and cart.
I have written much about a fellow called Reuben and his family. They were true Gypsies and delivered our vegetables in Falmouth, Cornwall, during the war. His Dolly, was the first Gypsy mare I ever knew and as a little girl, could hardly wait for his arrival each week.
Dolly was all white and very hairy. Reuben would allow me to sit on her back, while ladies on the road, would come up the back lane to obtain their vegetables for that week. I have remembered Reuben and his wife and son, all my life. I cannot imagine how difficult their lives must have been at the time. Luckily, we had a back lane at the end or our garden and this is where he would stop each week and ring his bell. I know Reuben is somewhere now away from this world, with Dolly stepping out smartly ahead of him and his cart.
Lizzie
Green Broke
Join Date: Oct 2010
Location: Some times Llanelian - North wales, sometimes Hull in East Yorkshire (UK)
Posts: 3,679
• Horses:
5
Quote:
Faye - what makes you think the photo is of a Section D - he was not advertised as such but as a Heavy weight Cob to make full 15.2hh - I would not put him in the same type as a section D - they are more pony like and have finer heads, smaller ears etc

The joints on the coloured horse are not quality joints they are thick.
It is a section D
1) i know the horse's breeding
2) it did very well in the section D stallion class in the royal welsh
3) Section D is a breed not a type.
4) section D's are allowed to be any height over 13.2hh, they do not have finer heads or smaller ears, infact the sectionD is the most horse like of the lot.
I grew up in the heart of welsh cob teritory, i've show welshes, i've grown up around the breeders of these animals
oh and here is one of the section D I showed He was Bred on Derwen lines and did very very well in his younger years and is closely related to the horse above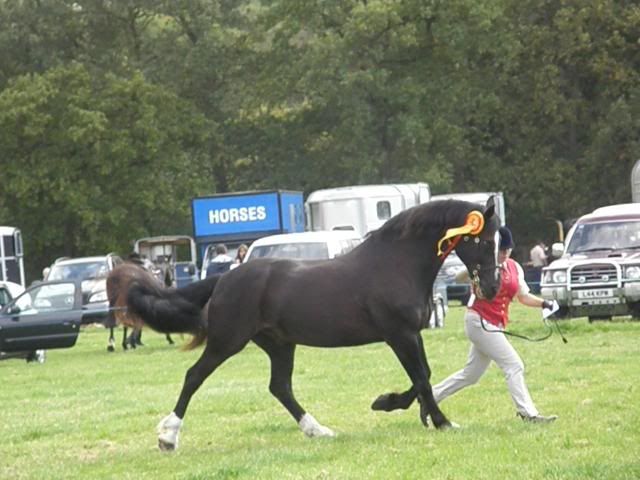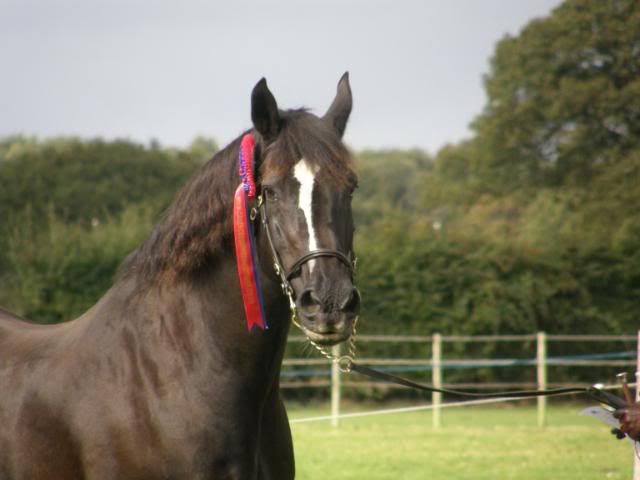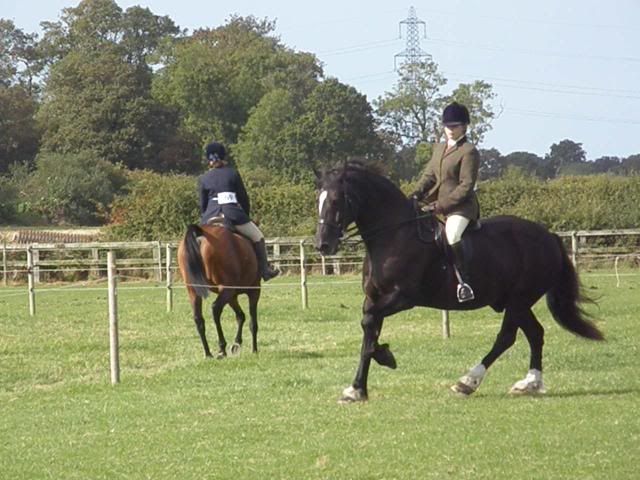 He was the best part of 16hh
oh and flicker is not a reliable source of information, the next photo they have in that series is a "section C" it isnt a section C it is a B
---
RIDE your horse FORWARDS and keep him STRAIGHT


---
Last edited by faye; 12-28-2012 at

05:42 PM

.
Super Moderator
Join Date: May 2012
Location: CT USA an English transplant
Posts: 24,894
• Horses:
3
Lizzie - I dont think it was every poor quality horse but every coloured horse, pony, cob or vanner because it was mostly only gypsies that bred them in those days. This earned them the prefix of gypsy, pikey, gyppo or didikai
I have known many really decent gypsies over the years, I also have childhood memories of them calling at our house and bought cobs and ponies from them - my first pony was bought from gypsies - but there are more than enough about that are far from decent people to make them disliked and treated with contempt.
Sad but true.
In a case a few years ago when some young men drove a horse and cart into a lake as part of a race wager and then left the horse to drown newspapers were not allowed to state that they were gypsies as it would prejudice the case against them
Sorry this has gone off thread.
Green Broke
Join Date: Oct 2010
Location: Some times Llanelian - North wales, sometimes Hull in East Yorkshire (UK)
Posts: 3,679
• Horses:
5
I went to appleby a couple of yeaars ago, all i saw was idiots beating the hell out of yearling coloureds in order to race them up and down the roads, I saw massive amounts of animal cruelty not just to horses but to dogs as well. The RSPCA has several members on site and both they and the police are often overwhelmed.
So your little idilic vision of appleby is very very out of date, it used to be something that horsey people in the uk would flock to. now most of us wont go near it because it is very very upsetting!
---
RIDE your horse FORWARDS and keep him STRAIGHT


So. going back to the original post? Drafts can do dressage then?
Quote:
So. going back to the original post? Drafts can do dressage then?
I think it is time, before the entire thread is derailed. With that in mind, wouldn't you love to get your hands on this beauty and work some basic dressage.? As she gets older.
Axeholme Shires - Axeholme Corvallis