Started
Join Date: Sep 2011
Location: In Sunny, HOT and HUMID S.C.
Posts: 1,531
• Horses:
2
Quote:
Thousands of years, the breeding, of draft horses, has been so that their center of gravity is most comfortable/so shifted that he can pull.
Thousands of years, the breeding, of warmbloods, has been so that their center of gravity is most comfortable/so shifted that he can collect.
How many more times must I itterate this!!??
Do not tell me that this:
and this: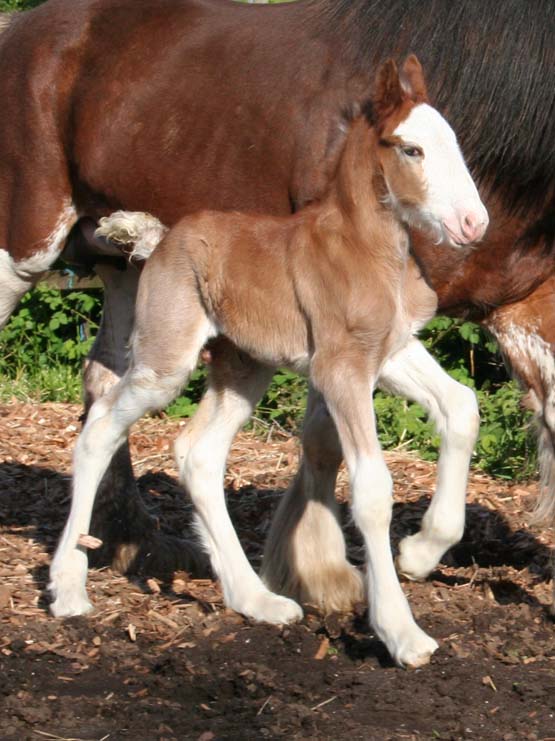 are both starting from the same "balance point" naturally...
And yes, you are correct, dressage schooling will improve the way of going of any horse. Your horse improving because of dressage training does not mean it has potential for the upper levels, it just means it has 4 legs and is classified as "equine"!!
Thousands of years? Really? For pulling? That's very interesting since 600 years ago the horses that became todays huge Percherons, Belgiums, and Shires were riding horses (and some, like the Percheron I learned to ride on are still little more than large riding horses). Even as late as 300 years ago the Frisian was bred primarily for riding.
Pulling became the focus for these animals has the need for heavy war horses, capable of hauling around armored men, went into decline. If you look at what these horses looked like 600 years ago they were not the the massive animals you see some of them as today. And even today they are not always so large. In fact the Frisian is lighter than it was 600 years ago.
You're missing the forest for the trees there... the point is that Dressage horses are bred for Dressage and draft horses are bred for pulling, regardless of whether its 10 or 100 generations. My Dressage horse will never be able to plow a field.
Posted via Mobile Device
Of course he could if you trained him to!
Quote:
Of course he could if you trained him to!
No. Regardless of what the movie Warhorse would have you believe, physically my horse could not handle the demands of plowing. I could train him to drive, of course, but he would not ever have the physical strength and build to plow.
Posted via Mobile Device
Quote:
Of course he could if you trained him to!
If you trained him to, he might be able to struggle his way around the field, but he's never going to do it with ease like a horse that was bred to plow a field. In the same way, you can put my Percheron in dressage training and she'll struggle through it....but she's never going to excel like my Thoroughbred or like Anabel's warmblood.
Tnavas - do you have pictures of your clydesdale mare now that she is older? I'm curious to compare how she looks and moves now - I find drafts look more "sporty" when they are younger until their bulk catches up with them.
---
All I pay my psychiatrist is cost of feed and hay, and he'll listen to me any day!


As a 2yr old - clipped out for the 'progeny' section of the Stallion Parade the emphasis on the stallion being suitable as a Sporthorse sire.
This is her last year
and recently under saddle (aged 8yrs) - both of us a a bit overweight
---
Last edited by Tnavas; 02-17-2012 at

10:18 PM

.
So, Im no dressage girl and certainly don't claim any intense amount of detailed knowledge pertaining to the way horses are built, but Id have to agree that the dramatic differences between a lighter boned horse (TB) and a heavy boned horse (DRAFT) would severely affect that animal's soundness over time.

The angles at the shoulders and knees also affect how well an animal can move within a certain discipline. Heavy horses have large angles at the shoulders and knees, connected to shorter legs for the torque needed to drag a heavy spade through earth. Their joints are wide, almost bovine-like to add surface area to support the immense pressures that hauling a load entails. Big butts and wide shoulders, though well-muscled, are still mostly bone. Light horses don't have the dramatic skeletal structure, but have finer and less 'bulky' bones for smoother movement and collection. Small shoulder and knee angles, coupled with longer legs and bodies (compared to a draft) give the light boned horses that movement we look for in dressage animals; the ratio of muscle to bone density is much different - less weight to move skeletally makes for a magestic dance indeed. To cross two pure-breds would be disastrous for the conformation, I'd imagine.

Most TB/Draft crosses aren't an F1 generation animal anyway. Breeding up to the ideal mix is something we've been doing to horses since we've lost the need for working equines (as opposed to eventing/sport equines).
Posted via Mobile Device
Quote:
i am a taller rider at 6'5 but im not really heavy for my height (185)... i was wondering if drafts often make talented dressage horses and if so which types in particular?
I am currently interning at a farm that has been breeding Percheron/Thoroughbred crosses for dressage for nearly 40 years. I strongly believe that it isn't the draft breed that makes them perform well, but their conformation and trainability. For the past two show seasons (and this upcoming one) I have shown several of their homebred horses with much success in the ring. They were either Half Percheron and half TB or a fourth Percheron, a fourth TB and half warmblood (Oldenburg, Holsteiner, etc.). These crosses place well at all levels, as I've seen them being shown from Training Level through Grand Prix.
Forrest Hill Farm dressage breeders Goals & History
The young stallion I am riding in my avatar is out of a Perch/TB mare and by an Oldenburg, Routinier. He and I had a great first show season last year, easily qualifying for our regional championship, and placing 5th in the Training Level Jr/YR class.
But it's not so much the breed as it is the suitability of their conformation to the discipline combined with a trainable mind.
---
"He doth nothing but talk of his horses."
~William Shakespeare
---
Last edited by IslandWave; 02-18-2012 at

12:21 AM

.
Anebel, Yes, very few grade ponies, TB's, Draft crosses etc make it to grand prix. BUT, very few warmblloods do either. I have searched through several dozen young prospects to find one who MIGHT make it to the upper levels. And, even then, many don't have the heart (and extremely essential factor) to get there.

Do warmbloods have a slight advantage? Yes. Are they FAR superior? Not always.

Stereotypes are just that.