Sorry to say, but dragging around a simple chain harrow does not a work horse make, any horse can do that. Heck, my mini burro could do that. I'm talking actual, real working farm horses that have to do an actual real day's work.....the way drafts are bred and built to do.

How much experience with real working animals? Not puttering around the paddock, not driving a nice little cart around, but actually putting a plow in the ground and having them work for a living?
A matter of breeding.
---
There is something about the topic of this thread which makes me uneasy. The OP, who is rather tall, asked about whether a draught horse crosses can make a good dressage horse - presumably because the rider wants to do dressage yet needs to find a tall heavier horse which can carry a tall rider. In this thread we have now reached a stage where we are debating the optimum conformation of a dressage horse and whether it can be bred into a horse so as to give it an advantage in the arena. Presumably we are labouring under the contention that warm bloods perform the best in the arena because of their inherited conformations.

This concept links up in my mind with the knowledge that not long ago a professional German rider is reputed to have paid an absolute fortune for a Dutch bred horse which was thus taken away from its highly capable and successful Dutch rider. The duo had formed the base of the Dutch national team. The horse was moved to Germany and a suitable German jockey was found to bring along and ride the horse in competition. Personally I smiled a bit when I heard that the new duo of horse and rider was not working so well. Somehow I did not like the idea of any super rich organisation being able to buy success in a sport which is so much a combination of rider expertise and horse capability.

Rather than a injection from a syringe, I am much happier to see the capability of the horse to be the result of rider expertise and the horse trainer. Which is what I thought the sport of Dressage was all about. Surely the judges are judging the ability of both horse and rider in partnership to perform certain movements at a predetermined spot in a marked arena. It is the performance of a course that is given in a competition. Dressage resembles a fixed dance routine performed by equine and human - with or without the music.

If pursuing the pedigree is to be the policy for dressage in future then only a rare few rider/horse combos can ever hope to be winners at the top level. Indeed the goal posts for perceived success will be gradually moved to match even more so the favoured horse's conformation. Any money in the sport will gravitate towards the professionals as already seems to have happened in show jumping.

Perhaps the sport should be split into professional and amateur competitions? In which case why would dressage be an Olympic sport at all ? If money becomes so important how can the top level horse establishments ever be seen to be amateurs since they will invariably be an essential part of some public relations or marketing campaign

I have often watched at local level, a very fancy and very expensive sign marked horse box turn up at the venue. There will be a flurry of activity as the ramps are dropped. The uniformed grooms rush about and prepare the already impeccable horse bedecked in promotional logos for the flashily attired rider adorned in white, and black to mount. Carefully crafted image is everything. The team has come for a practice run in preparation for higher things elsewhere.

In the parking bay next door stands a bent and battered old Bedford lorry and out pops a young woman who proceeds to groom and prepare her own horse. This scenario is most likely at the weekend shows because usually the young rider is at work during the week whereas at weekends mum is there to help.

Yet the two riders/horse duos are competing against each other in the same event. Somehow it is wrong but it is at such events that warmblood and draught horse crosses meet for comparison.

Admittedly I am not a massive fan of dressage and my horse takes part because she and her rider/carer have a flair for it. Sadly my mare is temperamentally unsuited for my original plans for her as my Gentleman's Riding Horse. However before I send her off to meet her destiny as a brood mare, we shall see how far she can go in dressage even though she is unfashionably short at 15h1 for the sport. She is also a pretty dapple grey which is a bit tarty as compared with glossy bay or black. Put politely, she was born in the wrong bed and is of a lower class. But what do you expect of a horse whose mum was named 'Molly'?

Carl has nothing to fear from us. But maybe we have something to fear from the sports horse industry.
Video from HOY NZ 2012



Half Clydesdale
I read back to myself post 82 which I wrote some while ago.
Draft crosses can compete in dressage but they will face dificulty at the higher levels.

I have watched my friend ride my mare who is recovering from a bad 'investation' of ulcers and I ask myself several questions one of which is:
"Which came first the success in dressage or the ulcers?"

Whilst I smile when my mare does well, deep down I'd still far rather her be a confident hack than a dressage diva. Luckily it is her height which will save her - at 15 hands, she is simply not 'fashionable'.
Draft crosses, particularly light drafts such as Friesians, Irish Draughts and Cleveland Bays (which, whilst being light and used for riding/carriage driving/hunting, they were originally also bred for all-purpose farm work, so still count as light drafts!) can make very good dressage/eventing/showjumping horses. The call these kind of crosses 'sport horses' over here - Irish/Friesian/Cleveland Bay Sport Horses. They are very nice, athletic horses with a bit more to them than a TB. However, a decent sized warmblood should also be able to carry you at 185lb. They are better weight carriers than pure TBs, and a decent 16.2-17hh one would carry you fine. Or even middleweight hunter type.
The draft horse cross usually has the conformation to carry even the heavier riders without being too tall at the wither. The problem with many of the modern bred warmbloods is that whenever you ride them away from the arena - and out into the community, it is a long way down to get off and an insuperable height to climb back onto.
Quote:
The draft horse cross usually has the conformation to carry even the heavier riders without being too tall at the wither. The problem with many of the modern bred warmbloods is that whenever you ride them away from the arena - and out into the community, it is a long way down to get off and an insuperable height to climb back onto.
However, at 6'5", it probably isn't so high to climb back on... I'm 5'10" and I nip on and off my 16.2hh without any difficulty, and when I was bringing on some young Clydesdales for showing a few years ago, at 17.2hh and 18hh, I could jump on and off from the ground when out hacking/ at shows by just lowering my stirrups a few holes.... admittedly, I was only 18 at the time, so have no excuse for not being able to jump (:
Well, "I was only 18 at the time" that's the clue.

I can't even remember ever having been 18 - I am sure I wasn't.

Now I sometimes wish I was born in the age of Henry V111 - he had a crane to get on and off.

B G
Pics of my Girl at Horse of the Year 2012 - she came 3rd in the Ridden Clydesdale and 5th in the Clydesdale Obstacle class. On our first day she was side swiped by a pony and rider and was capriolling - much to Carlas consternation as she was leading her at the time and a Clydesdale several feet off the grouond is quite disconcerting!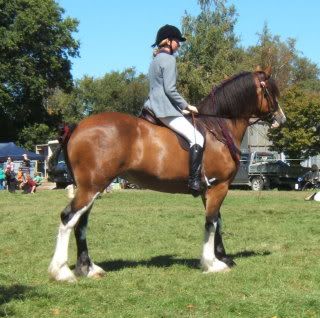 ---
Last edited by Tnavas; 03-29-2012 at

02:36 AM

.
And some more news on the draft cross at the top of NZ dressage - an article in Eurodressage
Report on Aithry Highlander in eurodressage
Interesting to note the comment 'Warmblood snobs' please note
Quote
"I think that it is becoming more and more difficult for judges to assess quality of training, rather than quality of horse, and so an unusual horse, regardless of its training, may be at a disadvantage. But this is the judges issue, not ours; it would be tragic for the sport if we only rode horses the judges told us were "suitable". Dressage should be about creating a harmonious relationship and maximising athletic movement with any horse."